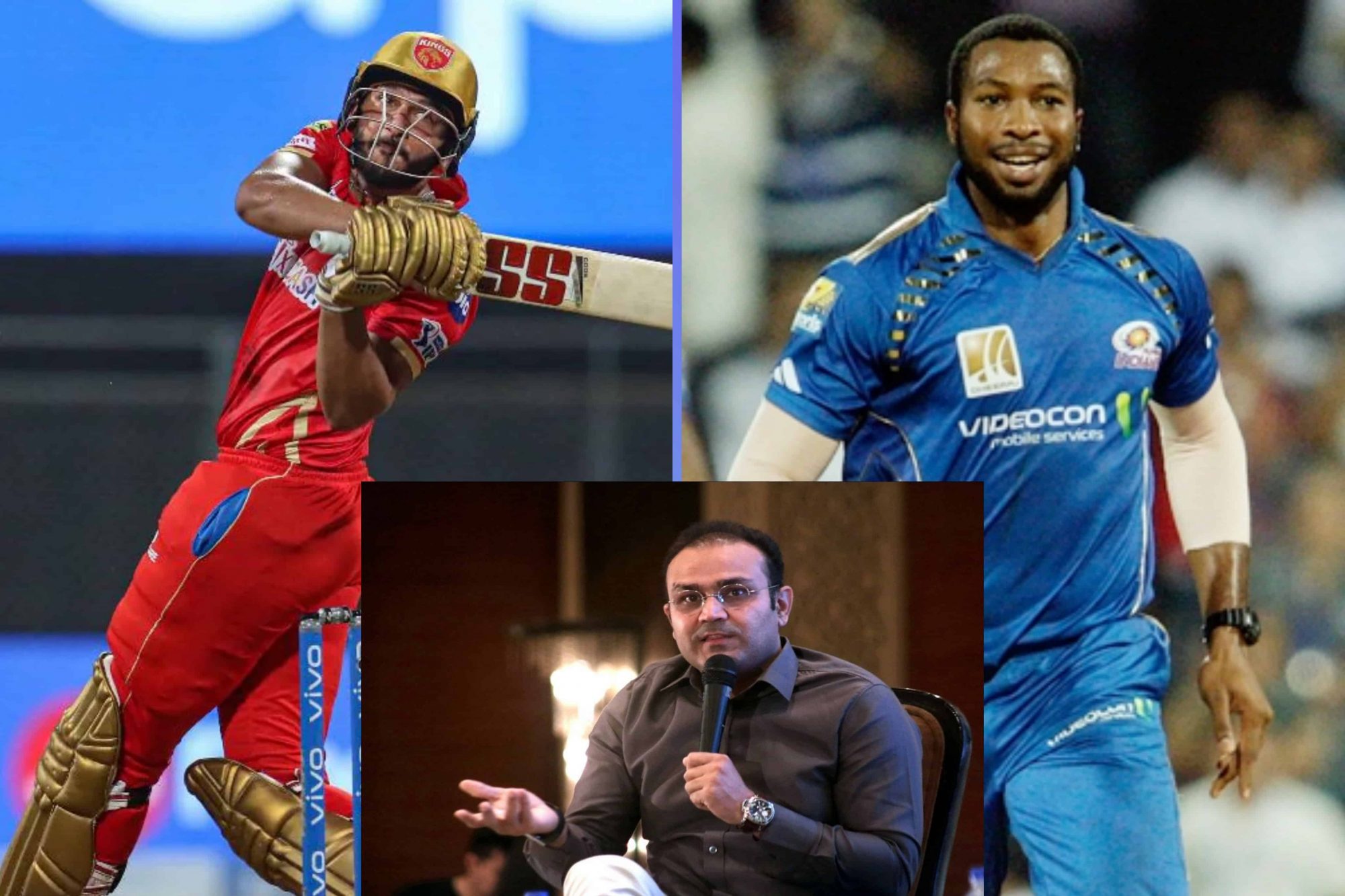 Shahrukh Khan and Kieron Pollard • Source: Twitter
Former India opener Virender Sehwag seems to be impressed with Tamil Nadu and Punjab Kings big-hitter Shahrukh Khan, saying that he reminds him of a young Kieron Pollard.
The 25-year-old made his IPL debut for Punjab Kings (PBKS) in the tournament that was suspended recently, and played some impressive cameos down the order. He registered scores of 6*, 47, 15*, 22, 13, 0, and 4, across seven innings.
The franchise had put their trust in the SMAT-winning all-rounder, with their batting coach Wasim Jaffer later stating that he was one of their leading choices to fill the middle-order gap.
"He reminds us of a young Pollard, when he had just come into the IPL. Everyone was running after him, because he could just stand and hit sixes off bowlers. Shahrukh has the same quality," Sehwag told Cricbuzz.
"Although he has played those little innings and hasn't played a big knock. But the lower you bat in the line-up, there's only so much he can do," he added.
Shahrukh Khan did not have a good outing in the first half of IPL 2021. Sehwag said that he failed to convert his starts into big scores which was expected from him. Sehwag added that Shahrukh is the kind of player who doesn't think about the previous ball and such players have a greater chance to succeed.
"If he can be given a chance to bat higher, the day he clicks, he could even hit a century. He is the kind of player for whom it doesn't matter what happened to the previous ball. Many batsmen think 'Oh, I got beaten, this one turned'. Those who don't think about the previous ball, have a higher success rate," Sehwag explained.
The 25-year-old is yet to score a century in his professional cricket career, with 92* and 69* being his highest scores in First-Class and List-A cricket respectively. Overall, he has featured in 39 T20 matches till date and has scored 400 runs at a strike rate of 130.29.