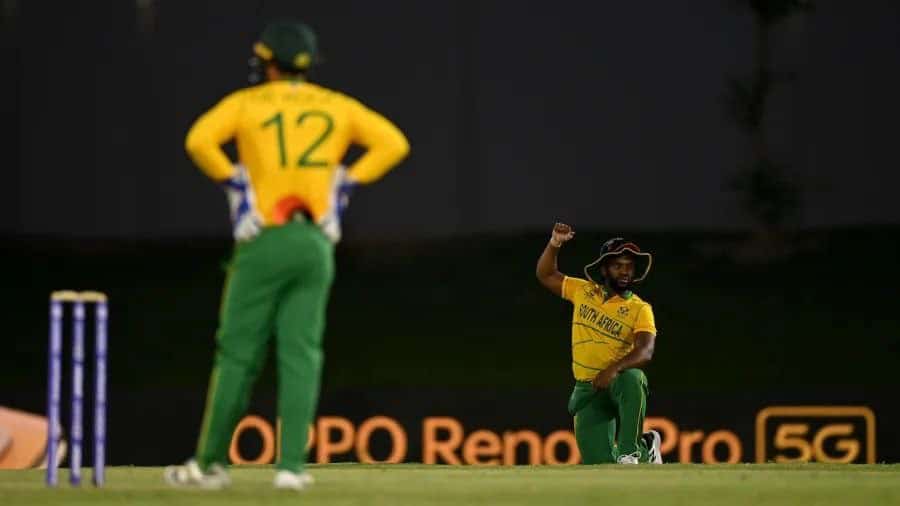 Image Source: Twitter

South Africa wicketkeeper-batter Quinton de Kock has made himself unavailable for the ICC T20 World Cup Super 12 game against West Indies for personal reasons, captain Temba Bavuma announced.
Skipper Temba Bavuma won the toss and opted to bowl and men in green brought in Reeza Hendricks in place of De Kock who misses out due to "personal reasons".
"It's been a bit challenging to know what a good score is so we want to have a look," Bavuma said on his team's decision to bowl. "He [De Kock] has made himself unavailable for personal reasons."
"I think just having a look at the wicket, it has been challenging for us to know what a good score is, so we want to have a look. We take out a lot (from the series win against West Indies), all the positives and all the negatives. We know what a power-packed side they are. Looking at our performances, we know where we can cool them down. (Area of focus) Probably the batting. I think that would be the one I would highlight and like to show a better batting display," Bavuma added.
Meanwhile, speculations are being made that Quinton de Kock denied to take a knee before the match and that's why he has been dropped from the match. However, nothing has been confirmed yet.
Shortly before the match against defending champions West Indies, South Africa's cricket board issued a statement saying its team to take the knee for the remainder of the World Cup.
"Concerns were raised that the different postures taken by team members in support of the BLM initiative created an unintended perception of disparity or lack of support for the initiative. After considering all relevant issues, including the position of the players, the Board felt that it was imperative for the team to be seen taking a united and consistent stand against racism, especially given SA's history. Several other teams at the World Cup have adopted a consistent stance against the issue, and the Board felt it is time for all SA players to do the same," CSA's statement read.
Shortly after the statement was issued, South African keeper Quinton de Kock made himself unavailable for the game, citing personal reasons.
De Kock's sudden decision to not play this game has raised many eyebrows in the cricket fraternity. Former Australia all-rounder Shane Watson claimed there must be some 'internal issues'.
"Huge shock. There must be something going on internally," Watson said on Star Sports.
Meanwhile, former West Indies captain Brian Lara said the de Kock's absence will give Kieron Pollard's side an edge.
"It's gonna big advantage West Indies now that de Kock is not playing," Lara said.