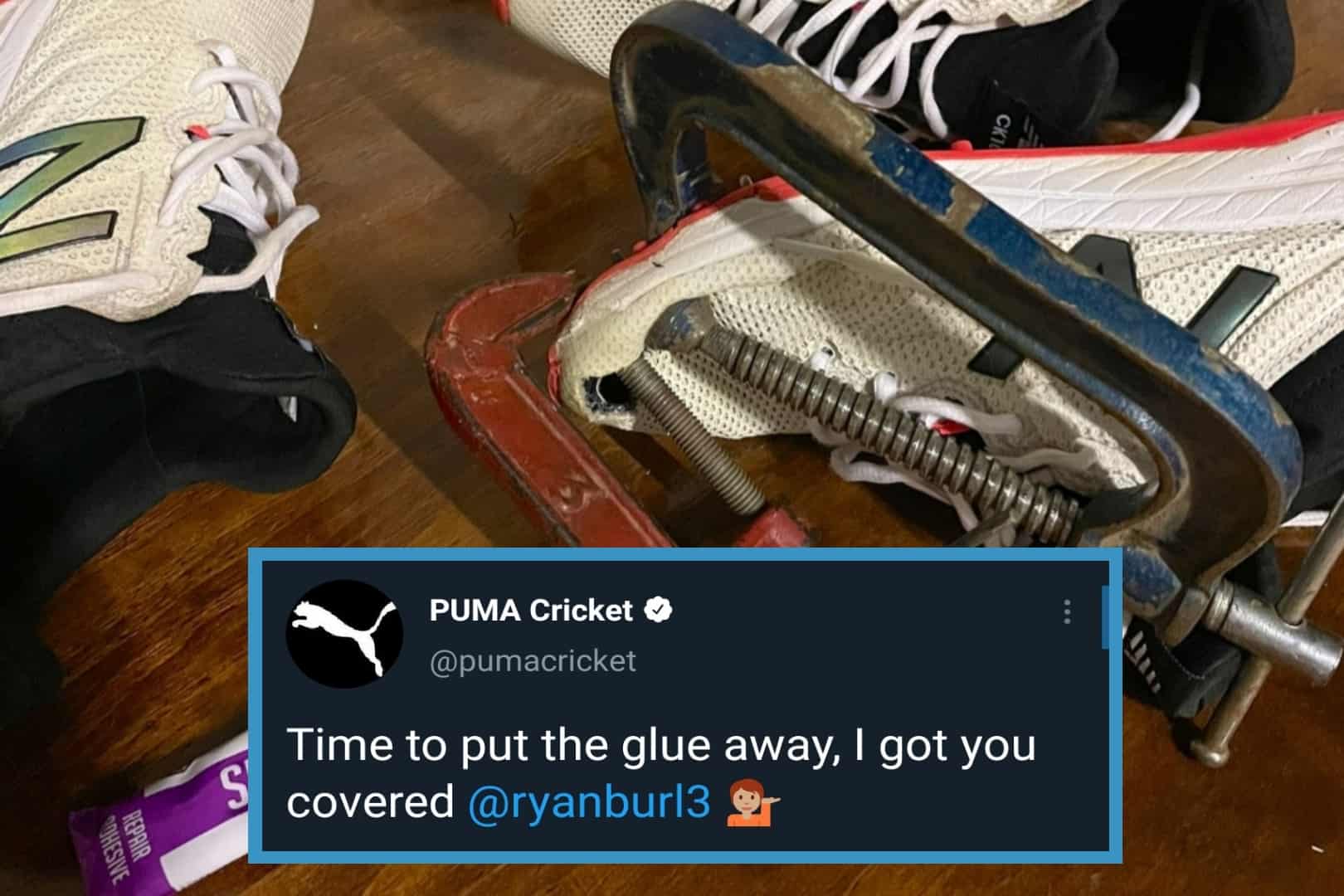 Source: Twitter
Zimbabwe cricketer Ryan Burl, on Saturday pleaded for sponsorship for his national team after sharing a heartbreaking photo of one of his cricketing kits on social media.
Zimbabwe cricket has seen a devastating downfall in the last few years, particularly in the last decade. The African nation used to be one of the mighty teams back in the late 90s and early 2000s thanks to a few of their once in generation players including the likes of Heath Streak, Alastair Campbell, Tatenda Taibu, Henry Olonga, the Flower brothers (Andy and his younger brother Grant), etc.
Ryan Burl Appealed For Sponsorship
Taking to the micro-blogging site, Ryan Burl posted an image of his ripped shoes with some glue and other tools that were used by him to fix them and urged the people whether anyone is ready to sponsor his national team so that they do not have to glue their shoes back after every series.
"Any chance we can get a sponsor so we don't have to glue our shoes back after every series 😢 @newbalance @NewBalance_SA @NBCricket @ICAssociation," Burl Tweeted.
Once this came to the notice of the fans, they were all shell-shocked and tried their level best to help the leg-spinner Ryan Burl.
Puma Cricket Comes In Support
Thanks to the fans, Puma Cricket replied to Ryan Burl's tweet and promised to sponsor them.
"Time to put the glue away, I got you covered @ryanburl3", Puma Cricket tweeted.
Ryan Burl also thanked Puma Cricket and expressed his excitement for joining Puma Cricket.
" I am so proud to announce that I'll be joining the @pumacricket team. This is all due to the help and support from the fans over the last 24 hours. I couldn't be more grateful to you all. Thanks so much @PUMA", Burl tweeted.
Ryan Burl's Cricketing Career
The 27-year-old Ryan Burl has so far represented Zimbabwe across all formats ever since his first appearance at the highest level back in 2017. Ryan Burl has represented the African nation in three Tests, 18 One Day Internationals, and, 25 T20Is respectively. Burl was last seen in action on 25th April 2021, in the third T20I between Zimbabwe and Pakistan.
Zimbabwe's Humiliating Loss To Pakistan
Pakistan and Zimbabwe recently played a three-match T20I series and a two-day Test series. While Pakistan managed to secure a narrow victory in the T20I series by 2-1, the Men in Green handed a humiliating defeat to the hosts in the Test series as they won both games by an innings.
Zimbabwe Next Stop – Ireland
Zimbabwe next travels to Ireland for a white-ball series. The two teams will play a three-match ODI series, starting August 6, before featuring in five T20Is from August 15.