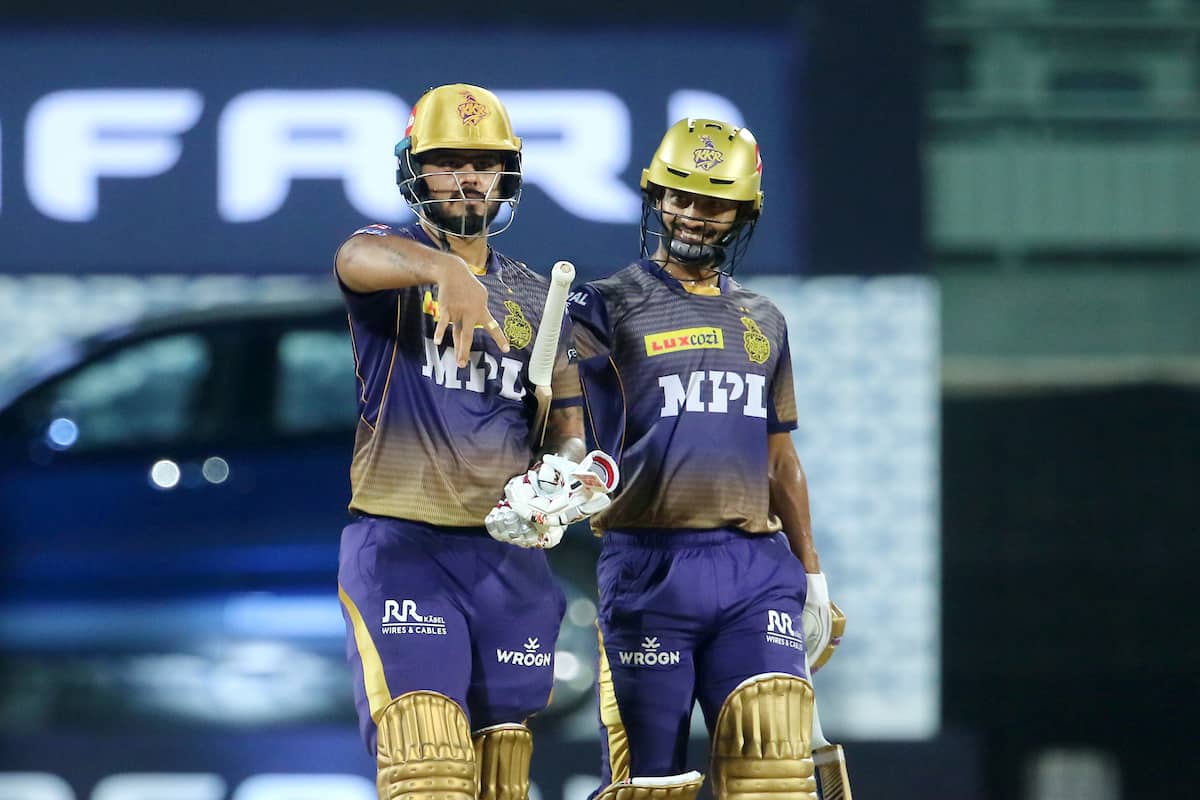 Nitish Rana 3-Finger Celebration | Source: Twitter
Those who witnessed the beautiful innings of Nitish Rana carefully during the Kolkata Knight Riders (KKR) and Sunrisers Hyderabad (KKR) match of IPL 2021, must have noticed a new celebration style of the KKR batsman.
He reached his fifty on the final ball of the tenth over he smashed a delivery from Vijay Shankar for a six. And soon after completing his fifty, Rana raised his bat before showing the three-finger hand gesture. The fingers resembled alphabet M.
The celebration was made popular by German footballer Mesut Ozil. In the past, the World Cup-winner had revealed that his 'M' goal celebration was a tribute to his young niece Mira and it was speculated that Rana might have done the celebration for a similar purpose after the completion of match, Rana himself revealed the reason behind that celebration.
While speaking to teammate Harbhajan Singh after the match, the left-handed batsman Rana revealed that his gesture is inspired by the Punjabi song 'Brown Munde'.
"It was like this (shows the gesture). It was for my friends, and the whole group is a fan of the song 'Brown Munde.' We all love the song, and I thought of the celebration before the season and told my friends I will do it as a message to them that we are Brown Munde.
Rana also said that he is happy to start the season on a good note and will try to carry on the same momentum in the next matches of the tournament.
"Feeling great (after the knock). It is the first game of the season and happy to start on a good note. I will try to carry this form and help my team as much as I can," Nitesh Rana said.
Later, both Bhajji and Nitish sang the popular Punjabi song, 'Brown Munde', to entertain their fans and the video was shared by IPL's official Twitter handle. It has already garnered over 1,600 likes.
The high-scoring encounter saw KKR star Nitish Rana headline his franchise's batting efforts as his 56-ball 80, laced with 9 fours and 4 sixes, took Kolkata to 187-6. He was well supported by Rahul Tripathi (52 off 29) and Dinesh Karthik (22* off 9 balls). In reply, SRH were kept in the run-chase, courtesy half-centuries from Manish Pandey and Jonny Bairstow but the duo's efforts went in vain as Hyderabad ended up at 177-5.