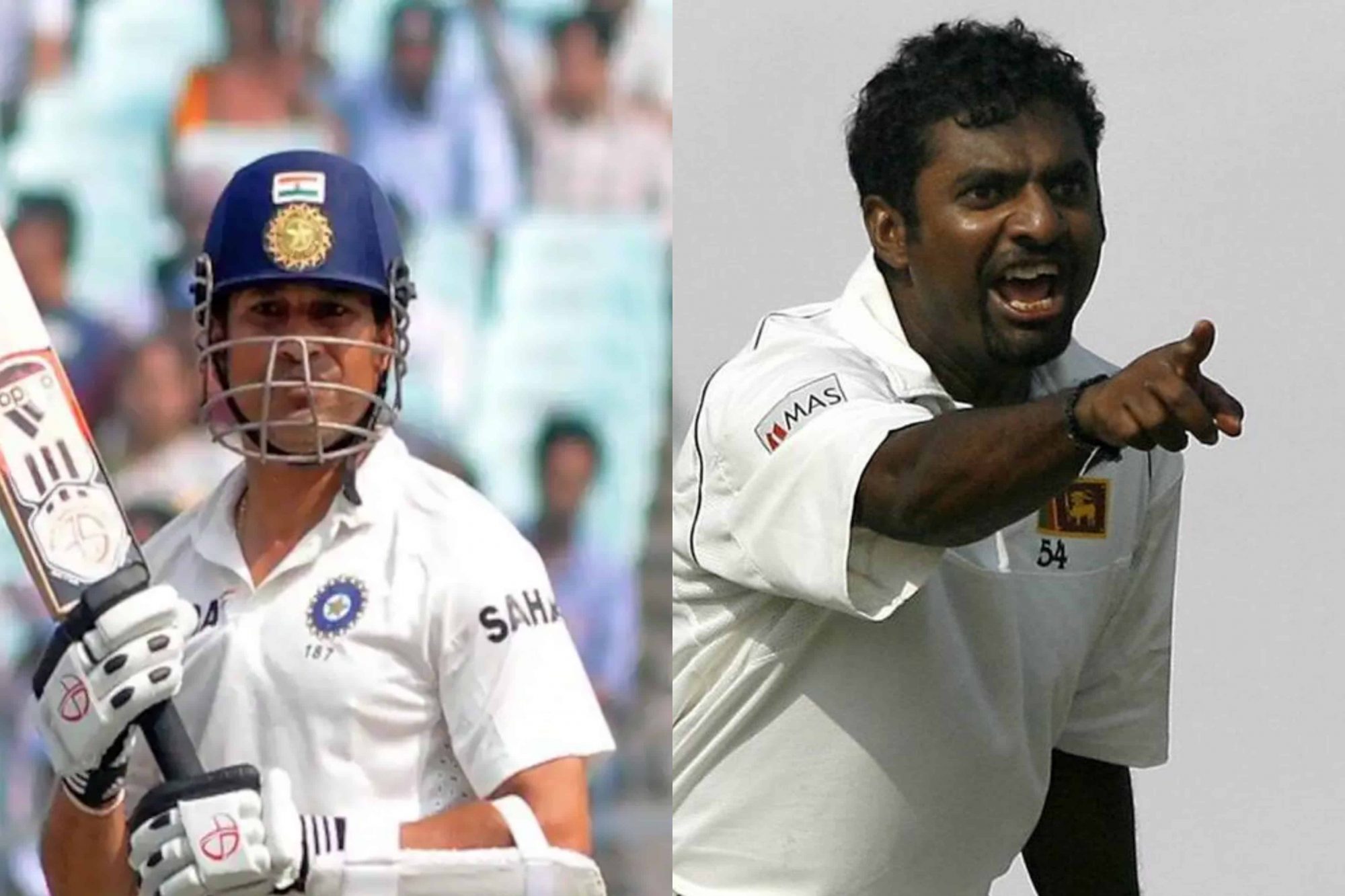 Sachin Tendulkar and Muttiah Muralitharan | Source: Twitter
Sachin Tendulkar is regarded as one of the best batters this game has ever produced. He used his bat throughout his career to shut the critics. He was the question that no bowler had an answer to. However, he too had a weakness when it comes to spin, Muttiah Muralitharan feels.
Murali, in a recent interaction with ESPNCricinfo stated that the master blaster had a slight weakness when it comes to off-spin. The Sri Lankan further highlighted that Tendulkar wasn't able to pick off-spin the way he used to play leg-spin while he was at his peak.
"I felt in my career, Sachin had a small weakness against off-spin. With leg-spin, he smashes but off-spin somehow he had the difficulty because I got him out so many times. And lots of off-spinners also got him so many times, I have seen it," he pointed.
Notably, Muralitharan had dismissed Tendulkar a total of 13 times in his career while Australia's Brett Lee tops the tally with 14 dismissal of master blaster. Muralitharan is the only bowler to date to take 800 Test wickets while Tendulkar is the only batsman till now to register 100 centuries.
"I don't know, I never spoke to him regarding this, that why 'you aren't comfortable with off-spin.' I felt in my mind he had a little bit of weakness that's why I got a little bit of advantage compared to other players. Sachin is a difficult player, it's very hard to get him out."
Virat Kohli & Babar Azam Plays Spin Best: Muttiah Muralitharan
When the 51-year old was asked who he thought would have picked his variations easily, the former Lankan off-spinner took the name of India skipper Virat Kohli and Pakistan skipper Babar Azam.
Both players have been playing in the spin friendly conditions and hence its no doubt that they pick spin well. While Babar Azam prefers sweep and reverse sweep, Kohli is good at using his feet well against the spinners.
"Kohli would have been tough as he is a good player of spin," said Murali.
"Babar Azam, I've never seen but looks like one of the better players because he is from the subcontinent," Murali told ESPNCricinfo.