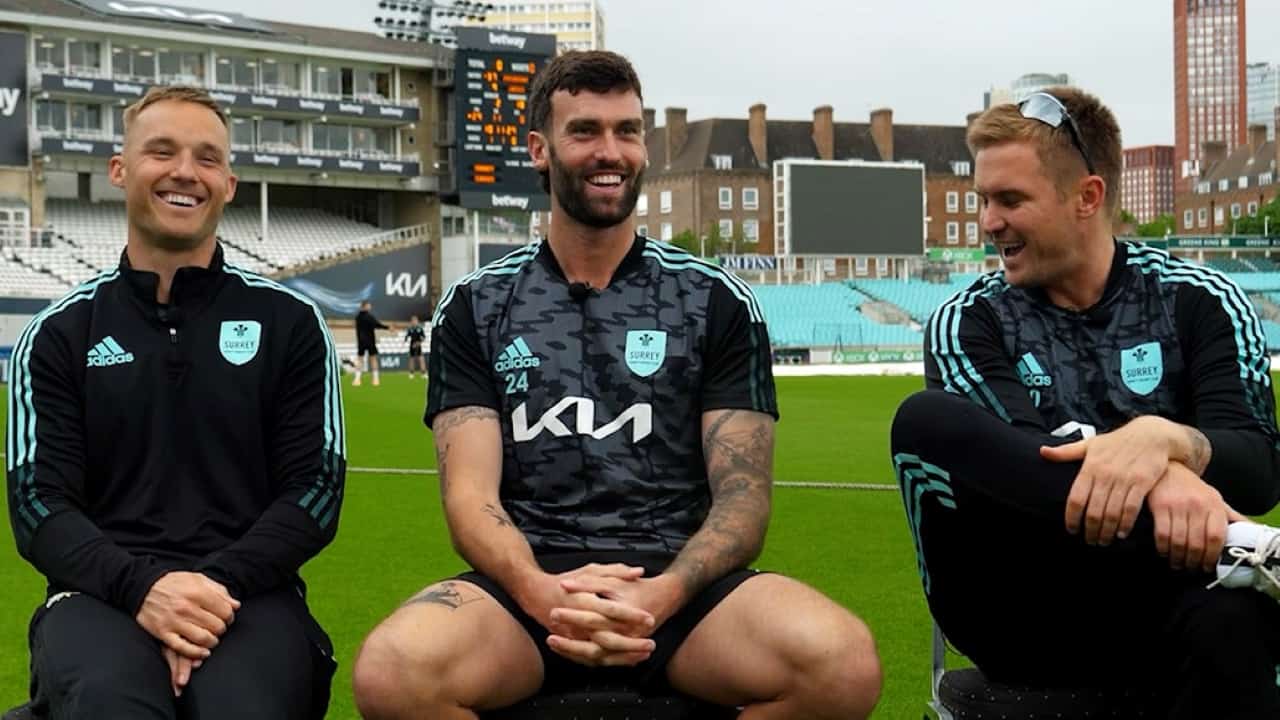 Jason Roy (R), Reece Topley (C) & Laurie Evans (L)
While England, under the new leadership of Jos Buttler, is battling it out against the Men in Blue in a white-ball series, Jason Roy with his Surrey teammates Laurie Evans and Reece Topley made some startling revelations about their English teammates in an interesting video produced by Betway.
On being asked about the players who have highly impacted them on and off-field, Evans took no time in putting forth the name of former South African batter and skipper Hashim Amla.
The legend from the rainbow nation always carried himself with a certain amount of calm and composure, while bringing a lot of elegance and dignity to this sport.
"I quite enjoy Hashim Amla. Just as a calming influence over the dressing room," said Evans.
"The mental side of things, 100%," said Jason Roy. The right-handed English opening batter also mentioned other prolific names who have had a great influence on him and his life.
"We've been blessed with overseas players that you can't believe. Kumar Sangakkara, Hash [Hashim Amla], Ricky Ponting, Graeme Smith," Roy revealed. 
Further, on being asked about who would the trio "trust with a catch to save their lives", Roy came up with an interesting answer while Evans picked up Roy to get this job done for him nicely.  
Roy, while heaping praise on Chris Jordan's fielding ability, stated that the Surrey captain would be the best man to trust with a catch to save his life.
"I'm going to put CJ (Chris Jordan) up there. Stick a high ball up there, he's got good mitts on him," Roy answered.
Jordan is touted as one of the best fielders in the world currently. He has earned this reputation after pulling off a plethora of spectacular catches on the cricket ground all around the world.
In the fitness regard, Roy labelled former Surrey opener Arun Harinath as "unbelievable" at the bleep test, while also implying former England captain Joe Root could "run for absolute days".
Asked about the player who remains in the nets for the longest period, Evans and Topley agreed on England wicketkeeper Ben Foakes and batter Ollie Pope.
"He [Foakes] always comes in for a second and third hit," said Laurie Evans. "Popey's another long one," said Topley. "It takes a long time, especially when we are travelling everywhere on coaches at the minute, and we're all having to wait for Popey and Foakesy to wrap up their hits."
Ollie Pope once again made it to the discussion as Jason Roy named him as the messiest roommate he had ever shared his room with while Laurie Evans tossed in the name of Sam Billings.
"I roomed with Ollie Pope once. Horrendous. That was tough going. He was a messy puppy, for sure. He took over a lot of room," Roy answered on being asked about the messiest roommate.
"Sam Billings is also one of the messiest people I know," Laurie Evan concluded.
The trio also had a chat on other interesting aspects like the – Best footballer or Who wears the most outrageous gear. You can watch the two-minute interview with Betway here.