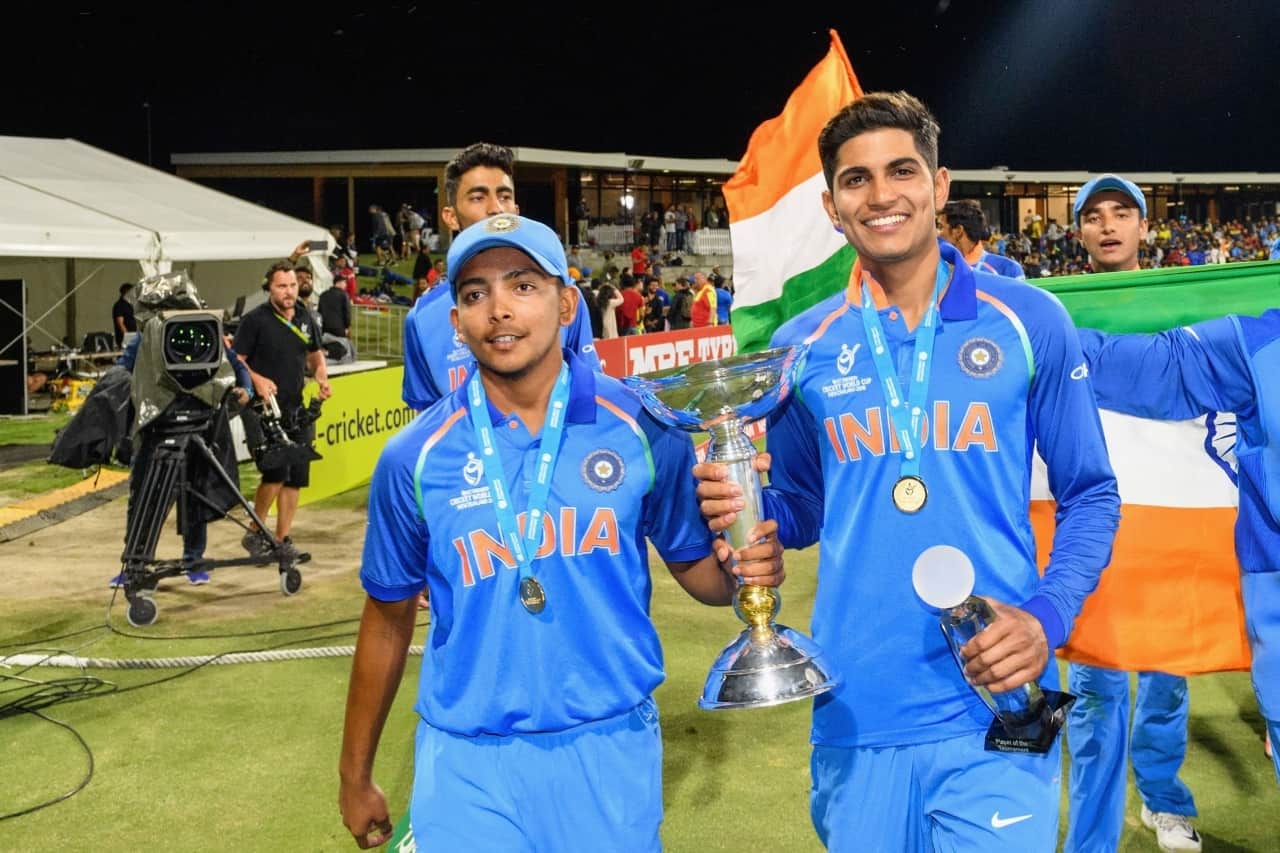 Captain Prithvi Shaw and Shubman Gill of India hold the trophy | Source: GettyImages
Shubman Gill and Prithvi Shaw, former teammates from India's Under19 team, have experienced contrasting journeys in their cricketing careers so far.
While Shubman Gill has blossomed into a batting prodigy and is often considered the future face of Indian cricket, Prithvi Shaw's career has witnessed a downturn.
The ongoing Indian Premier League (IPL) 2023 provides a stark contrast between the two players. While Shubman Gill has emerged as the tournament's top run-scorer, amassing 851 runs so far, Prithvi Shaw finished the IPL with just 106 runs from eight matches.
Shaw's stint with the Delhi Capitals in the initial phase of the season saw him score 12, 7, 0, 15, 0, and 13 in the first six matches, after which he was dropped from the team. Later, he made a comeback and smashed a half-century but failed to keep up the momentum.
Reflecting on the same, Shubman Gill's childhood coach Karsan Ghavri underlined his tireless work ethic in enhancing his batting prowess, while pointing out that Shaw, unfortunately, hasn't put in the same level of dedication in his game.
In an interview with The Indian Express, Ghavri stated:
"They were in the same team that won the U-19 World Cup in 2018, right? Today where is Prithvi Shaw and where is Shubman Gill? They are in two different categories."
Ghavri didn't mince words, as he went on to say that Prithvi Shaw's self-perceived stardom won't have a positive impact on his gameplay:
"Shaw thinks he is a star and nobody can touch him. But he needs to understand that at the international level, irrespective of whether you are playing T20, 50 over or the Test match or even the Ranji Trophy, it takes only one delivery to get you out."
"You require discipline and a good temperament. You need to constantly work on yourself. You are required to occupy the crease, and if you do that, you are bound to get more runs."
Nothing has been lost, Shaw can work on his flaws: Karsan Ghavri
Ghavri further pointed out that both players are of the same age, and hence Shaw should draw inspiration from Gill's progress and concentrate on refining his technique and fitness.
"They are of the same age. Nothing has been lost yet. Gill has worked on his flaws, while Shaw hasn't. He still can. He needs to work hard; otherwise, there is no point having so much potential."
Shaw was recently spotted in Dubai, attending an award show alongside his girlfriend Nidhhi Tapadiaa.