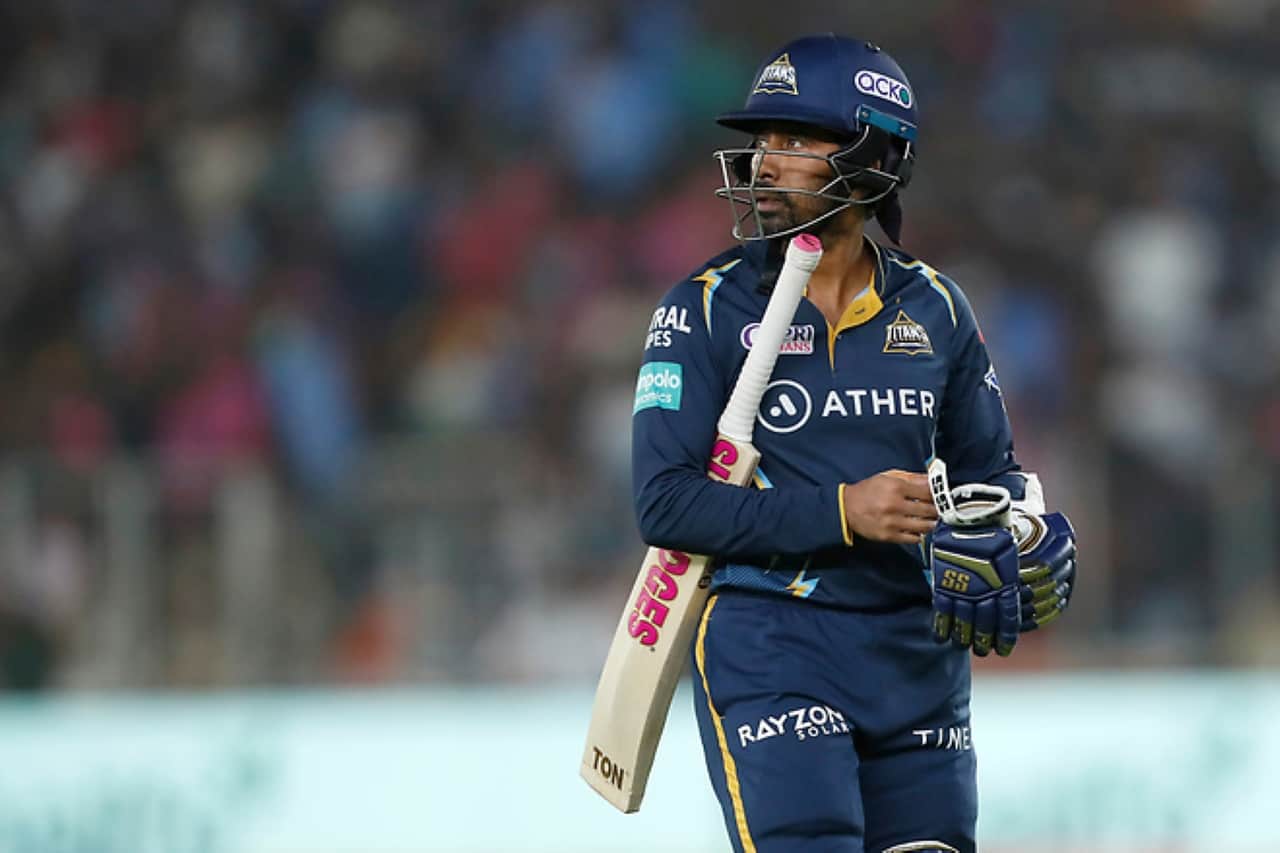 Wriddhiman Saha | Source: BCCI/IPL
Gujarat Titans put on a dominant display against Mumbai Indians on Tuesday, April 25 at the Narendra Modi stadium in Ahmedabad, registering a comprehensive 55-run victory.
However, the high-scoring clash was overshadowed by an incident involving Wriddhiman Saha, which has garnered widespread criticism on social media and among the cricketing community.
The incident happened in the third over of the first inning, when Wriddhiman Saha was dismissed after he was deemed to have gloved a delivery from Arjun Tendulkar to Ishan Kishan down the leg side.
The on-field umpire gave him out, but Saha was unhappy with the decision and opted to refer it to the third umpire, which he made after the allotted 15-second DRS window had expired.
To the surprise of many, the on-field umpires, Anil Chaudhary and Nand Kishore, ignored the fact that Wriddhiman Saha had missed the window for the review and allowed him to challenge their decision by going upstairs.
Even the commentators who were providing live commentary during the match seemed dissatisfied with the decision to allow Wriddhiman Saha to go upstairs for a review, despite him exceeding the time limit. Here's how they reacted:
"Oh, too late brother! You're out of here," said Danny Morrison on-air.
"It was a very late call," added Matthew Hayden. "Well… he's given him."
Even Brett Lee was unimpressed as he tweeted: "Why have the 15 sec referral rule in cricket if the 3rd umpire doesn't enforce it ? @IPL #timesup".
The drama surrounding Wriddhiman Saha's dismissal continued to unfold when the third umpire decided to review the on-field umpire's call, despite the batter having missed the deadline for the review. The replays showed a clear edge, and Saha had no choice but to walk off the field.
Fans didn't look impressed with the decision either:
Gujarat Titans registered their fifth win of the season and are currently sitting at the second position of the IPL 2023 points table. They will next face Kolkata Knight Riders in their next match on April 29 at Eden Gardens, Kolkata.