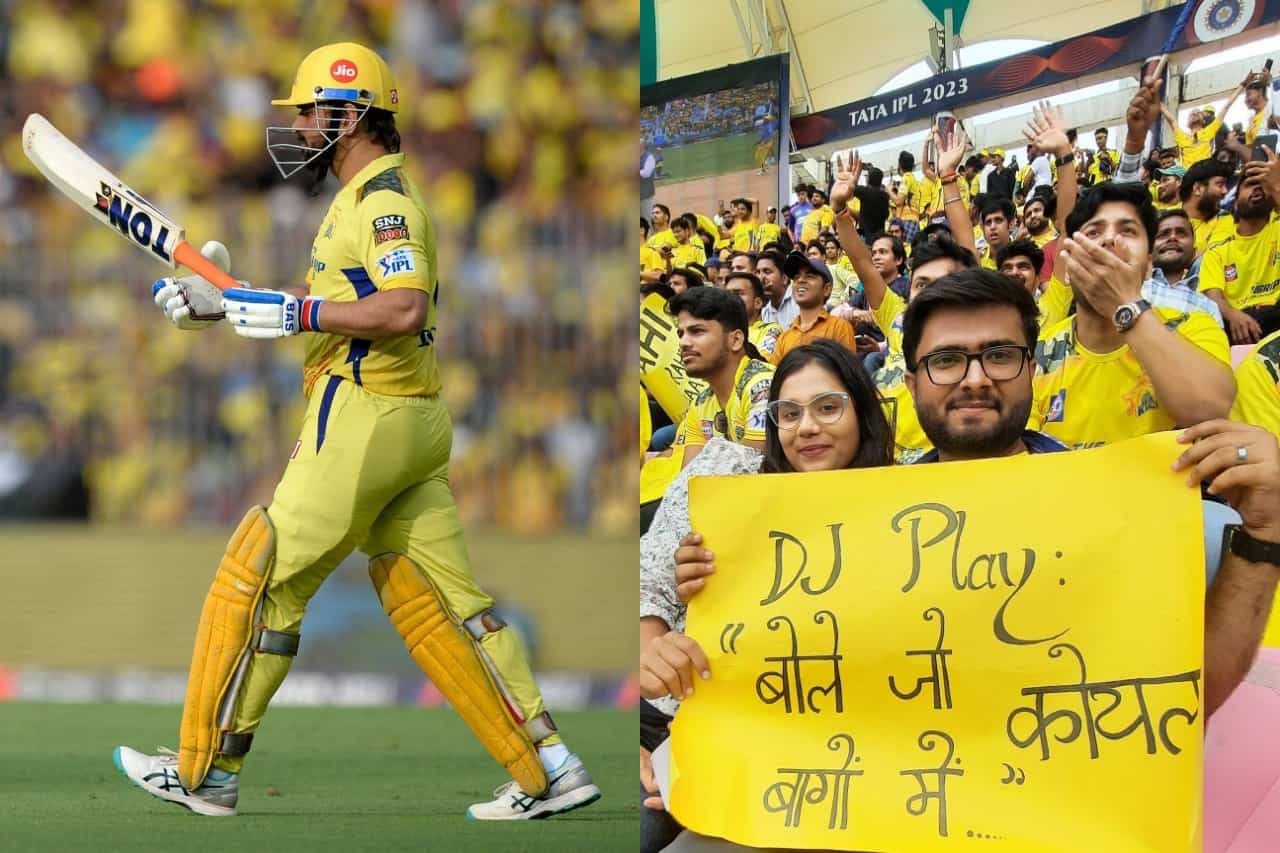 Fans with posted | Source: Twitter
The Indian Premier League is renowned worldwide as a grand festival, attracting fans from all corners of the globe who flock to stadiums to witness the awe-inspiring display of their favourite cricket icons and the fiercest competition in the cricketing world.
In the midst of this fervor, fans unleash their creativity, crafting eye-catching posters embellished with some humorous slogans. In the past, we've seen memorable examples, like a girl vowing not to marry until RCB clinches the trophy and a husband sneaking away from his wife to attend an IPL match.
And that's not all. The stadium's DJs have also played a crucial part in captivating the crowd and setting an electrifying atmosphere, treating them to fantastic music during player entrances and special moments.
Amidst the excitement, a hilarious incident took place at the Arun Jaitley Stadium in Delhi on Saturday, May 20 during a match between Delhi Capitals and Chennai Super Kings when the DJ decided to cue in the song "Bole Jo Koyal Bagon Mein" just as MS Dhoni came to bat.
Watch Video:
What's the connection between this song and Dhoni?
For those who haven't come across it yet, there's a meme circulating on the internet featuring none other than MS Dhoni, the captain of CSK, and the lively song "Chudi" [Bole Jo Koyal] by Falguni Pathak. This meme gained massive traction when a video of Uppal Balu, a Telugu internet sensation, grooving to the song became a viral sensation in 2019.
The striking resemblance between Balu and Dhoni, due to the long hair of the former caught everyone's attention, which led to the creation of hilarious videos featuring Dhoni grooving to the beats of the trending song. Earlier during CSK vs MI game at Cheapuk, the die-hard Dhoni fans came up with a poster that demanded, "DJ Play: Bole Jo Koyal Bagho Mein."
Here's the poster:
As far as the match is concerned, Chennai Super Kings won the toss and decided to bat first. Their decision turned out to be a smart one, as they amassed a mammoth total of 223 runs for the loss of three wickets in the first innings. The Delhi Capitals, on the other hand, are currently at 73 runs for the loss of four wickets in 11 overs while chasing.