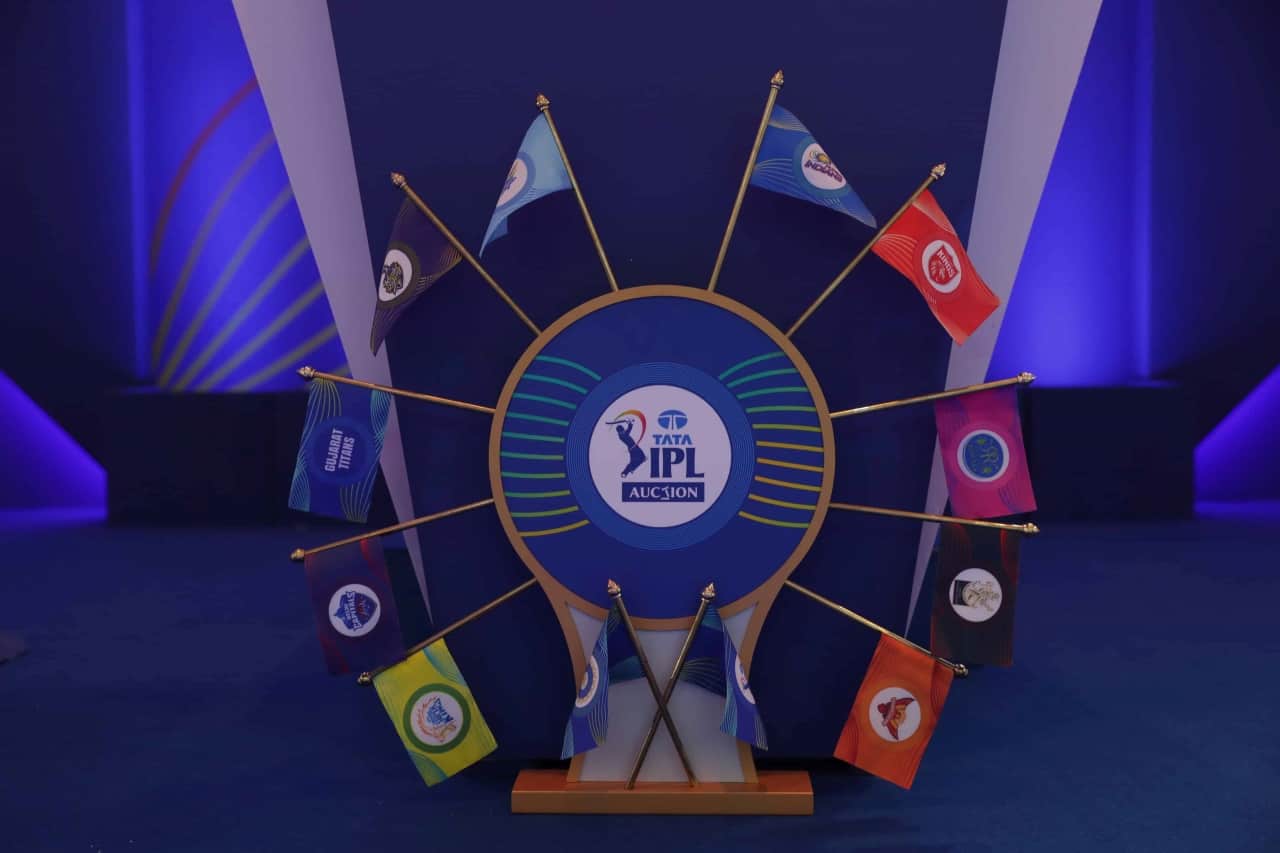 Image Source: Twitter
The wait is over as the Board of Control for Cricket in India (BCCI), on Sunday released the schedule for the Indian Premier League (IPL) 2022.
The season opener of the tournament will be played between Chennai Super Kings and Kolkata Knight Riders on March 26. Here's the complete schedule for IPL 2022.
IPL 2022 Full Schedule
| No. | Day | Date | Match | Time (IST) | Venue |
| --- | --- | --- | --- | --- | --- |
| 1 | Saturday | March 26, 2022 | CSK vs KKR | 7:30 PM | Wankhede Stadium |
| 2 | Sunday | March 27, 2022 | DC vs MI | 3:30 PM | Brabourne – CCI |
| 3 | Sunday | March 27, 2022 | PBKS vs RCB | 7:30 PM | DY Patil Stadium |
| 4 | Monday | March 28, 2022 | GT vs LSG | 7:30 PM | Wankhede Stadium |
| 5 | Tuesday | March 29, 2022 | SRH vs RR | 7:30 PM | MCA Stadium, Pune |
| 6 | Wednesday | March 30, 2022 | RCB vs KKR | 7:30 PM | DY Patil Stadium |
| 7 | Thursday | March 31, 2022 | LSG vs CSK | 7:30 PM | Brabourne – CCI |
| 8 | Friday | April 1, 2022 | KKR vs PBKS | 7:30 PM | Wankhede Stadium |
| 9 | Saturday | April 2, 2022 | MI vs RR | 3:30 PM | DY Patil Stadium |
| 10 | Saturday | April 2, 2022 | GT vs DC | 7:30 PM | MCA Stadium, Pune |
| 11 | Sunday | April 3, 2022 | CSK vs PBKS | 7:30 PM | Brabourne – CCI |
| 12 | Monday | April 4, 2022 | SRH vs LSG | 7:30 PM | DY Patil Stadium |
| 13 | Tuesday | April 5, 2022 | RR vs RCB | 7:30 PM | Wankhede Stadium |
| 14 | Wednesday | April 6, 2022 | KKR vs MI | 7:30 PM | MCA Stadium, Pune |
| 15 | Thursday | April 7, 2022 | LSG vs DC | 7:30 PM | DY Patil Stadium |
| 16 | Friday | April 8, 2022 | PBKS vs GT | 7:30 PM | Brabourne – CCI |
| 17 | Saturday | April 9, 2022 | CSK vs SRH | 3:30 PM | DY Patil Stadium |
| 18 | Saturday | April 9, 2022 | RCB vs MI | 7:30 PM | MCA Stadium, Pune |
| 19 | Sunday | April 10, 2022 | KKR vs DC | 3:30 PM | Brabourne – CCI |
| 20 | Sunday | April 10, 2022 | RR vs LSG | 7:30 PM | Wankhede Stadium |
| 21 | Monday | April 11, 2022 | SRH vs GT | 7:30 PM | DY Patil Stadium |
| 22 | Tuesday | April 12, 2022 | CSK vs RCB | 7:30 PM | DY Patil Stadium |
| 23 | Wednesday | April 13, 2022 | MI vs PBKS | 7:30 PM | MCA Stadium, Pune |
| 24 | Thursday | April 14, 2022 | RR vs GT | 7:30 PM | DY Patil Stadium |
| 25 | Friday | April 15, 2022 | SRH vs KKR | 7:30 PM | Brabourne – CCI |
| 26 | Saturday | April 16, 2022 | MI vs LSG | 3:30 PM | Brabourne – CCI |
| 27 | Saturday | April 16, 2022 | DC vs RCB | 7:30 PM | Wankhede Stadium |
| 28 | Sunday | April 17, 2022 | PBKS vs SRH | 3:30 PM | Brabourne – CCI |
| 29 | Sunday | April 17, 2022 | GT vs CSK | 7:30 PM | MCA Stadium, Pune |
| 30 | Monday | April 18, 2022 | RR vs KKR | 7:30 PM | Brabourne – CCI |
| 31 | Tuesday | April 19, 2022 | LSG vs RCB | 7:30 PM | DY Patil Stadium |
| 32 | Wednesday | April 20, 2022 | DC vs PBKS | 7:30 PM | MCA Stadium, Pune |
| 33 | Thursday | April 21, 2022 | MI vs CSK | 7:30 PM | DY Patil Stadium |
| 34 | Friday | April 22, 2022 | DC vs RR | 7:30 PM | MCA Stadium, Pune |
| 35 | Saturday | April 23, 2022 | KKR vs GJ | 3:30 PM | DY Patil Stadium |
| 36 | Saturday | April 23, 2022 | RCB vs SRH | 7:30 PM | Brabourne – CCI |
| 37 | Sunday | April 24, 2022 | LSG vs MI | 7:30 PM | Wankhede Stadium |
| 38 | Monday | April 25, 2022 | PBKS vs CSK | 7:30 PM | Wankhede Stadium |
| 39 | Tuesday | April 26, 2022 | RCB vs RR | 7:30 PM | MCA Stadium, Pune |
| 40 | Wednesday | April 27, 2022 | GT vs SRH | 7:30 PM | Wankhede Stadium |
| 41 | Thursday | April 28, 2022 | DC vs KKR | 7:30 PM | Wankhede Stadium |
| 42 | Friday | April 29, 2022 | PBKS vs LSG | 7:30 PM | MCA Stadium, Pune |
| 43 | Saturday | April 30, 2022 | GT vs RCB | 3:30 PM | Brabourne – CCI |
| 44 | Saturday | April 30, 2022 | RR vs MI | 7:30 PM | DY Patil Stadium |
| 45 | Sunday | May 1, 2022 | DC vs LSG | 3:30 PM | Wankhede Stadium |
| 46 | Sunday | May 1, 2022 | SRH vs CSK | 7:30 PM | MCA Stadium, Pune |
| 47 | Monday | May 2, 2022 | KKR vs RR | 7:30 PM | Wankhede Stadium |
| 48 | Tuesday | May 3, 2022 | GT vs PBKS | 7:30 PM | DY Patil Stadium |
| 49 | Wednesday | May 4, 2022 | RCB vs CSK | 7:30 PM | MCA Stadium, Pune |
| 50 | Thursday | May 5, 2022 | DC vs SRH | 7:30 PM | Brabourne – CCI |
| 51 | Friday | May 6, 2022 | GT vs MI | 7:30 PM | Brabourne – CCI |
| 52 | Saturday | May 7, 2022 | PBKS vs RR | 3:30 PM | Wankhede Stadium |
| 53 | Saturday | May 7, 2022 | LSG vs KKR | 3:30 PM | MCA Stadium, Pune |
| 54 | Sunday | May 8, 2022 | SRH vs RCB | 3:30 PM | Wankhede Stadium |
| 55 | Sunday | May 8, 2022 | CSK vs DC | 3:30 PM | DY Patil Stadium |
| 56 | Monday | May 9, 2022 | MI vs KKR | 7:30 PM | DY Patil Stadium |
| 57 | Tuesday | May 10, 2022 | LSG vs GT | 7:30 PM | MCA Stadium, Pune |
| 58 | Wednesday | May 11, 2022 | RR vs DC | 7:30 PM | DY Patil Stadium |
| 59 | Thursday | May 12, 2022 | CSK vs MI | 7:30 PM | Wankhede Stadium |
| 60 | Friday | May 13, 2022 | RCB vs PBKS | 7:30 PM | Brabourne – CCI |
| 61 | Saturday | May 14, 2022 | KKR vs SRH | 7:30 PM | MCA Stadium, Pune |
| 62 | Sunday | May 15, 2022 | CSK vs GT | 3:30 PM | Wankhede Stadium |
| 63 | Sunday | May 15, 2022 | LSG vs RR | 7:30 PM | Brabourne – CCI |
| 64 | Monday | May 16, 2022 | PBKS vs DC | 7:30 PM | DY Patil Stadium |
| 65 | Tuesday | May 17, 2022 | MI vs SRH | 7:30 PM | Wankhede Stadium |
| 66 | Wednesday | May 18, 2022 | KKR vs LSG | 7:30 PM | DY Patil Stadium |
| 67 | Thursday | May 19, 2022 | RCB vs GT | 7:30 PM | Wankhede Stadium |
| 68 | Friday | May 20, 2022 | RR vs CSK | 7:30 PM | Brabourne – CCI |
| 69 | Saturday | May 21, 2022 | MI vs DC | 7:30 PM | Wankhede Stadium |
| 70 | Sunday | May 22, 2022 | SRH vs PBKS | 7:30 PM | Wankhede Stadium |