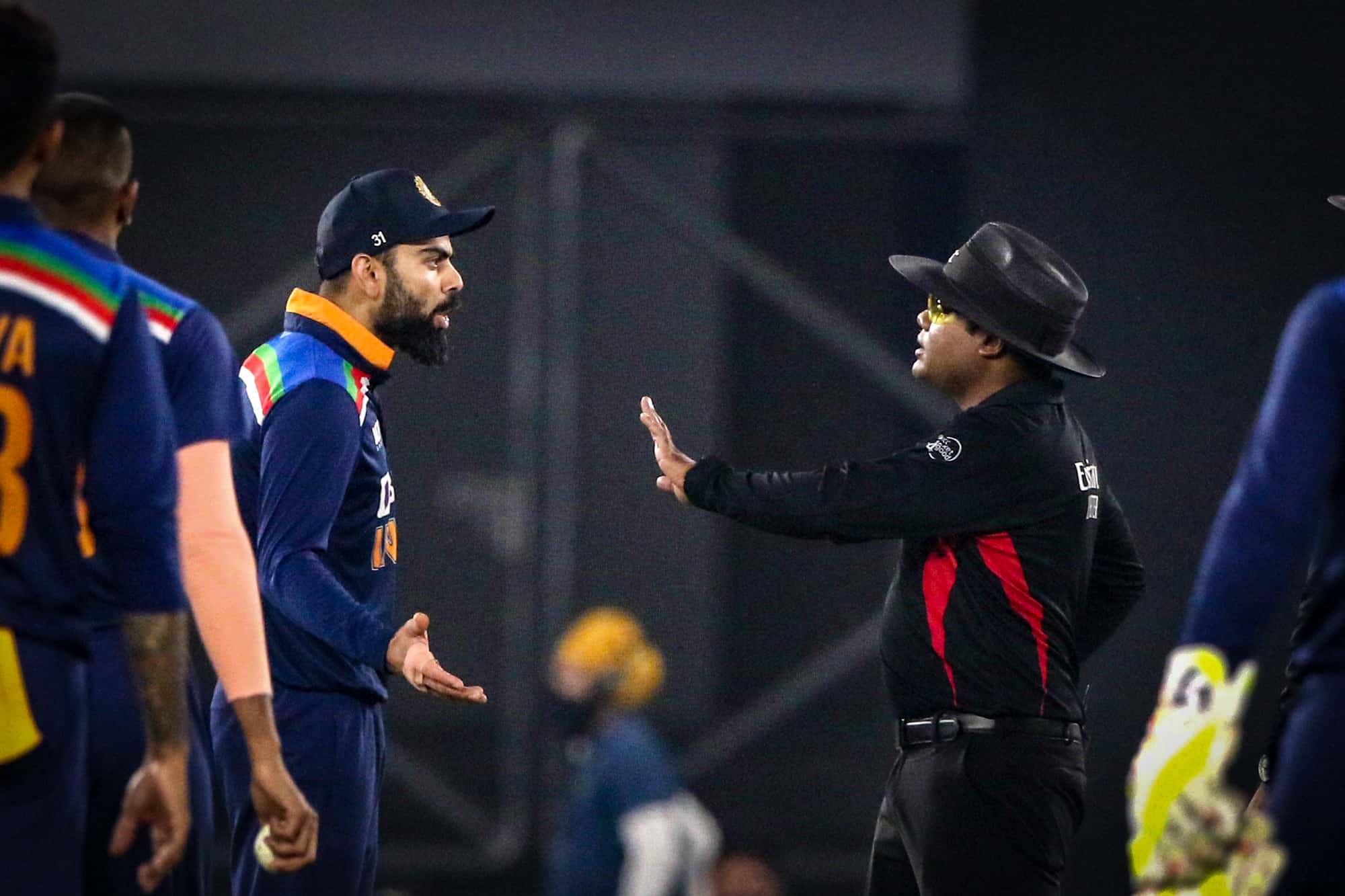 Virat Kohli | Source: Twitter
During the high-intensity game against England, India skipper Virat Kohli seemed to have lost his composure as he gave Jos Buttler an ugly send-off on Saturday during the decider at the Narendra Modi stadium.
Buttler had laid a solid platform with Dawid Malan for the second wicket, before holing out to long-off of the bowling of Bhuvneshwar Kumar on 52. Buttler's knock comprised of four sixes and two fours. He stitched a crucial 130-run stand with Dawid Malan after Jason Roy perished without a score.
As he walked off, the cameras focused on Virat Kohli, who was seen walking towards Buttler and saying something, although it's unclear who began the exchange. Buttler kept walking, turning around from time to time to respond, and at one point moved towards Kohli. After a heated verbal duel, Buttler left the field.
Virat Kohli in a Heated Argument With Jos Buttler Watch Video:
Soon after, Virat Kohli was seen having a lengthy, animated chat with Jonny Bairstow and the umpires. The incident puts the focus back on Kohli's on-field demeanour, which has been under scrutiny in recent times, particularly in England's ongoing tour. During the second Test, he was in danger of facing a one-Test suspension, after he was seen arguing with the on-field umpire, though he escaped a charge in that instance.
Currently, Kohli has two active demerit points – according to the ICC's demerit point system, if a player reaches four or more demerit points in a 24-month period, the demerit points are converted into suspension points. Two suspension points lead to a ban of either one Test, or two ODIs or two T20Is. Buttler currently has one active demerit point.
The exchange with Buttler could lead to a charge under the ICC's code of conduct, with article 2.5, which concerns "using language, actions or gestures which disparage or which could provoke an aggressive reaction from a batter upon his dismissal during an international match" most likely to be the one at play. This offence is at most a level one digression, and can result in a maximum penalty of two demerit points.
If Kohli does receive a ban, he would miss the first two ODIs of India's upcoming series against England.