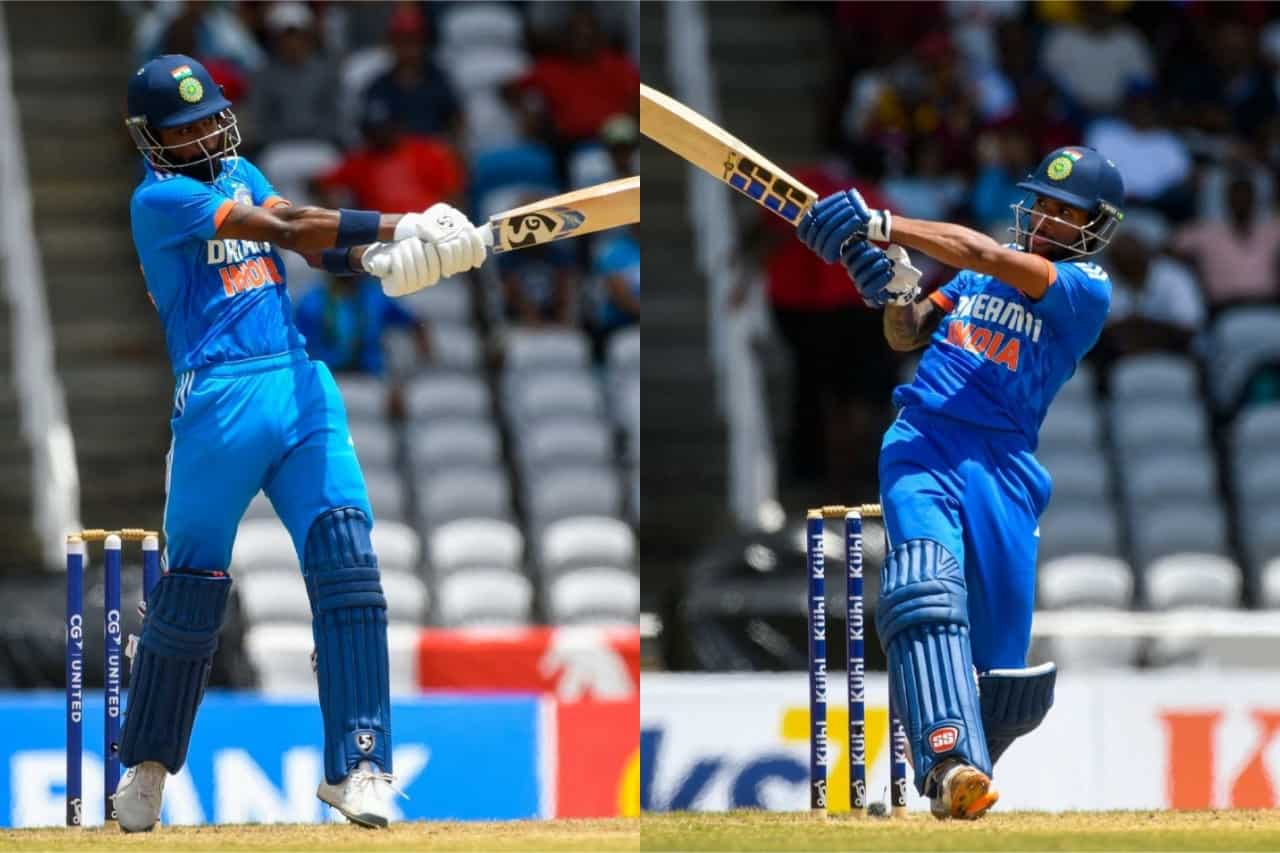 Hardik Pandya (L) & Tilak Varma | Source: GettyImages
India clinched their first win in the ongoing five-match T20I series against West Indies on Tuesday, August 8. Their 7-wicket victory ensured they remained in contention for the series. However, captain Hardik Pandya faced backlash from fans for denying Tilak Verma a chance to complete his half-century.
With 14 balls left and only two runs required for victory, Hardik Pandya smashed a six to finish the match, which didn't sit well with the fans, who opined that he could have taken a single, handing the strike to Tilak Varma, who needed just one more run to reach a century. This would have marked his second consecutive half-century.
After fans, the former India opener Aakash Chopra has now expressed his disappointment at Tilak Varma not being able to get a fifty in the 3rd T20I. The cricketer-turned-commentator stated that he was not able to understand why Hardik Pandya went for the big hit when there was no question on Net Run Rate in the bilateral series.
Here's what Aakash Chopra said on his YouTube channel:
"Hardik comes to bat, and now things get interesting. Hardik advises Tilak to focus on staying not out and not to get carried away. However, Hardik ends up playing the aggressive shots himself. Net run rate wasn't the issue there, and it wouldn't have made any difference."

"With 2 runs needed from 13 balls, taking a single and giving Tilak the strike would have sufficed. Instead, Hardik hit a six."
Tilak Varma Deprived of Half-Century: Aakash Chopra
The ex-opening batter further added whether this approach is a deliberate effort to foster team culture, emphasising the importance of not focusing on individual milestones.
"I'm sure they aim to cultivate a culture where players don't focus on minor aspects like staying not out or reaching a half-century—matters of individual significance. However, even a not-out status doesn't hold much weight here. Even if you were at the crease, you still had 12 balls to score 2 runs. Tilak was deprived of an opportunity to score a fifty; he didn't get a chance. That's just my viewpoint, though. You're welcome to label me old-fashioned."
Having debuted for India in the first T20I against West Indies, Tilak Varma has garnered praise for his proactive approach and strategic gameplay. Notably, he stands as the first Indian batter to register scores of 30-plus runs in the first three matches following his debut.