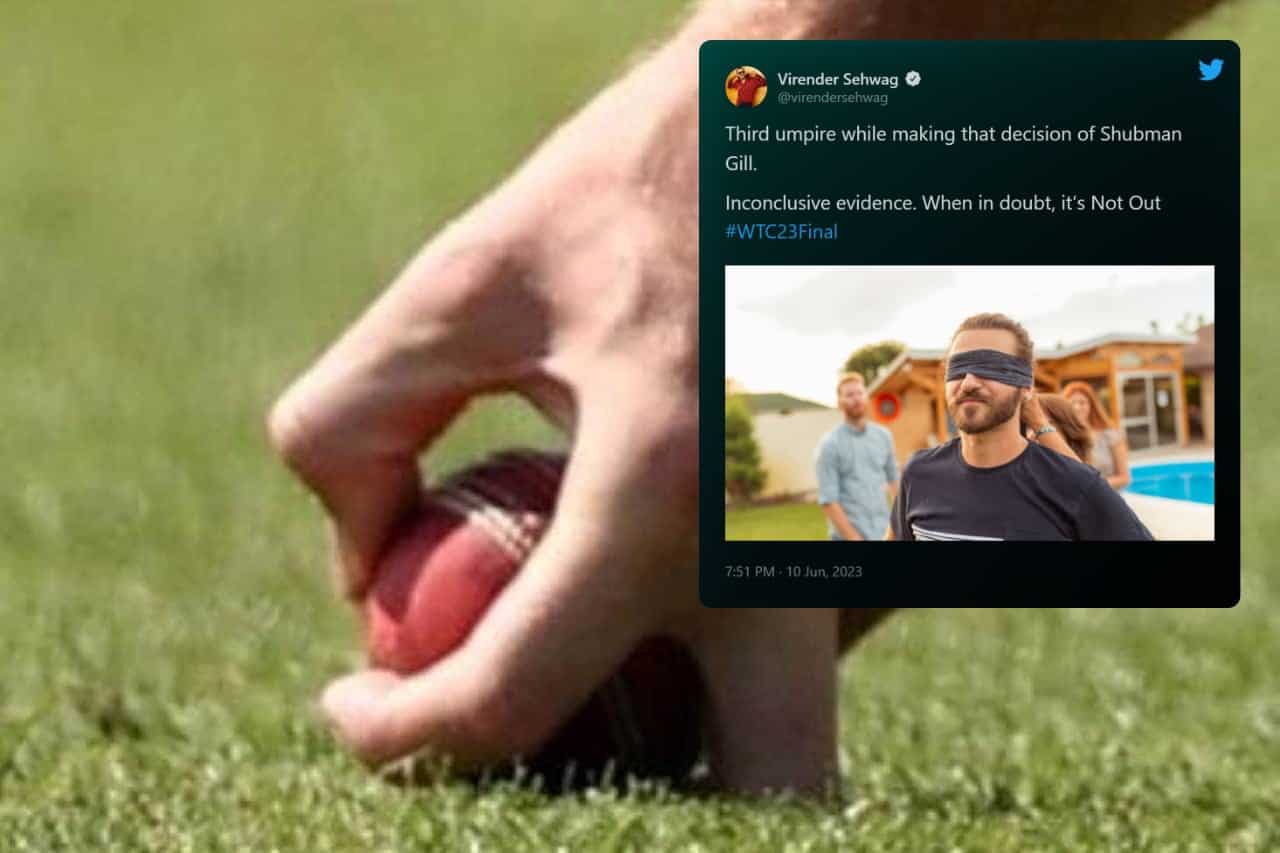 Virender Sehwag React on Shubman Gill Catch
Team India suffered its first major blow during the 444-run chase against Australia in WTC 2023 final at The Oval as Shubman Gill was dismissed in a controversial catch by Cameron Green off Scott Boland's bowling.
Boland delivered a ball outside the off-stump, tempting Shubman Gill to edge it towards the slip cordon. Cameron Green lunged forward, extending his arm to complete the catch, but it appeared that the ball grazed the ground during the process.
Following several replays, on-field umpires Chris Gaffaney and Richard Illingworth decided to refer the catch to third umpire Richard Kettleborough, who adjudged the catch to be clean.
However, the live video footage failed to provide a conclusive view on whether the tall Australian managed to keep his left hand off the ground while making contact with the ball.
Following this incident, the crowd at The Oval erupted in chants of 'cheaters, cheaters,' displaying their fury. Social media platforms also brimmed with discontented fans expressing their displeasure with the third umpire's call, firmly asserting that Shubman Gill was unfairly given out.
Here is a compilation of fan and expert reactions following the incident:
Third umpire while making that decision of Shubman Gill.

Inconclusive evidence. When in doubt, it's Not Out #WTC23Final pic.twitter.com/t567cvGjub

— Virender Sehwag (@virendersehwag) June 10, 2023
Third umpire watching the replay before pressing out 🤦 #WTCFinal pic.twitter.com/ZTFeGsihpC

— Wasim Jaffer (@WasimJaffer14) June 10, 2023
If this ball is not touching the ground, then the grass is Blue, the sky is Green and third umpire is not blind pic.twitter.com/E7zxR8LWgL

— Sagar (@sagarcasm) June 10, 2023
Third Umpire while giving Gill's decision pic.twitter.com/0iEpGHVGlO

— mon (@4sacinom) June 10, 2023
Indian fans to third umpire pic.twitter.com/JSJHhNqY1X

— Pakchikpak Raja Babu (@HaramiParindey) June 10, 2023
This guy is the third umpire 😂 pic.twitter.com/MjPSoZcG5B

— R A T N I S H (@LoyalSachinFan) June 10, 2023
The third umpire is Richard Kettleborough. Brave of Indian fans to think he'll rule in our favour, lol.

— Jaanvi🏏 (@that_shutterbug) June 10, 2023
Unlucky Shubman Gill.

It should've been Not Out. pic.twitter.com/CSxFzB1xc0

— Mufaddal Vohra (@mufaddal_vohra) June 10, 2023
Third umpire 🤡🤡 #WTCFinal pic.twitter.com/9NsDUBtmIV

— Aryan 🦥 (@iAryan_Sharma) June 10, 2023
Shocking Decision by third umpire..It wasn't a clear catch of @ShubmanGill

— Kamran Akmal (@KamiAkmal23) June 10, 2023
#Gill
This is clearly not out but third umpire give it out 🤬#WTCFinal #INDvsAUS pic.twitter.com/GvI5YpWqXa

— Adrenaline 🦾 (@ankitsingh7272) June 10, 2023
Where's the zoomer? This is bonkers. We are playing the WTC final and the third umpire is deciding the catch according to real time footage. You got be kidding me!

— Rahul Sharma (@CricFnatic) June 10, 2023