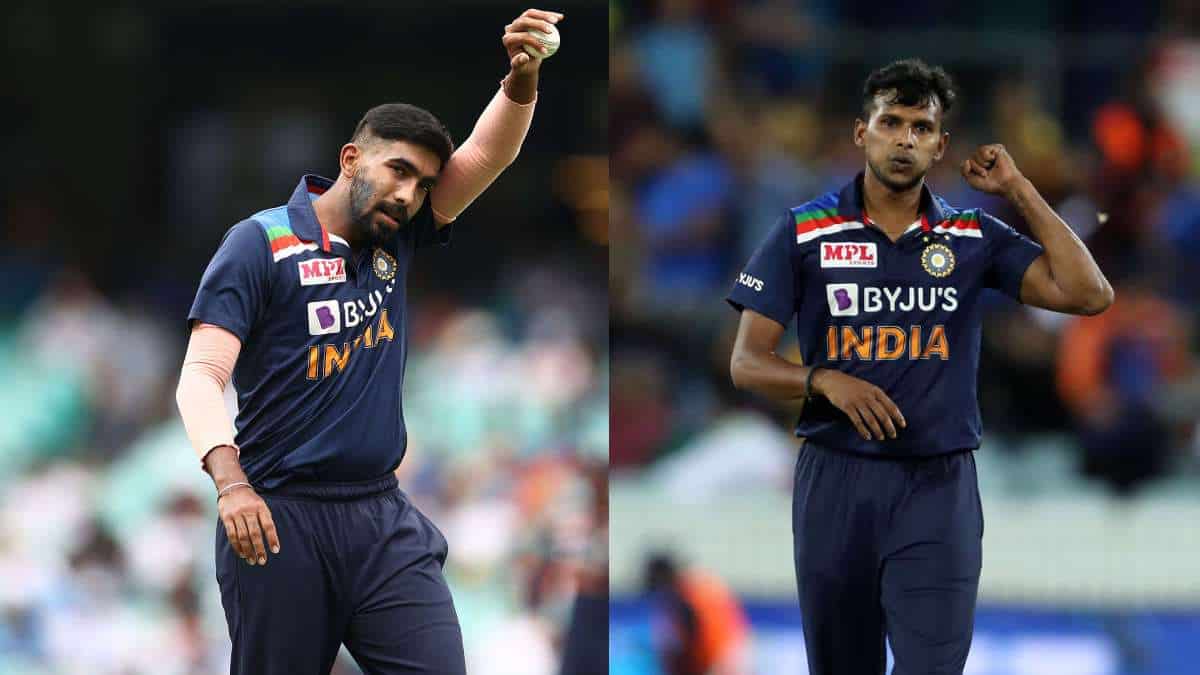 Jasprit Bumrah & T Natarajan | Image: Twitter
India won the first T20I against Australia on Friday, the credit goes to the bowlers who kept bringing variations and restricted the hosts to the score of 150 for 7. Debuting for India in T20 cricket, T Natarajan bowled brilliantly in his first match and dismissed three main players of the opponent team – D Short, Glenn Maxwell and Mitchell Starc.
Beginning his international cricket career last week, Natarajan took two wickets in the last ODI against Australia. He has been praised by all the cricket fraternity and fans around the world.
Meanwhile, former Indian cricketer and legend Virender Sehwag has revealed some shocking coincidences between T Natarajan to Jasprit Bumrah.
On Friday, Sehwag has shared a post on his official Instagram handle, in which he compared both the young Indian bowlers with some amazing coincidences.
"Love these kinds of coincidences – Jasprit Bumrah & T Natarajan
Both selected in Indian squad as a Replacement because of injury of the original injured player
Both made ODI/T20 Debut in AUS
Both made ODI debut in the last match of the ODI series
Both players OnedayDebut match was India's only win in that ODI series
Both picked 2 wickets on ODI Debut
Both picked 3 wickets on T20I Debut
If Natarajan can be anywhere close to being as effective as Bumrah has been, India will have a lethal fast bowling attack," wrote Sehwag on Instagram.
T Natarajan sends the power-hitter Glenn Maxwell back to the pavilion for just 2 runs. Apart from this, the seamer also took two more wickets of D'Arcy Short and Mitchell Starc to help India defend the target. Meanwhile, the delivery that stole all the limelight was the one Natarajan bowled to Mitchell Starc to take his wicket in the 19th over.
Natarajan is known for his pinpoint yorkers and his heroics in the shortest format of the game. Interestingly, he was added to the India squad of Australia after a brilliant run in the just-concluded Indian Premier League (IPL 2020). Playing for Sunrisers Hyderabad (SRH), the 29-year-old had picked 16 wickets in 16 games.