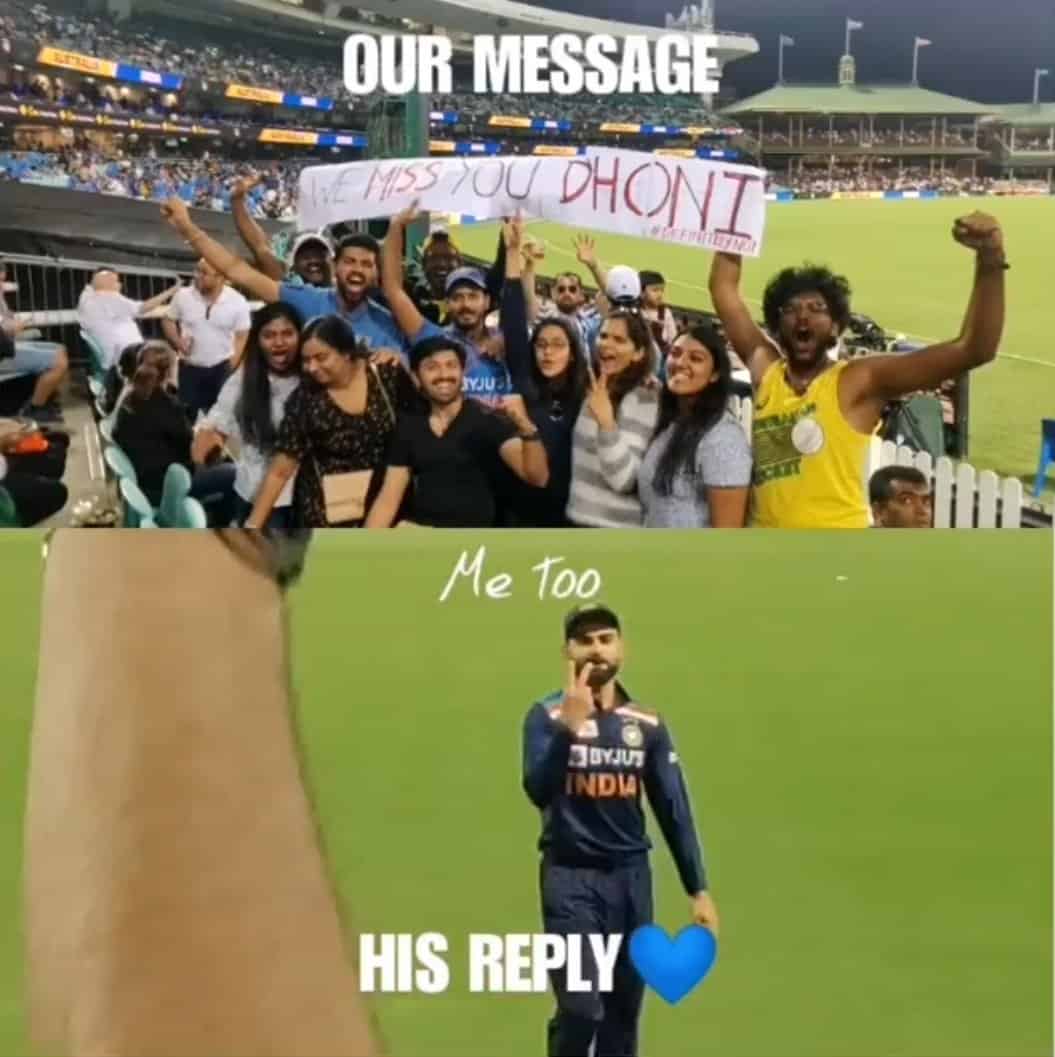 Virat Kohli | Image: Twitter
Fans are fans but it seems that his former teammates including current Indian skipper Virat Kohli, are also missing the World cup winning former Indian captain MS Dhoni in the ongoing tour of Australia.
Virat Kohli's reaction to a banner from India fans at the Sydney Cricket Ground in second T20 International is going viral on social media.
"We Miss You Dhoni," read the message on the banner during the 2nd T20I of the ongoing 3-Match series. Much to the delight of the section of the fans, Indian skipper Virat Kohli, who was standing at the deep, turned towards the fans and signalled "Me Too".
The moment caught on the camera and is getting viral on social media.
Former Indian captain and legend MS Dhoni took retirement from international cricket on August 15, 2020. After taking retirement he featured in the just-concluded Indian Premier League. He was seen leading Chennai Super Kings in the 14th edition of the Indian Premier League.
Chennai Super Kings' journey in the recently concluded Indian Premier League was quite disappointing as they became the first team to get eliminated from the playoff race. In 13 years of the play, it was the first time when Chennai Super Kings didn't qualify for the playoffs despite participating in the season.
MS Dhoni and his team were among the most talked about the aspects of the T20 league. The former Indian captain was even criticised a lot for his disappointing performance throughout the season. After all that criticism, it was speculated that Dhoni will not feature in the next edition of the Indian Premier League but in their final game of the IPL 2020, Dhoni himself cleared all the speculations regarding his participation in the 14th edition of the Indian Premier League.
When asked if the last match for CSK at IPL 2020 was his final game in Yellow, Dhoni said "Definitely Not" — a reply that went viral on social media. Dhoni is expected to return to action at IPL 2021, leading CSK as the 3-time champions look to revamp their squad.