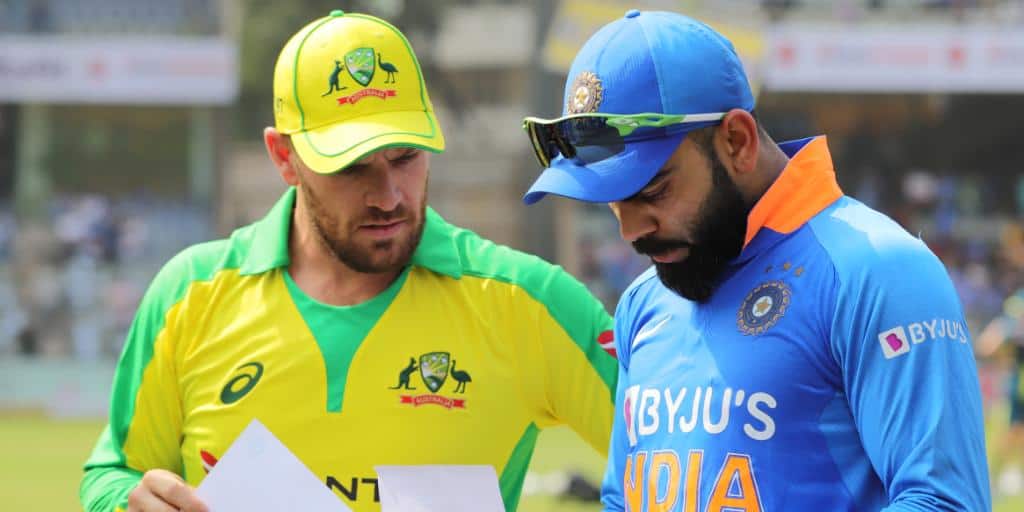 Aaron Finch (Left) & Virat Kohli | Image: Twitter (ICC)
India skipper Virat Kohli revealed that Mayank Agarwal will open with Shikhar Dhawan to set the momentum early in the first ODI. India is scheduled to play 3 ODI matches against Australia.
Rohit Sharma was not named in the ODI squad as he sustained an injury during Indian Premier League 2020. Ishant Sharma, on the other hand, also suffered an injury during IPL 2020 and has been ruled out of Test series. Now Mayank Agarwal would replace Rohit Sharma in ODI series. Shikhar Dhawan is now opening alongside Mayank Agarwal with wicketkeeper Rahul pushed down the order.
"I think it's very important to start well for us as a team. When you come to a place like Australia, you want to set the momentum early," Virat Kohli said at the toss ceremony.
"We were given a few allowances to be able to train and the boys took it really well. We got a bit of lead time, which I think is priceless in today's international schedule," he added.
Mayank Agarwal had a decent IPL 2020 season. His bat spoke more than him throughout the tournament. He accumulated 424 runs in just 11 games at an average of 38.54 and strike rate of 156.45 in which 106 was his highest score.
"Mayank Agarwal's going to start. He's a really exciting player, had a great IPL. He'll start with Shikhar. The five guys who miss out are Manish Pandey, Shubman Gill, Sanju Samson, Natarajan," Kohli added.
Australia captain Aaron Finch won the toss and offered India to bowl first Sydney Cricket Ground. India has gone in with Mayank Agarwal and Shikhar Dhawan as openers, Hardik Pandya will bat at No.6.