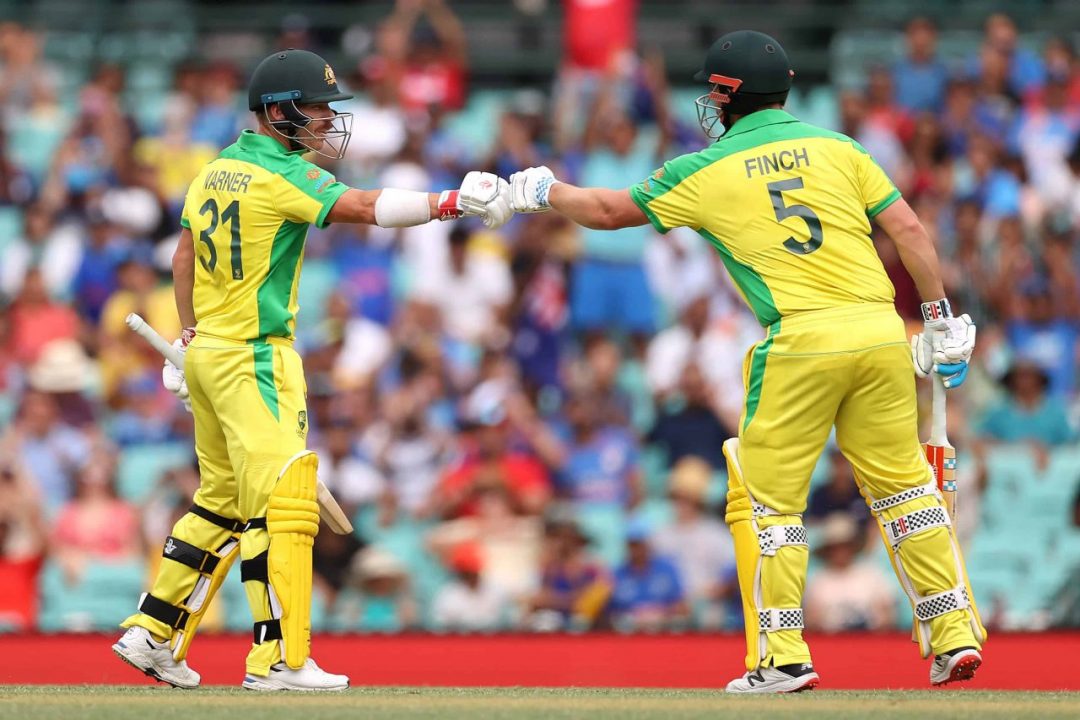 Aaron Finch - David Warner | Image: Twitter
In the second ODI against India in Sydney, the star openers of Australia David Warner and Aaron Finch gave a great start to the team. Both shared a 142-run partnership for the first wicket in this match. Both of them made a century partnership for the team in the second consecutive ODI against India. In the series opener too, Warner and Finch made a 156-run partnership for the first wicket.
In the second ODI, both batsmen also played half-century innings. While David Warner smashed 83 runs off 77 balls with the help of 3 sixes and 7 fours, the Aussie captain Aaron Finch scored 60 runs off 69 balls with the help of 6 fours and a six.
Talking about ODI cricket, Aaron Finch and David Warner formed a century partnership against India for the fifth time. Earlier in ODIs, Australia had the highest century partnership against India four times between Aaron Finch and Steve Smith. Now Finch and Warner breaking the previous record, become the pair of Australia's most century partnership in ODIs against India.
The deadly batting pair of Finch and Warner also equalled the partnership record set by the two cricket legends Sachin Tendulkar and Virender Sehwag during the 2nd ODI between the two cricketing superpowers. Regarded as one of the most successful opening pairs in white-ball cricket, Tendulkar and Sehwag had managed to register a 100-run partnership for the first wicket on 12 separate occasions in ODIs. The elite list has been dominated by Tendulkar and Sourav Ganguly who eclipsed the 100-run mark a staggering 21 times in the 50-over format.
Undoubtedly, the list contains the majority of Indian and Australian batsmen. The formidable pair of Warner and Finch only needs 100-run stand to surpass Tendulkar and Sehwag's record of the century.
| Player | Team | 100 Run Stand |
| --- | --- | --- |
| Sourav Ganguly and Sachin Tendulkar | India | 21 |
| Shikhar Dhawan and Rohit Sharma | India | 16 |
| Adam Gilchrist and Matthew Hayden | Australia | 16 |
| Gordon Greenidge and Desmond Haynes | West Indies | 15 |
| Virender Sehwag and Tendulkar | India | 12 |
| Aaron Finch and David Warner | Australia | 12 |
As long as the ODI series between India and Australia is concerned, the host Australia are currently leading the three-match series 1-0. On Sunday, while Australia would be trying to seal the series by winning the second ODI, India, on the other hand, will be aiming to keep the series alive by winning it.