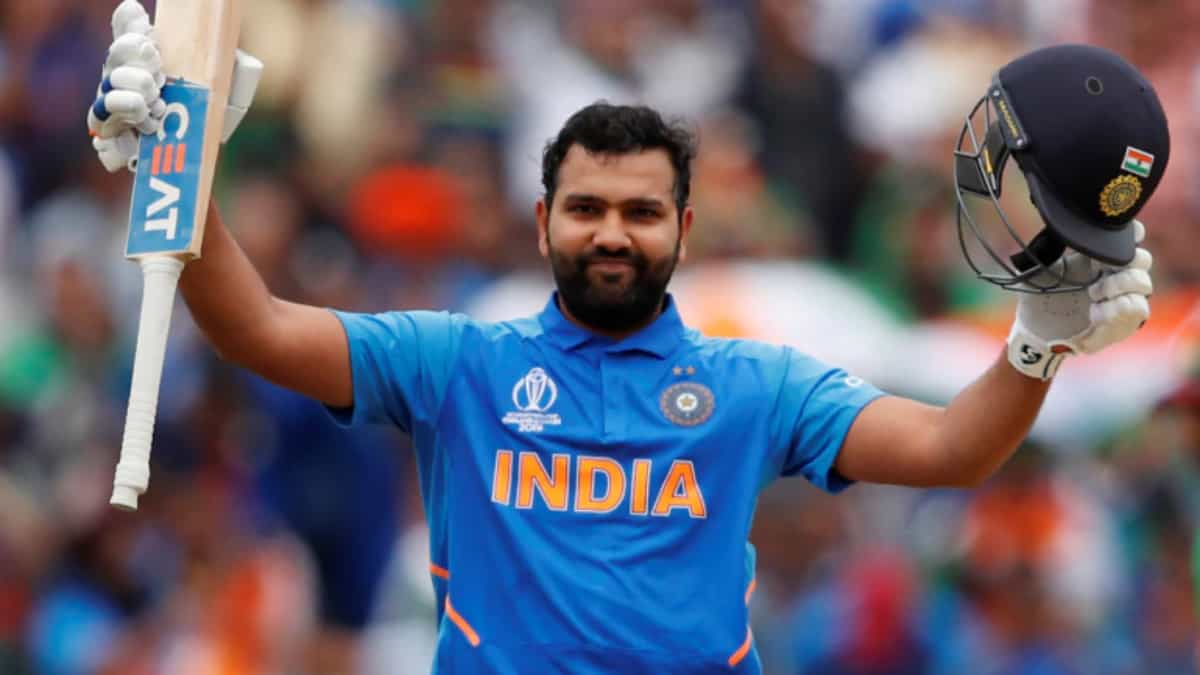 Rohit Sharma | Image: Twitter
The Mumbai Indians' skipper and opener Rohit Sharma, on Saturday, has opened up on the controversy regarding his injury and omission from the T20 and ODI squads for the Australia tour.
Notably, Rohit Sharma was initially not named in any of three formats for the tour of Australia as he was suffering from a hamstring injury. However soon after BCCI announced the squads for Australia Tour, the official social media handle of Mumbai Indians posted a video of their skipper, practising in nets. This video, however, created a chaos among the cricket fraternity and fans as Rohit Sharma was looking 'fit' in the video. People have started asking the reason behind Rohit Sharma's omission from the squad, despite being 'fit'.
I Was Constantly Communicating With BCCI and Mumbai Indians: Rohit Sharma
However later on the eve of the final of IPL 2020, he was included in the Test Squad. Now, Rohit Sharma, himself put an end to all the speculations. He said that the decision of missing the ODIs and T20Is matches was easy for him. At the same, the limited-overs captain of India said that he was in constant touch with BCCI and Mumbai Indians management over the entire matter.
"I don't know what was going on, to be honest, and what all were people talking about," Rohit Sharma told PTI.
"But let me put this on record, I was constantly communicating with the BCCI and Mumbai Indians.
"I told them [Mumbai] that I can take the field since it is the shortest format and I will be able to manage the situation quite nicely. Once I made my mind clear, it was all about focusing on what I needed to do," he added.
The hamstring is Absolutely Fine: Rohit Sharma
Further speaking on his hamstring injury, Rohit Sharma said that it is fine but he would like to leave no stone unturned before joining the squad for the longest format.
"Hamstring is feeling absolutely fine. Just started the process of getting it nice and strong. Before I play the longer format, I needed to be clear in mind that there is no stone left unturned. That's probably the reason I'm at the NCA," said Rohit Sharma.
"For me, it was not a concern what X, Y or Z was talking about like whether he would make it to Australia. Once the injury happened, the next two days all I did was to figure out what I can do in the next ten days – whether I will be able to play or not.
"But every day, hamstring [degree of injury] was changing. The way it was responding was changing, so I was feeling quite confident that I could play and that is the communication that I had with MI at that point," he added.
"I told them that I think I will be okay to play just before playoffs. If there is any discomfort, I won't be playing the playoffs."
It Was an Easy Decision, Don't Know Why It Becomes Complicated For Others: Rohit Sharma
Finally speaking on joining the squad in Australia for the longest format, the veteran said that there is 'still' some works to be done. He said that he was avoiding the risk of playing 'six white-ball games' in 12 days.
"There is still some work that needs to be done on my hamstring. That's why I didn't go to Australia for the white-ball leg as there are back-to-back games. Around six games in 11 [12] days.
"So I thought if I get to work on my body for 25 days, I can probably go and play the Test matches. So it was an easy decision for me and I don't know why it became so complicated for others," he concluded.
Rohit Sharma is currently practising and recovering from his Injury in the National Cricket Academy (NCA). He will join the squad in Australia once he fully recovers from the injury.