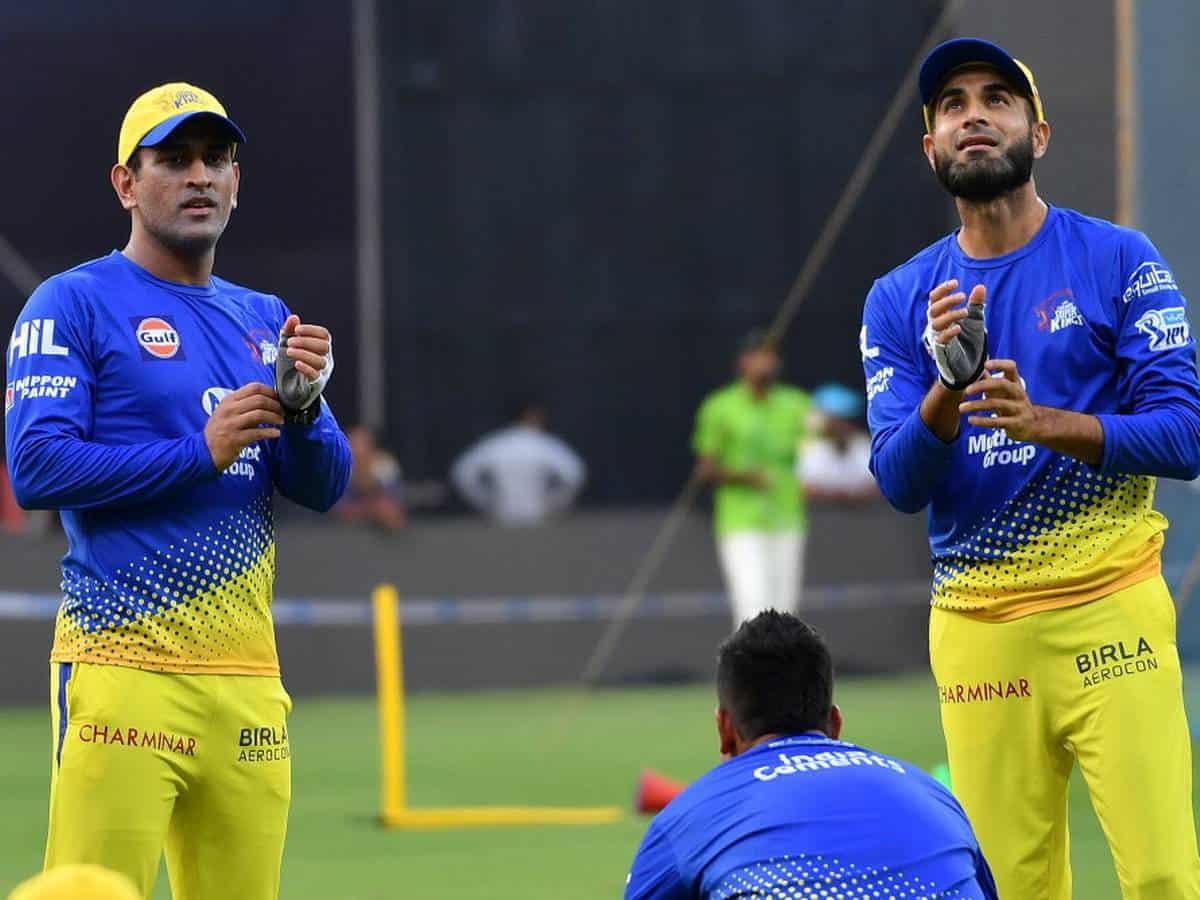 MS Dhoni & Imran Tahir | Image: Twitter
Ahead of the 14th edition of the Indian Premier League, the three-time champions Chennai Super Kings (CSK) retained their core players, including spinner Imran Tahir. The South African veteran spinner has represented the Yellow Army since 2018 and will be eager to turn the tides for his side in the upcoming IPL 2021 season after CSK finished seventh in IPL 2020.
In a recent interaction with Sportskeeda, the player talked about his experience of playing with the former Indian skipper. Tahir was all praise for his franchise's skipper and former Indian captain MS Dhoni. Dhoni touched many milestones during his illustrious international career by the time he decided to hang his boots, on August 15, 2020. With over 17,000 international runs — 16 tons, 634 catches, 359 sixes and 195 stumpings overall — the former Indian captain also remains the only skipper to win all major ICC titles for his national side.
"It is always a pleasure to play with that guy (MS Dhoni). Have been playing with him for the last three years. For me, he is a great, great human being. He understands everybody, respects everybody. We love him.
"He is the guy who has got the knowledge and is the best in the world. You don't have to say anything to him. He knows what field he needs to set for us, and we just need to come and bowl," Tahir said during a live session with Sportskeeda.
Tahir also mentioned Dhoni understanding the mindset of everybody in the team and also told that Dhoni respects everyone.
"The guy (Dhoni) understands cricket. We have been calm as ever. Obviously, we were sad and disappointed because we weren't winning. But, that's not always (possible). I think the team culture is more important. Everyone understood what was happening.
"We are hoping for a very good season again. And, we are going to work harder and come back with better planning. Hopefully, we will do very well this year for CSK. As a player, the franchise looked after us so well. We want to give our 500 per cent for them," Tahir added.
MS Dhoni has led CSK to three trophies in 2010,2011 and 2018. He has a tremendous captaincy record and 2020 was the first year that CSK did not qualify for the playoffs from the inaugural edition apart from the two year ban in 2016,2017.
MS Dhoni will remain the captain for the 2021 IPL where the likes of Suresh Raina have returned to the squad after missing out of the squad in the last IPL due to personal reasons.