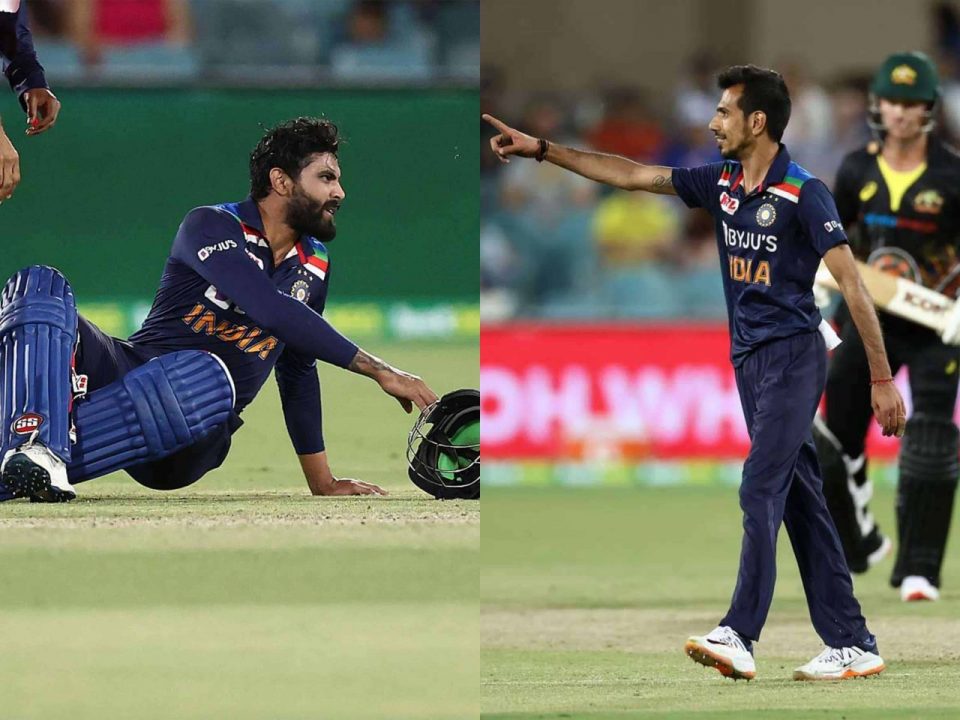 Ravindra Jadeja & Yuzvendra Chahal | Source: Twitter
In the first T20 International between India and Australia, a huge controversy has erupted when Team India selected Yuzvendra Chahal as a concussion substitute for Ravindra Jadeja. The Australia coach Justin Langer and captain Aaron Finch also looked upset with the decision and had an argument with the match Referee on the same.
Jadeja suffered a blow to his helmet in the final over of the first innings of 1st T20I and was replaced by Yuzvendra Chahal who came in as a concussion substitute in Canberra.
Australia felt that Chahal was not a like-for-like replacement for Ravindra Jadeja. Also, they feel that Ravindra Jadeja was out of the game due to a hamstring injury and not a concussion as he kept hitting the ball after getting hit on the helmet by Mitchell Starc in the final over.
The things got serious for Australian side when the concussion substitute Chahal dismissed their three main players – Aaron Finch, Steve Smith and Matthew Wade. In his four-over quota, he conceded only 25 runs.
Speaking on the same topic, former Indian cricketer and legend Gautam Gambhir said that there was no harm in India naming Chahal as a replacement as it was approved by the Referee himself. Commenting on Australia coach Justin Langer's reaction, Gambhir said that it was genuine since Chahal is a world-class bowler in the T20 format.
Yuzvendra Chahal Had a Huge Impact on This Game: Gautam Gambhir
"It's the match referee call as well. What he thinks about it, that's more important. I know Justin Langer would be unhappy because Ravindra Jadeja was batting, and he had a hamstring niggle as well. And getting someone like Yuzvendra Chahal who is probably a very, very good T20 bowler. He would expect it to make things worst for Australia and it did. Because the kind of impact he had in the 2nd innings, was huge from India's point of view," Gambhir told ESPN Cricinfo.
Gambhir further added that Jadeja might have suffered a delayed concussion and it was a right decision by the Indian team to use the substitute. Gambhir believes that if ICC had laid out some rules then there is no problem if the Indian team utilized it to their advantage.
"I understand that Australia must be frustrated, but it could be a delayed concussion as well. If there is a concussion, and there is a concussion rule, why not use it. India used it to the best of their advantage bringing in a wrist spinner. We kept talking about India may miss a wrist spinner and they did not miss the wrist spinner. He had a huge impact on this game. If there is actually concussion, so it is fair on India to use that," he added.