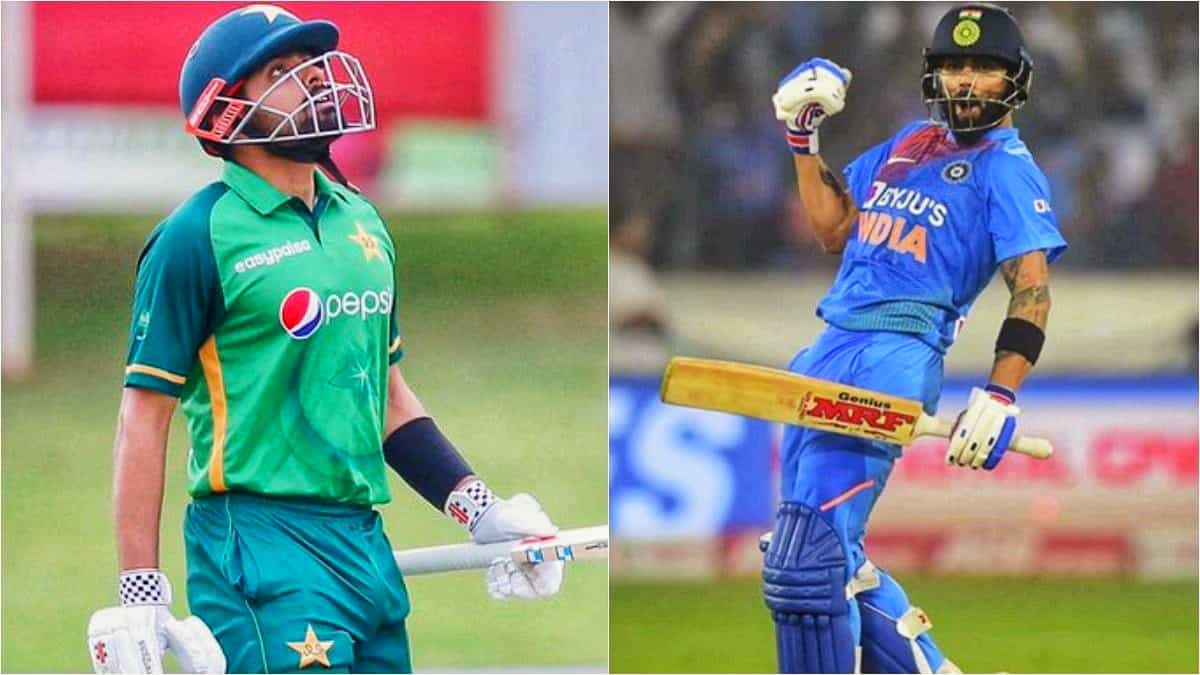 Babar Azam and Virat Kohli | Source: Twitter
Pakistan captain Babar Azam is currently stealing all the limelight. Just a couple of days ago he made headlines after dethroning Kohli in ICC T20I Rankings. And now he has touched another milestone while playing for Pakistan against South Africa. He has now become the fastest to score 2,000 T20I Runs. It took him just 52 innings to achieve that feat.
India skipper Virat Kohli took 56 innings to reach the milestone. Aaron Finch is third in the tally as he took 62 innings to complete 2000 T20I runs. Brendon McCullum (66 innings) and Martin Guptill (68 innings) are fourth and fifth in the tally.
Notably, the 26-year-old reached the milestone in the third of the three-match T20I series against Zimbabwe. Before starting this match, Babar Azam needed to score 17 runs to breach the 2000-run mark.
He came out to bat after the end of the fifth over of the innings when Luke Jongwe dismissed Sharjeel Khan for 18 runs. Babar Azam scored his 2000th run in the 13th over when he hit Ryan Burl for a four off the second delivery.
Fastest To 2000 T20I Runs –
Babar Azam – 52 innings **
Virat Kohli – 56 innings
Aaron Finch – 62 innings
Brendon McCullum – 66 innings
Martin Guptill – 68 inning
Paul Stirling – 72 innings
Babar Azam continues to turn the heat on Virat Kohli as he takes the second spot in the latest T20I rankings for batsman. Meanwhile India captain is firm at fifth position and was surpassed by Azam recently.
Azam's superb form in the recent T20I series against Pakistan is the reason behind his surge in the latest rankings. He overtook Australia's Aaron Finch, however he is still 43 points away from leader Dawid Malan.
Earlier this month, Azam has ended Virat Kohli's long reign at the top of the ICC Men's ODI Player Rankings, becoming only the fourth batsman from his country to attain the number one position in the latest ICC ODI Rankings.
The 26-year-old's player of the match effort of an 82-ball 94 in the last match of the ICC Men's Cricket World Cup Super League series against South Africa in Centurion has helped him gain 13 rating points to reach 865 points and he now leads the Indian captain by eight points.