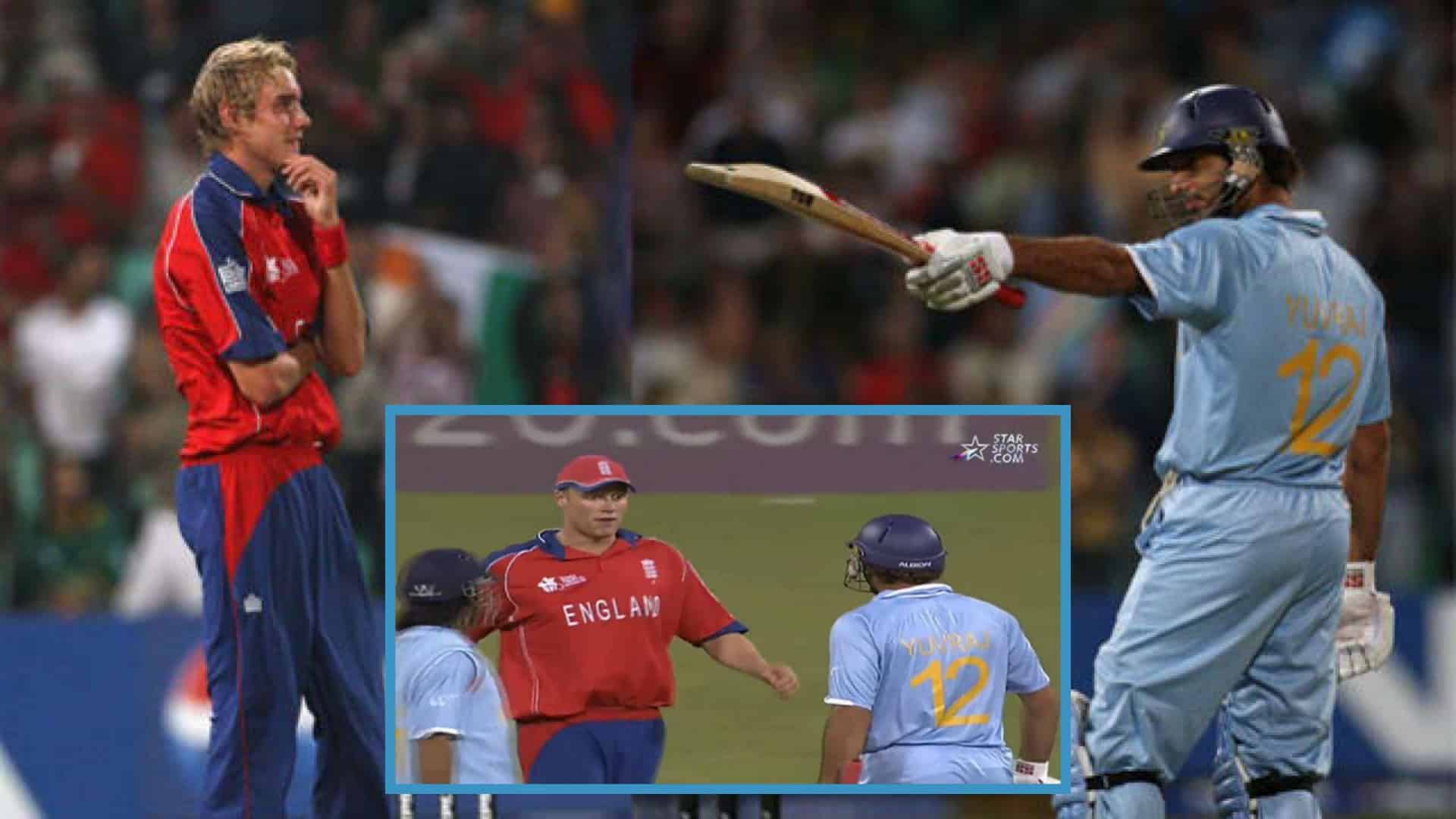 Yuvraj Singh, Stuart Broad and Andrew Flintoff | Source: Twitter
Former India international Yuvraj Singh recalled the famous spat with ex-England all-rounder Andrew Flintoff, which eventually inspired his record-breaking six sixes off six balls in the 2007 ICC T20 World Cup.
The bowler to face the wrath was Stuart Broad but Andrew Flintoff was the one who put fuel into the fire. The former southpaw had dispatched the England all-rounder for two fours, which obviously didn't go well with him.
On the podcast 22 Yarns with Gaurav Kapur, Yuvraj Singh revealed how his heated exchange of words with Flintoff helped him get fired up and hit six sixes in an over.
Yuvraj said after he hit two back-to-back boundaries off Flintoff in the previous over, the England all-rounder came towards him and said "something". The former southpaw said Flintoff threatened him and said, "Come here I will rip your neck off," to which he replied, "You know where my bat would go".
Yuvraj said after the spat he just wanted to smack every ball out of the park, which indeed happened as the 2011 World Cup-winning player hit pacer Stuart Broad for six sixes in the next over, creating history by becoming the first-ever batsman to do so in T20Is and second overall in international cricket.
"I remember I hit two good boundaries off Flintoff which he obviously didn't like. He said something to me and I said something back. He told me, 'Come here I will rip your neck off'. So I said, 'You know where my bat would go'. It was quite a serious fight at that time. I just felt like I wanted to hit every ball out of the park," Yuvraj Singh revealed.
Yuvraj's assault helped India post a total above 200 and he entered into the record books by scoring the fastest fifty in T20s off just 12 balls.
On the podcast, Yuvraj Singh gave a detailed explanation of every single six that he hit off Broad in that over.
"Luckily, the first ball I hit (off Broad) went out of the park. The second ball I hit, went in the crowd. Third ball I hit over point, where I hadn't even hit a boundary in my career. Collingwood came and told Broad to keep bowling yorkers to me outside off-stump because the off-side was big.
But Broad thought of bowling into my legs. So when he decided to do that, I knew he was in trouble. The fifth ball hit the toe of my bat, it was a small boundary that went over Flintoff.
Sixth ball I knew he has to bowl a yorker. So I was ready to hit it straight and it was in my arc. My first look was to Flintoff, giving him a cheeky smile," Yuvraj concluded.