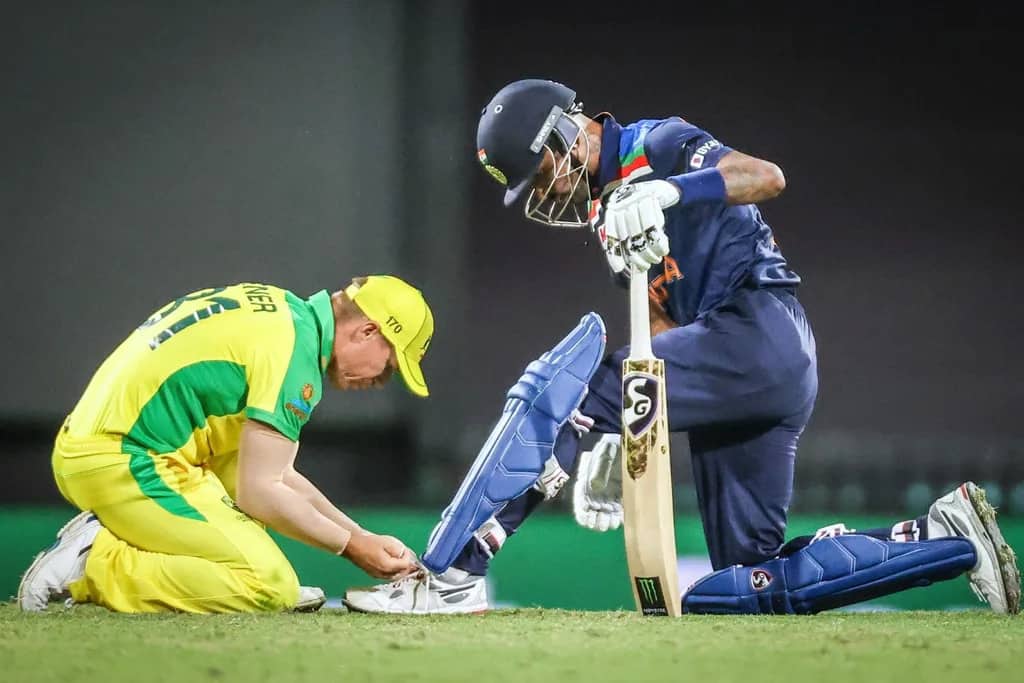 David Warner Tying Hardik Pandya's Shoelaces | Image: Twitter
The India's tour of Australia began with a massive defeat. Winning the toss, Australia's limited overs captain Aaron Finch opted to bat first. Batting first, Australia set a mammoth target of 375 runs before team India in the first ODI played in Sydney on Friday. But Team India, on the other hand were able to score 308 runs for 8 wickets in the prescribed 50 overs and lost the match by 66 runs. The hosts took a 1-0 lead with a 66-run win in the first match of the series.
While many big names in Indian squad failed to make a impact in the first ODI, the all-rounder Hardik Pandya played a brilliant knock of 90 runs off 76 deliveries with the help of seven fours and four sixes.
David Warner Winning Hearts With His Sportsman Spirit Show
During the match, the Australia opener David Warner was seen helping Hardik Pandya with his shoelaces. The incident took place in the 32nd over of India's innings when Hardik Pandya was having trouble with his shoelaces. David Warner then walked up to help him and tied his shoelaces. After tying the shoelaces, the Australian opener stood up and was walking back towards his fielding position when Pandya extended his arm for a fist bump. The Australia opener duly obliged before walking back to his fielding position.
This beautiful moment got captured on camera and is getting viral on social media. All the cricket fraternity and fans are praising David Warner for his elegant gesture.
Here's The clip Of the Incidence!!
Hardik Pandya, however didn't bowl a single over in the first ODI against Australia due to his back issues. Even after the match, Indian captain Virat Kohli confirmed that Pandya has some back issue due to which he can not bowl and will play as a 'specialist batsman'.
Pandya reached another milestone in his career as he became the fastest Indian to score 1000 ODI runs during the ongoing 1st ODI of the 3-match series between India and Australia in Sydney. He consumed just 857 balls to hit 1000 runs in ODIs for India.