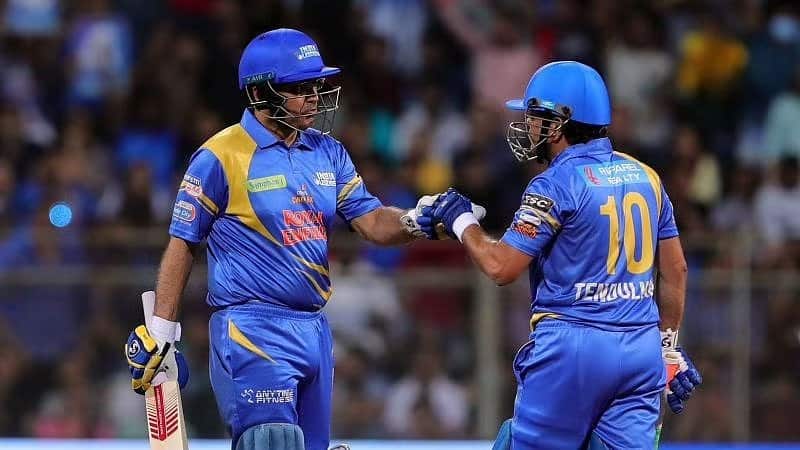 Virender Sehwag and Sachin Tendulkar | Source: Twitter
Virender Sehwag took cricket enthusiasts down the memory lane as the former opener slammed a 35-ball 80 to help India Legends etch a comprehensive ten wickets win over Bangladesh Legends in the Road Safety World Series.
Sehwag smashed 80 off 35 balls with 10 boundaries and 5 sixes while Tendulkar scored a sedate 33 off 26 balls with five boundaries as India crossed the finish line in 10.1 overs to grab the top spot in the table.
The explosive Indian opener brought out his vintage self as he notched up a 20-ball fifty, registering the fastest half-century of the tournament so far. At a strike rate of 231.25, Sehwag wreaked havoc at the Shaheed Veer Narayanan Singh International Stadium as he smashed 10 fours and 5 sixes.
Bangladesh Legends' decision to bat first after winning the toss didn't work out as they got bowled out for 109 in 19.4 overs. Vinay Kumar, Pragyan Ojha and Yuvraj Singh had picked up two wickets apiece earlier to bowl out Bangladesh.
Virender Sehwag was named Man of the Match. Speaking after the game, he said:
"I was surprised that it was not a full house, but hopefully for the next game a lot of spectators will come out and support us. Sachin told me to finish quickly and that's why I was in a hurry. Yesterday I had a five minute nets session, that's it. My batting was simple, see the ball and hit the ball. Just keep it simple."
Sachin Tendulkar said:
"I have thoroughly enjoyed it, it's a roller coaster ride when Viru was batting. For almost two overs he didn't give me the strike, but I enjoyed his batting. I think our spinners brought us back in the game and that put a brake on their acceleration. I felt the wicket had a bit of stickiness and the spinners proved me right. It's a good cause to be involved in, extremely happy to be playing this tournament."
Here's how netizens reacted to Sehwag's exploits: