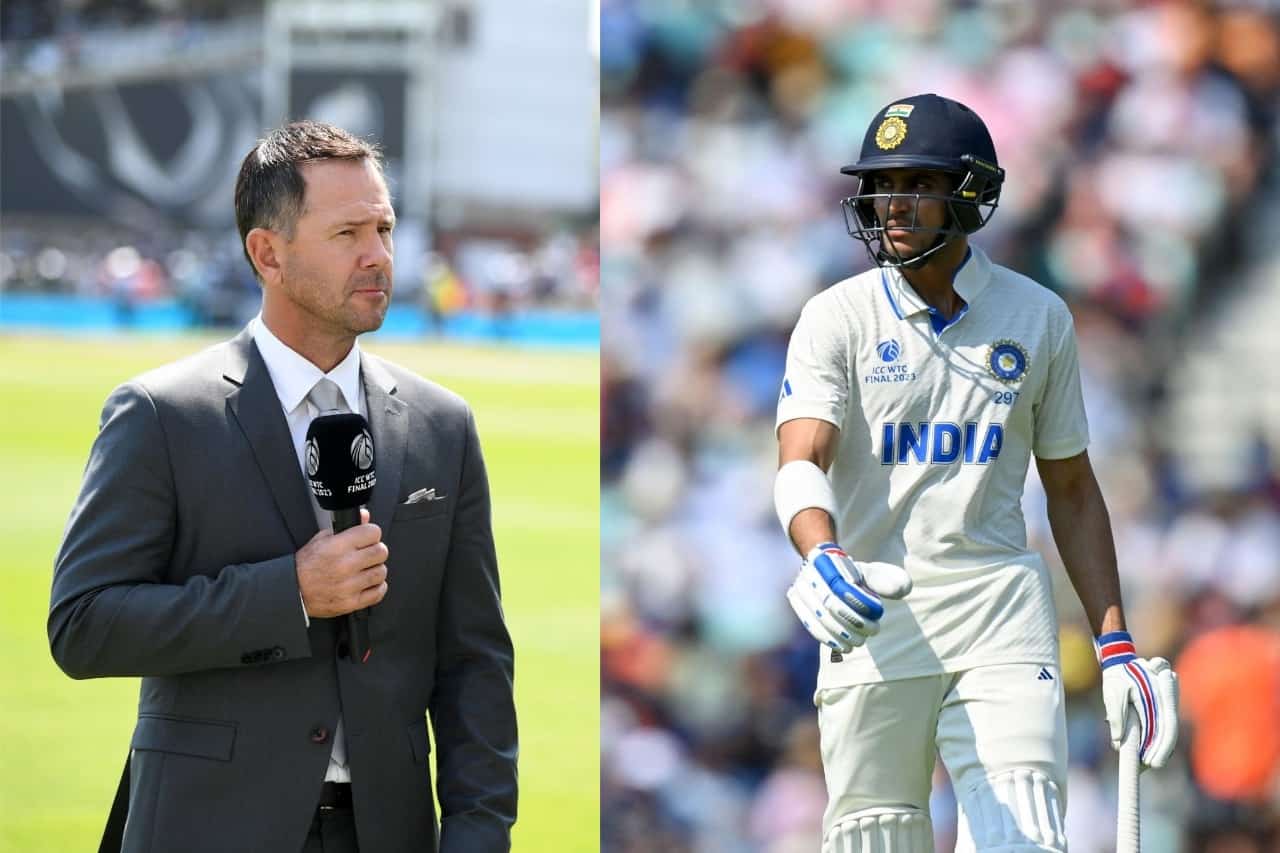 Ricky Ponting (L) and Shubman Gill (R) | Source: GettyImages
Former Australian captain Ricky Ponting and Justin Langer have lambasted India opener Shubman Gill for his tweet on social media following his controversial dismissal during the WTC Final against Australia at the Oval.
In pursuit of a victory target of 444 runs, India had a promising start, reaching 41-0 within the first seven overs. However, their momentum took a hit in the eighth over when Shubman Gill was dismissed on 18 by Scott Boland, adding to his earlier dismissal of India opener in the match.
Gill edged an outside-off delivery to Australia's tall all-rounder Cameron Green, who stationed at the slip cordon and stretched his arm completely to grab the ball. However, replays raised doubts about whether the ball had made contact with the ground during the catch.
The on-field umpire later referred the decision to the third umpire, Richard Kettleborough, who saw the replays and decided to rule in favour of Australia, which left Shubman Gill and Indian captain Rohit Sharma in shock.
In the aftermath of the incident, Gill turned to social media and shared a screenshot of Green's contentious catch, accompanied by an 'applauding' emoji in his Instagram story. Later, he tweeted a photo of Cameron Green's catch in which the ball appeared to touch the ground.
🔎🔎🤦🏻‍♂️ pic.twitter.com/pOnHYfgb6L

— Shubman Gill (@ShubmanGill) June 10, 2023
Gill may face suspension: Ricky Ponting
Former Australia head coach Justin Langer addressed Gill's social media response to the incident, stating that Gill's tweet was somewhat irresponsible. Here's what he said on Channel 7:
"One of the challenges now of a modern-day cricketer is there's so much social media. The Gill tweet I think is a bit irresponsible, shows some inexperience. This is the world we live in with social media."
Meanwhile, the former Australia captain, Ricky Ponting went on to say that Shubman Gill could end up getting a fine or even a suspension for his jibe at the third umpire and felt that the Indian batter didn't need to take matters into his own hands as many fans and experts were already voicing their dissatisfaction regarding the dismissal.
"Something is definitely going to come of that. There will be some sort of fine, or maybe even a suspension. That is a direct crack at the umpire for the decision that they made. You can't do that. The whole world was going to do that for him, he didn't need to say a word," Ponting said.