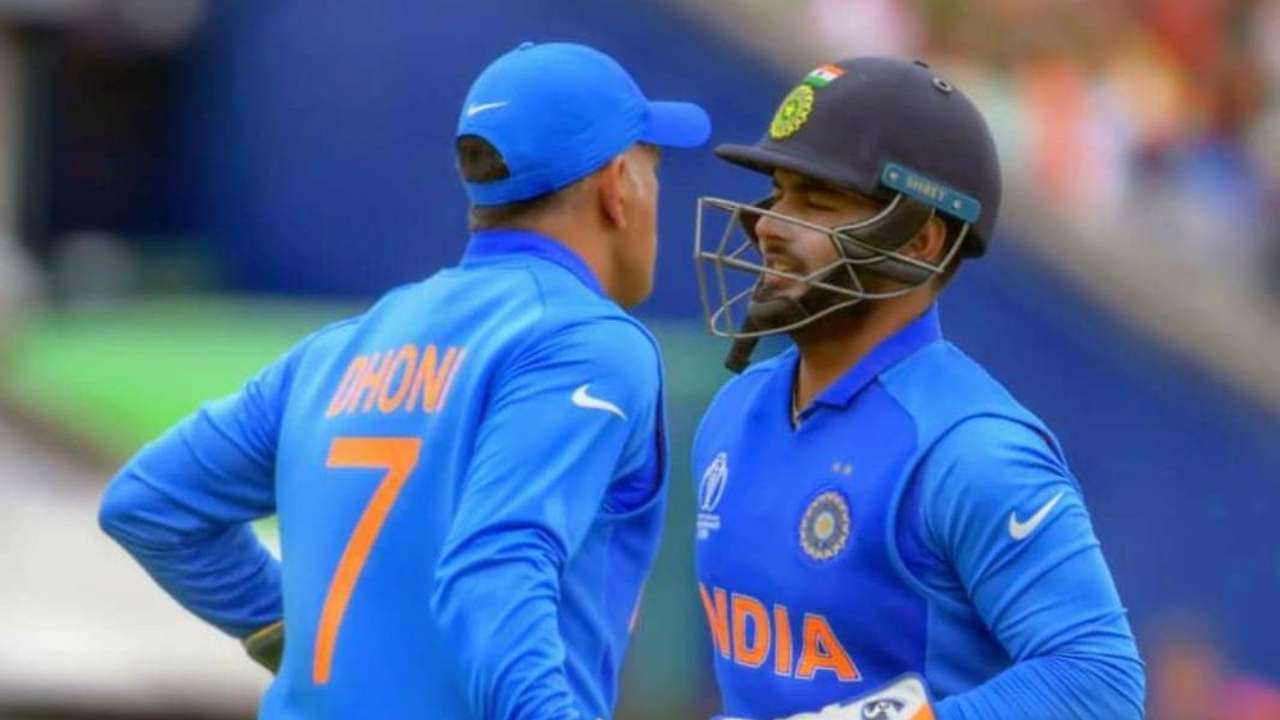 MS Dhoni and Rishabh Pant | Source: Twitter
Former India stumper Kiran More said that Rishabh Pant will break all records set by MS Dhoni, after seeing his wonderful wicket-keeping in the India-England Test series.
Rishabh Pant has shown some great skills with the bat, especially in the Test format in the last year or so. He played a crucial role with the bat in India's 2-1 Test series win in Australia with scores of 97 in the Sydney Test draw and 89* in Brisbane Test victory. He continued his great form against England as well, scoring 91 in the first Test at Chennai. Pant, then smashed 101 runs in the fourth Test match to bring back India into the game from a rough patch and built a sturdy partnership with Washington Sundar.
He has also improved his keeping a lot, which was seen as he kept brilliantly on a rank turner in the pink-ball Test in Ahmedabad and even in the second Test in Chennai. Given his improvement thus far, former India stumper feels Pant is ready to break all the records set by former India captain MS Dhoni.
Rishabh Pant Got The Best Opportunity As A Wicketkeeper To Keep On Turning Tracks: Kiran More
"I have always wondered why Pant was not played in India earlier. Pant did very well in England in his maiden appearance (15 catches in 3 Tests). He did very well in Australia in 2018-19 (20 catches in 4 Tests including 11 in a Test, the best ever by an Indian wicketkeeper). But, when they played in India, he was not allowed to keep wickets," the 58-year-old More said to News18.com.
Kiran More further said if team management wanted Rishabh Pant to learn, they needed to let him keep wickets on turning tracks in India and he showed that he could do the job nicely.
"Unless and until he plays on Indian turning tracks, he is not going to learn. This time, he got an opportunity to play. Once he plays on turning tracks, only then will he learn. He is only 23 years. If you don't allow him to keep wickets in India and only play him abroad, his growth is only going to drop," added More.
With Experience, Rishabh Pant Will Go a Long Way: Kiran More
More also stated that keeping his progress in line, the day is not far when he will break India's legendary wicketkeeper MS Dhoni's record.
"You learn every day. You learn by keeping on different pitches with varying soil types. You learn by keeping to the best spinners and pacers in the world that India have at the moment. You have to learn by observing. He will break MS Dhoni's records. If you don't learn, you will be found wanting. With experience, Pant will go a long way," stated More in an exclusive chat with News 18.