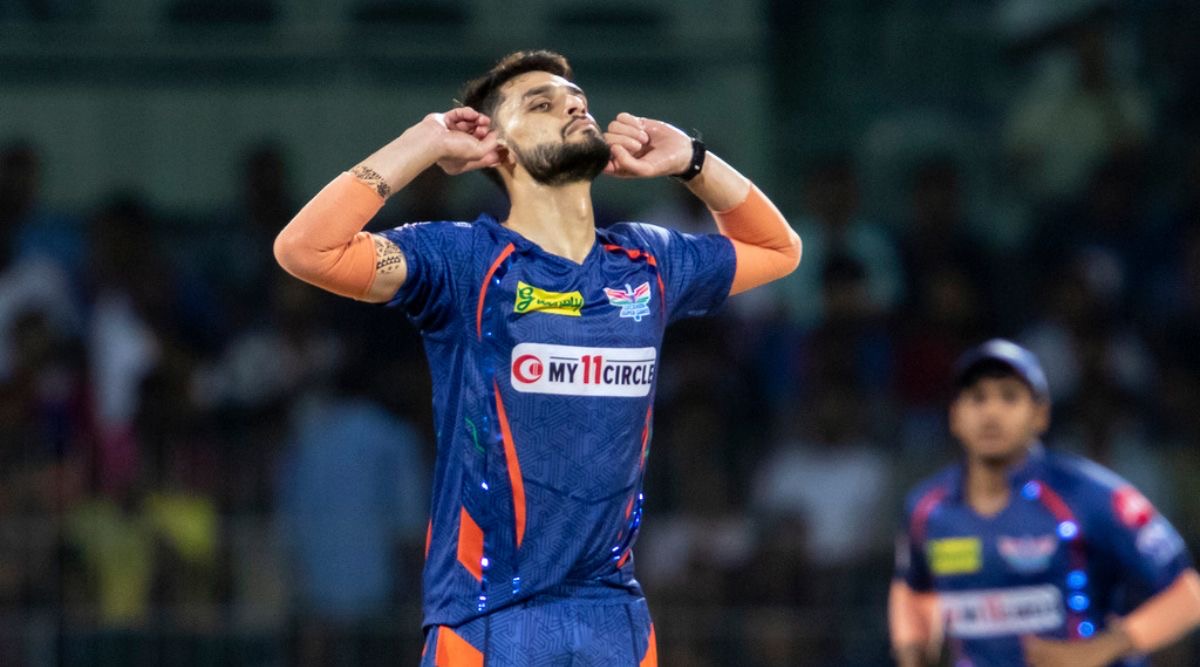 Naveen Ul Haq | Source: Twitter
The 2023 edition of the Indian Premier League will be forever remembered as a season filled with unparalleled excitement and drama. Two factors, in particular, have emerged as the driving forces behind this captivating experience.
Firstly, the frequency of last-over thrillers has been unprecedented, captivating fans until the very end of matches. Secondly, the intense on-field and off-field rivalry between Naveen-ul-Haq and Virat Kohli has added an extra layer of excitement.
It was once again on full display during the IPL 2023 Eliminator match between Lucknow Super Giants and Mumbai Indians. The right-arm pacer went on to pick up the four key wickets of Rohit Sharma, Suryakumar Yadav, Tilak Varma and Cameron Green and celebrated them in his own way.
Displaying resilience, Naveen-ul-Haq responded to the crowd's taunts by firmly placing his fingers in his ears, signaling his indifference to their provocations.
These taunts and teasing have become a recurring theme ever since that night in Lucknow, where he engaged in a heated argument with Kohli, followed by cryptic posts on social media.
Regardless of the venue, whenever Naveen-ul-Haq has taken the field since that incident, he has been met with resounding 'Kohli' chants. During the Eliminator match at Chepauk, the scenario was no different.
However, the young pacer has now revealed that those 'Kohli, Kohli' chants at the stadium on Wednesday ignited his passion to deliver an exceptional performance for his team. Here's what Naveen-ul-Haq said:
"I appreciate when everyone on the ground is chanting his (Virat Kohli) name or any other player's name. It fuels my determination to play at my best for my team."
Naveen-ul-Haq further emphasized that external noise hardly affects him as he remains completely engrossed in his cricket. He underlined that as a professional player, encountering external distractions is simply a part and parcel of the sport.
"I don't pay attention to the noise from outside or anything else. I solely focus on my own cricket and my own process. Crowd chants or any remarks do not impact me."
"As professional sportspeople, we must accept this as part of our journey. When we don't perform well for our team, fans may criticize us. And when we excel, those same people will chant our names. It's an integral aspect of the game."
When asked about his mentor, Gautam Gambhir, who supported Naveen-ul-Haq throughout the on-field altercation with Kohli, the Afghanistan pacer expressed his thoughts:
"Every individual should back their players, be it a mentor, coach, or teammate. On the field, I stand by each of my teammates, and I expect the same support from every individual."

"Gautam Gambhir is a legend of Indian cricket who commands immense respect. He has made significant contributions to Indian cricket as a mentor, coach, and player. I hold him in high regard and have learned valuable lessons from him on how to conduct myself on and off the field."