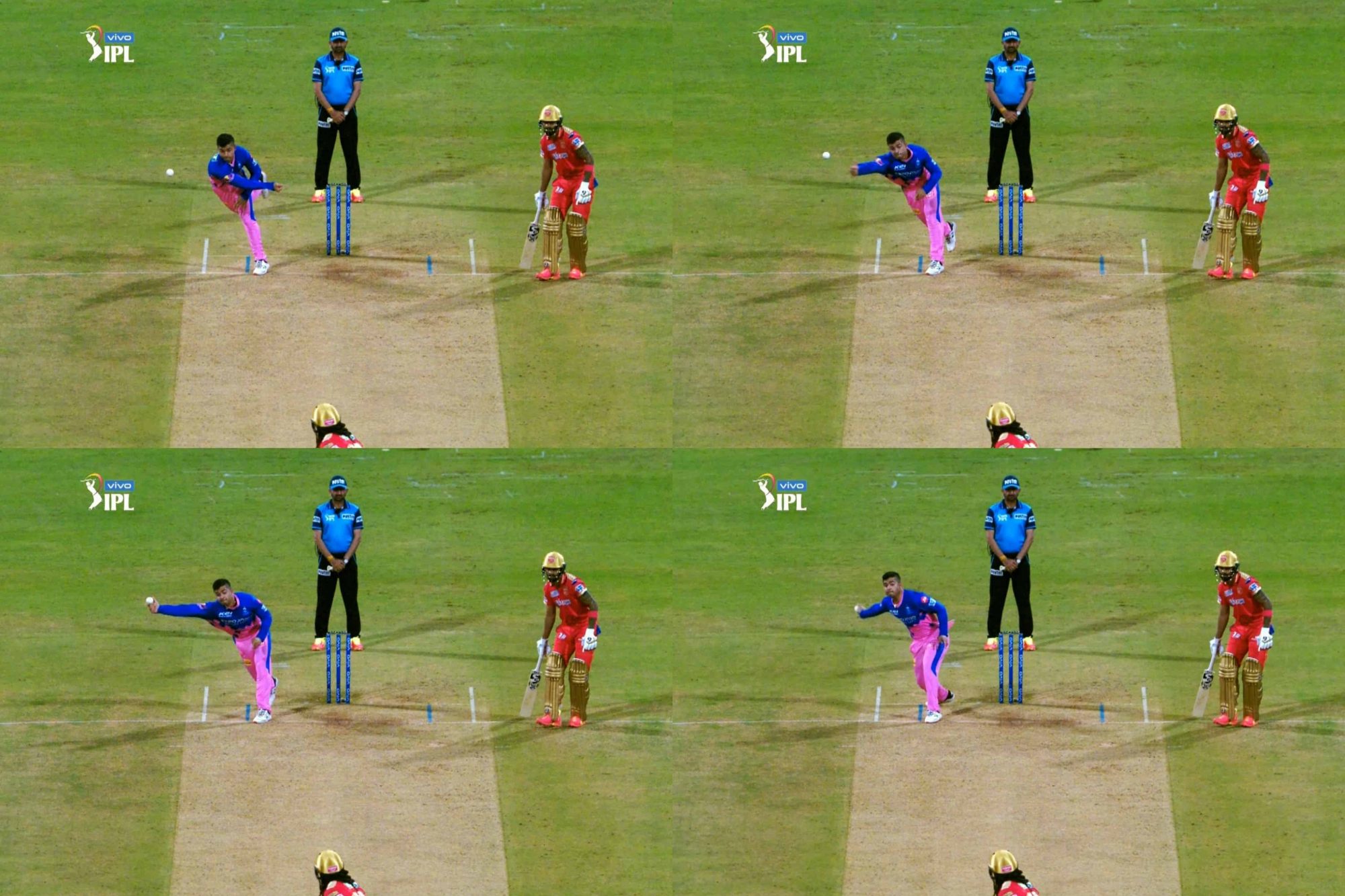 Riyan Parag bowls a roundarm bowl | Source: BCCI/IPL
Rajasthan Royals' all-rounder Riyan Parag went as low as legally possible in cricket to release a ball when bowling to Chris Gayle during the fifth match of the IPL against Punjab Kings. The umpire was seen having a word with the bowler after the delivery, as the commentary box exploded in surprise.
"How low is a legal sidearm delivery?" asked Harsha Bhogle. "Underarm deliveries are not allowed any more, as the Australians know well," he said.
"Extraordinary!" exclaimed spinner Laxman Sivaramakrishnan. Michael Slater said that Parag seemed to have "got away with it". The umpire, however, was seen having a word with the bowler, possibly telling him that he cannot go any lower than that.
Watch Video:
It all happened in the 10th over of PBKS innings when Sanju Samson gave Parag the opportunity to show his bowling skills in the Monday night fixture at Wankhede. On the third ball of the over, the Guwahati-lad went round the stumps to deceive 'Sixer King' Gayle. He bowled a side-arm delivery, which surprised the batsman, including the commentators on-air.
As it turned out, Parag then got the prized wicket of Gayle for 40 off 28 after two deliveries. Fans soon flooded social media platforms with their won take on Parag's bowling. Some even credited Kedar Jadhav for the latest variant in bowling style.
Parag later hit 25 runs off 11 runs as the Royals came close to knocking off the target of 222 runs. Royals skipper Sanju Samson (119 off 63) scored the first century of the season, while his opposite number, KL Rahul scored 91 off 50 in the high scoring match at the iconic Wankhede Stadium.