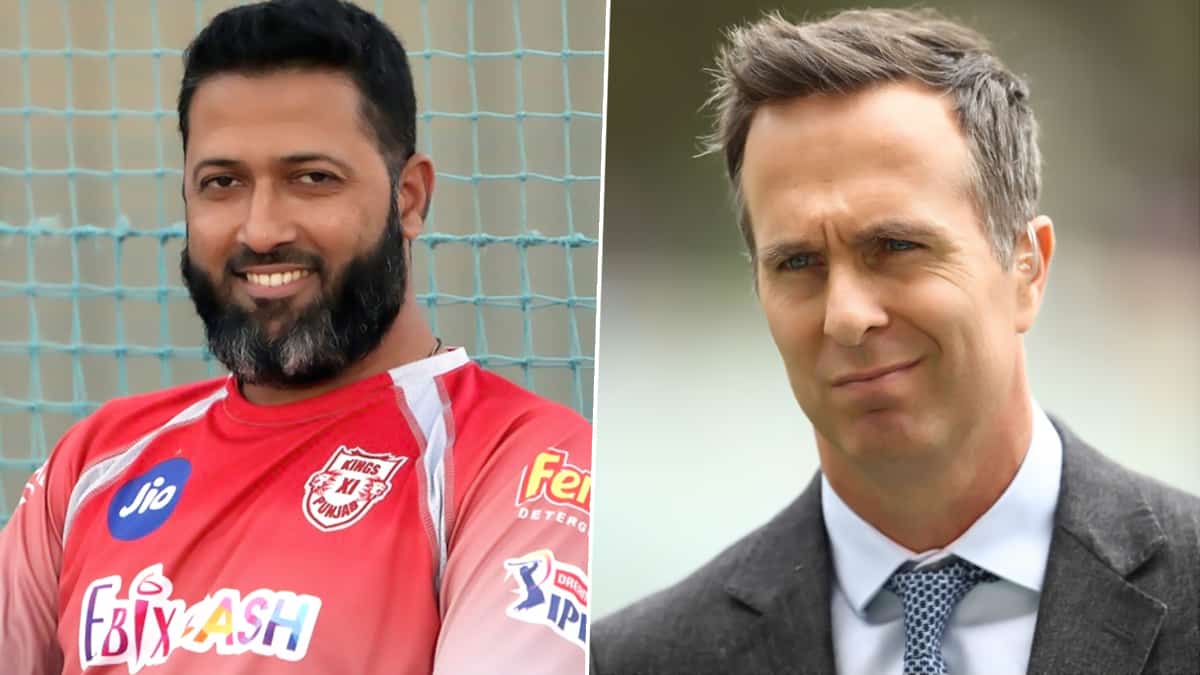 Wasim Jaffer and Michael Vaughan • Source: Twitter
Former Indian cricketer Wasim Jaffer continued his recent Twitter exchange with Michael Vaughan, who has been highly critical of the Indian team over the last few months. This comes after Michael Vaughan's tongue-in-cheek comments about the India skipper Virat Kohli.
While the Indian skipper and Williamson haven't reacted to Vaughan's tweet, former India opener Wasim Jaffer made a savage dig at him on Friday. Jaffer has become a social media sensation and he often trolls former cricketers. This time, it was Vaughan who got trolled by Jaffer. But before that let's have a look at Vaughan's comments on Virat Kohli.
What Did Micheal Vaughan Say?
Former England skipper Michael Vaughan has made a ridiculous comment on Virat Kohli that has taken the entire cricketing world by surprise.
Michael Vaughan claimed that Kane Williamson is equally the best all-format player and admired the Kiwi skipper for his humility and calmness at whatever he does. He further said that Williamson would have been the greatest player in the world had he been an India. He further added that Virat Kohli gets all the attention because he is an Indian and has a good social media following.
"If Kane Williamson was Indian, he would be the greatest player in the world. But he's not because you're not allowed to say that Virat Kohli is not the greatest, because you'd get an absolute pelting on social media. So, you all say Virat is the best purely to get a few more clicks and likes, few more numbers following here. Kane Williamson, across formats, is equally the best. I think the way he plays, the calm demeanor, his humbleness, the fact that he is silent about what he does," Vaughan told Spark Sport.
"I think recently, a lot of pundits have been shouting for him, whether he likes that or not, I'm not too sure. In English conditions, against the moving ball, Virat did enjoy success the last time he came in, but other than that he has struggled. Kane Williamson has mostly had success. I'm not just saying it because I'm speaking to you guys in New Zealand but I think Kane Williamson is right up there with the great players across the three formats and certainly matches Virat Kohli," he added.
Wasim Jaffer Reacted
However, the former England captain's comment didn't go well with the cricket fraternity and fans. While reacting to the 46-year-old's comment on Virat Kohli, Jaffer took to Twitter and wrote –
"Extra ungli Hrithik ke paas hai par karta Michael Vaughan hai 🙂 #ViratKohli #KaneWilliamson"
[Translation: Hrithik have an extra finger but Vaughan always use it(he poke into every matter]
Check Out His Tweet –
Vaughan was massively trolled for his sly comments on Kohli and Indian pitches during England's recent tour of India. And his statement on the Indian captain is also not likely to go down well with Kohli's fans.
Notably, Virat Kohli and Kane Williamson will lead their respective sides when India faces New Zealand in the World Test Championship (WTC) final, starting in Southampton on June 18.