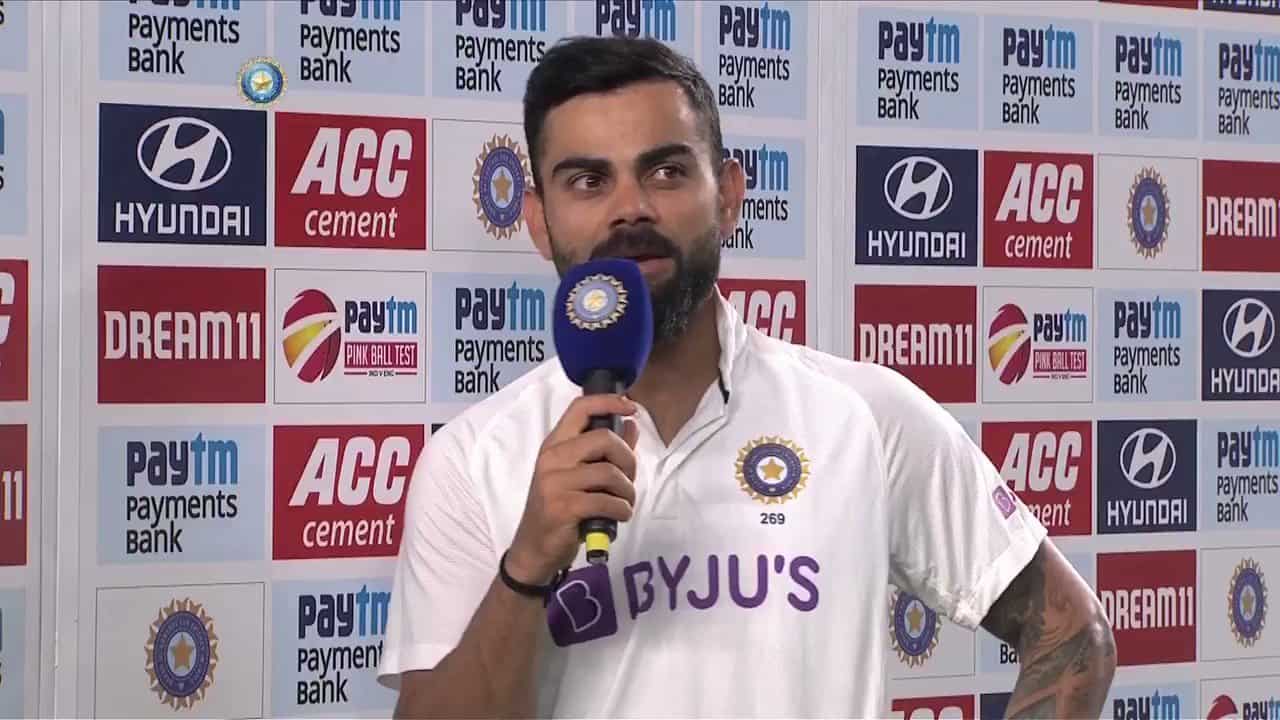 Virat Kohli | Source: BCCI (Twitter)
The pitch has been a talk of the town ever since India thrashed England by 317 runs. Now the pitch at Narendra Modi Cricket Stadium has also become the same and the cricket experts all around the world are putting their views on the surface at Ahmedabad.
The visitors could not even last for two days as India thrashed them to take an unassailable lead in the series.On a pitch where batsmen from both teams struggled to face the spinners, India beat England by ten wickets. The spinners picked 28 of the 30 wickets and no team crossed 150, which led to many labelling the pitch unsuitable for a five-day game.
Meanwhile the Indian skipper Virat Kohli also come forward with his words and made it clear that there were no demons on the track. He refuted the claims after the game, suggesting poor technique led to the shortened game as he refused to criticise the surface.
"[It was] a very good pitch to bat on – especially in the first innings – and it felt like the ball was coming on nicely with the odd-ball turning. It was just, I would say, below-par batting from both teams. Our bowlers were much more effective and that's why we got the result," Virat Kohli said.
However, former England captains, Alastair Cook and Andrew Strauss didn't agree with Virat Kohli's assessment of the pitch. Cook suggested Virat Kohli's comments need to be taken with a pinch of salt.
"We saw a stat that says this pitch has spun more than any other pitch in India. There's been so many other balls that have gone straight on as well. So that means when it is turning, it is turning miles. When you see the highlights and the ball skidding on you, we don't see the build-up: when the exact same ball is spinning miles," Cook told Channel 4.
"Virat Kohli's come out and defended the wicket almost as if it's a BCCI thing – it cannot possibly be the wicket. Yet it was so hard to bat on that today. So hard. Take the wicket out and blame the batsmen? We've got Virat Kohli, Joe Root, we have some great players of spin. Yes, we've got some people who have got to learn to play spin better, but we have got great players of spin also struggling. To me it'd be great to have that game with the red ball to see the difference when the ball is skidding on. Today trying to play properly, it was nigh-on impossible," he added.
Andrew Strauss Backs Alastair Cook's Claims
Andrew Strauss also backed Cook and pointed out how Joe Root, widely regarded as England's best player of spin, struggled to bat on the surface as well. The England skipper registered scores of 17 and 19 in the game, lasting just 82 balls in total.
"Look at Joe Root for a moment. We know he is a great player of spin," Strauss said. "He is in great form as well. What did he get – 19 today? Might have been out two or three times en route to getting that score. And by the way, that's day two of a Test match. To say the pitch has no fault to play, I totally agree with Cooky. Kohli's looking after the groundsmen there to a certain degree."