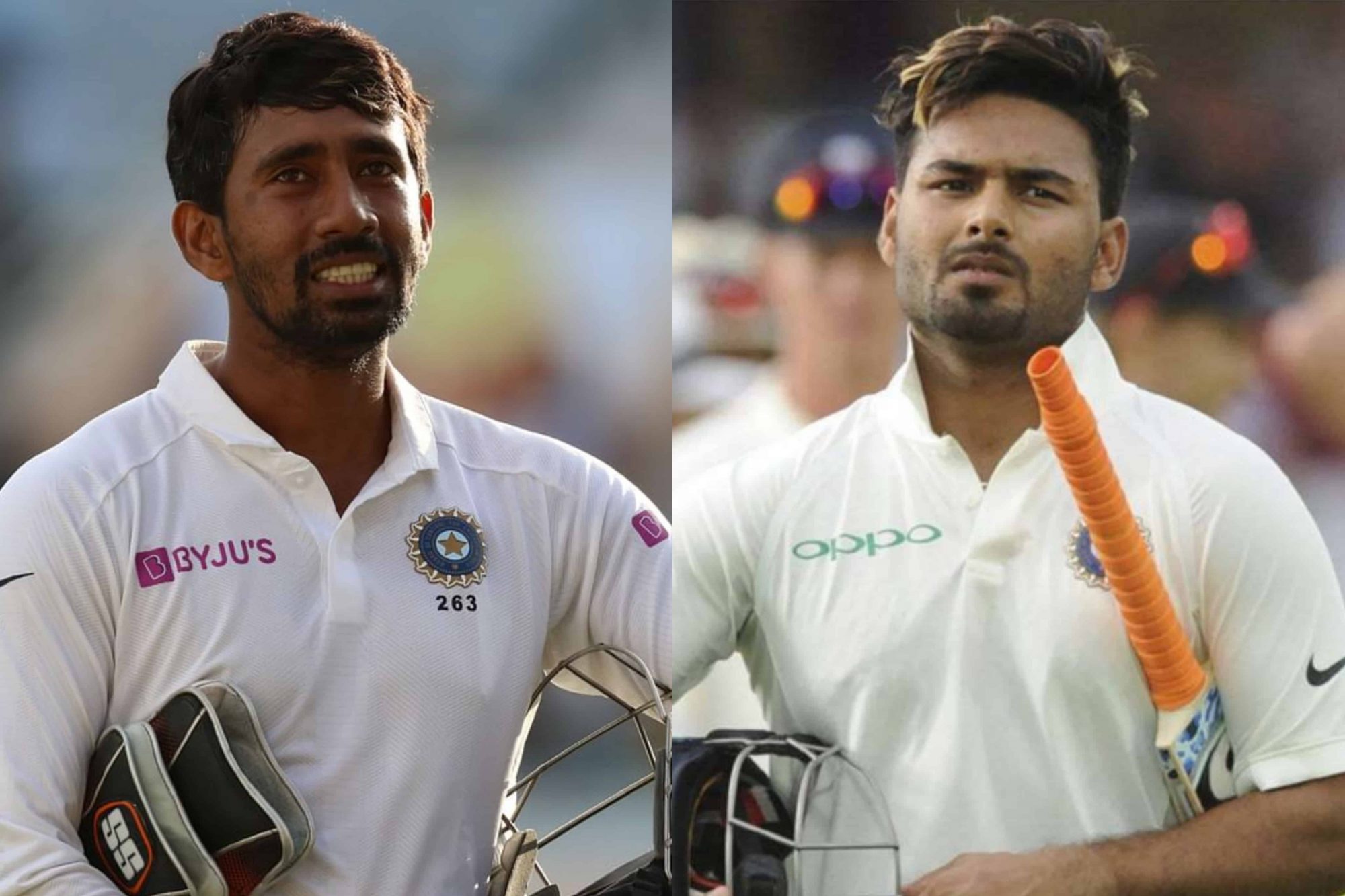 Wriddhiman Saha and Rishabh Pant | Source: Twitter
It has been almost six years since MS Dhoni announced his retirement from Test cricket but the controversy regarding who should replace him as India's first-choice Test wicketkeeper continues.
Because of his superior fielding skills, Wriddhiman Saha beat out the likes of Dinesh Karthik, Rishabh Pant, and KL Rahul to become the first choice early on. But with his career being hampered by injuries, Rishabh Pant was given opportunities at regular intervals and he made the most of it.
Initially, Saha was preferred over Pant in the 1st Test on the Australia tour. But lack of runs in Adelaide's pink-ball Test saw Saha getting dropped with Pant playing the next three matches.
Pant was brilliant in helping India register a memorable series win in Australia earlier this year. Pant carried forward his hot form and went after the England bowling attack during their 3-1 victory at home before IPL.
Pant Should Be India's First-Choice Wicket-Keeper: Wriddhiman Saha
Meanwhile, Indian wicketkeeper-batsman Wriddhiman Saha believes Rishabh Pant has done remarkably well in Test cricket in the past few months and deserves to be the team's first-choice wicketkeeper in the English tour.
"Rishabh Pant played the last few matches of the World Test Championship, he's done well and he should be our first-choice keeper in England. I would just wait, and if any opportunity arises, I will give my best. I will keep practicing for that one chance," Saha told Sportskeeda.
Wriddhiman Saha further said that he continues to remain in the same positive mind frame whether he is getting a chance to perform or not. Notably, both players have been included in the squad that will travel to England for the WTC final and the subsequent five-match Test series.
"Whether I am performing or no, I don't see any change in myself, no idea if others around me spot anything different. We can only try to perform – sometimes it clicks, sometimes it doesn't – and the management takes the call based on all these parameters".
"Practice remains the same, irrespective of whether I am playing or not. I always try to improve, but yes, there is a huge gulf between a practice session and a professional match. It ultimately boils down to who delivers on the bigger stage," he said.
Wriddhiman Saha made his Test debut as a batsman in 2010 against South Africa in Nagpur. He has played 38 Tests and has scored three hundred and five fifties so far.