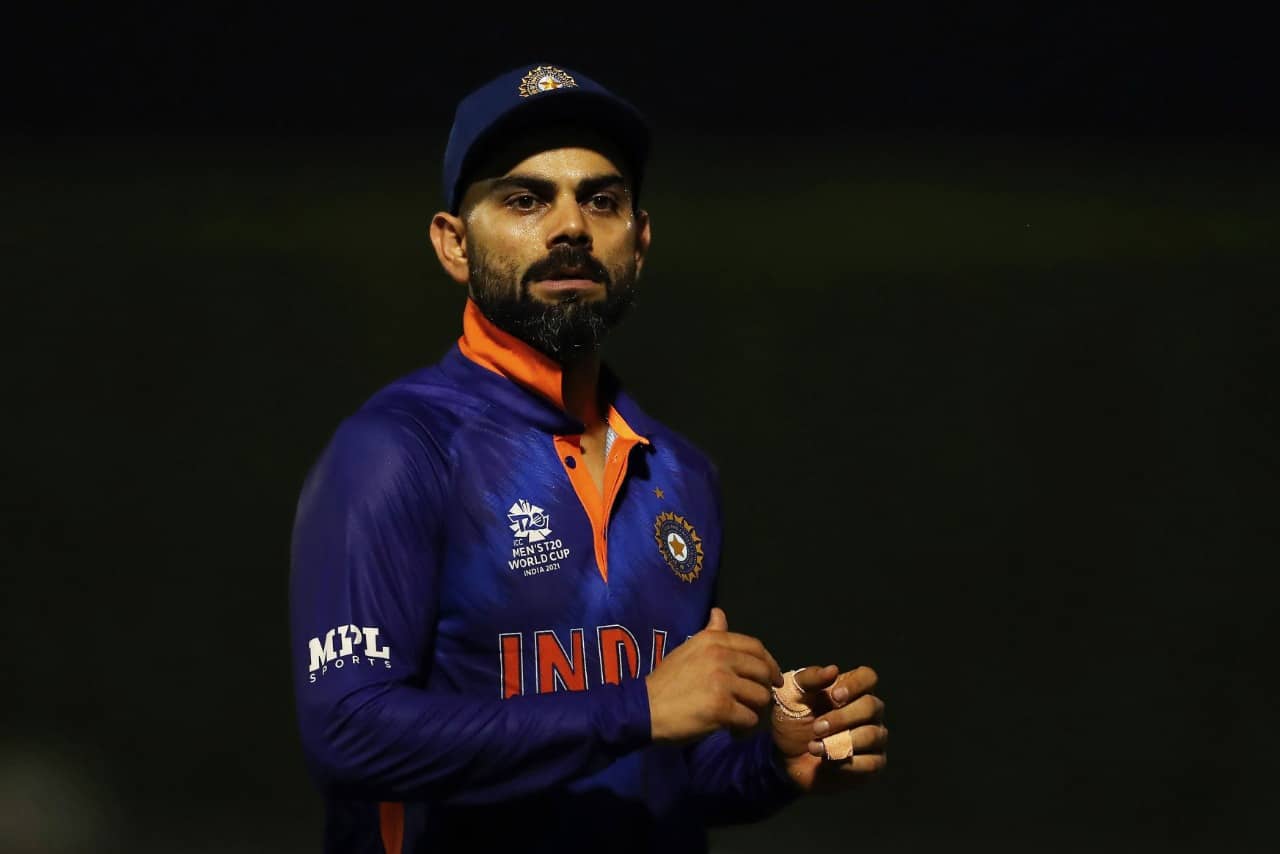 Virat Kohli | Source: GettyImages
The most awaited contest of the ICC T20 World Cup 2021 will be held on October 24 when Virat Kohli-led team India will face Babar Azam and co in a Super 12 battle. The game promises to be a cracker of a contest as both sides have had an amazing history on the cricket field.
Both teams have announced their strongest squad for the marquee event. However, only the players who are in good form will appear in this game as it is arguably one of India's biggest games of the tournament.
Many former cricketers, commentators and fans are busy predicting the best combination team India can deploy against Pakistan on October 24. Having said that, let's have a look at those players who are in good form and are likely to feature in India's playing XI.
Openers: Rohit Sharma and KL Rahul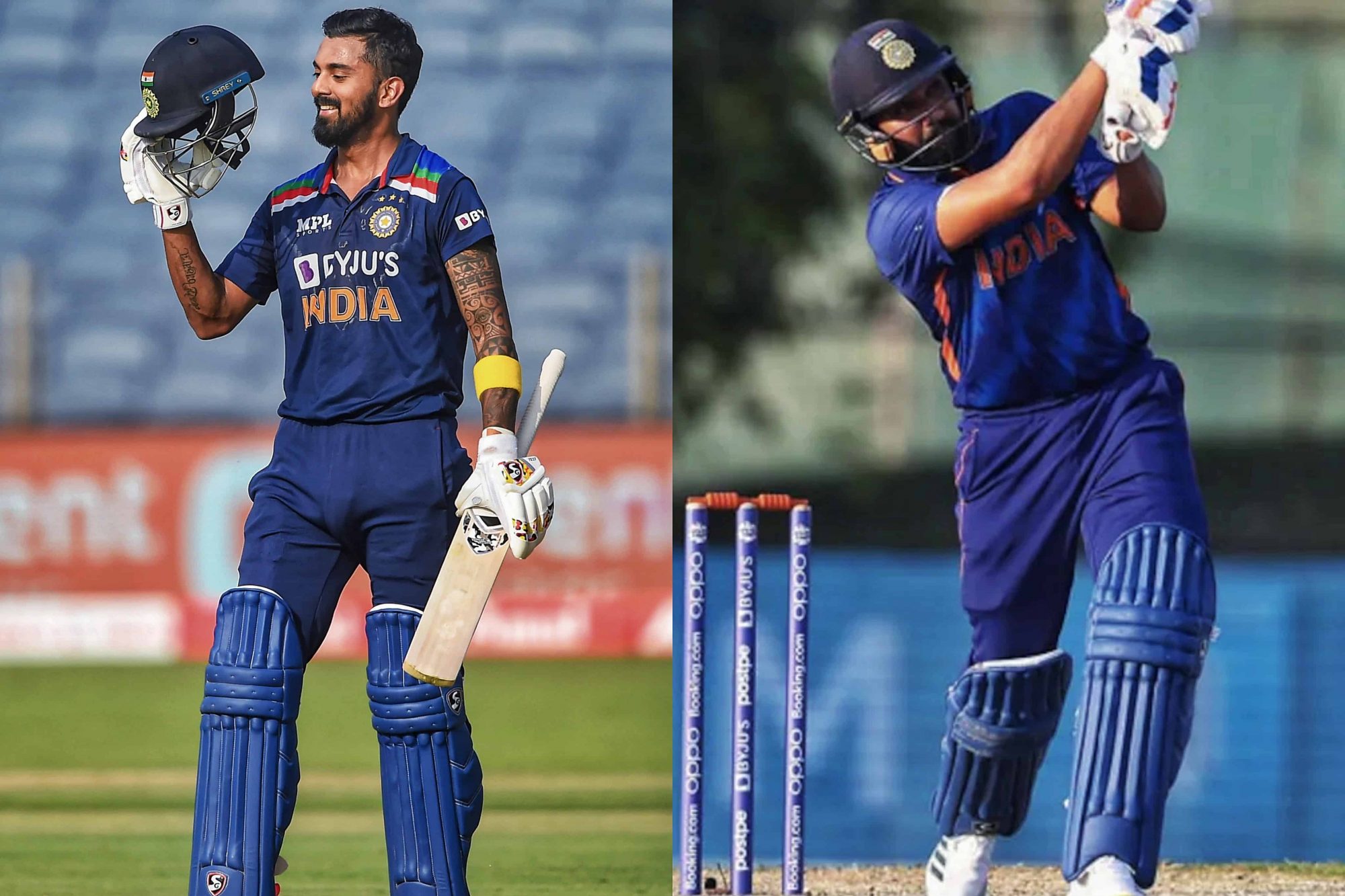 White ball cricket and Rohit Sharma – the opener, is something you might have become used to listening to. The swashbuckling Indian opener has played countless match-winning knocks for India in recent years and the vice-captain will be again eager to contribute to his team at the highest level.
While Rohit has been India's number one choice opener in the limited-overs cricket, KL Rahul, on the back of his recent heroics earned that spot or can say he secured that position after playing numerous good knocks.
KL Rahul has been in splendid form and is coming off a good IPL season, where he was the third-highest scorer in the tournament with 626 runs in just 13 matches. His unbeaten 98 off just 42 balls in Punjab Kings' final match against Chennai Super Kings was just a trailer of what he is capable of doing at the top. In the recent warm-up games against England and Australia, he scored 39 and 51 respectively, a terrific sign ahead of the competition.
| Player | Matches | Runs | Avg | S/R |
| --- | --- | --- | --- | --- |
| KL Rahul | 48 | 1557 | 39.92 | 142.19 |
| Rohit Sharma | 111 | 2864 | 32.18 | 138.96 |
---
Middle Order: Virat Kohli, Suryakumar Yadav and Rishabh Pant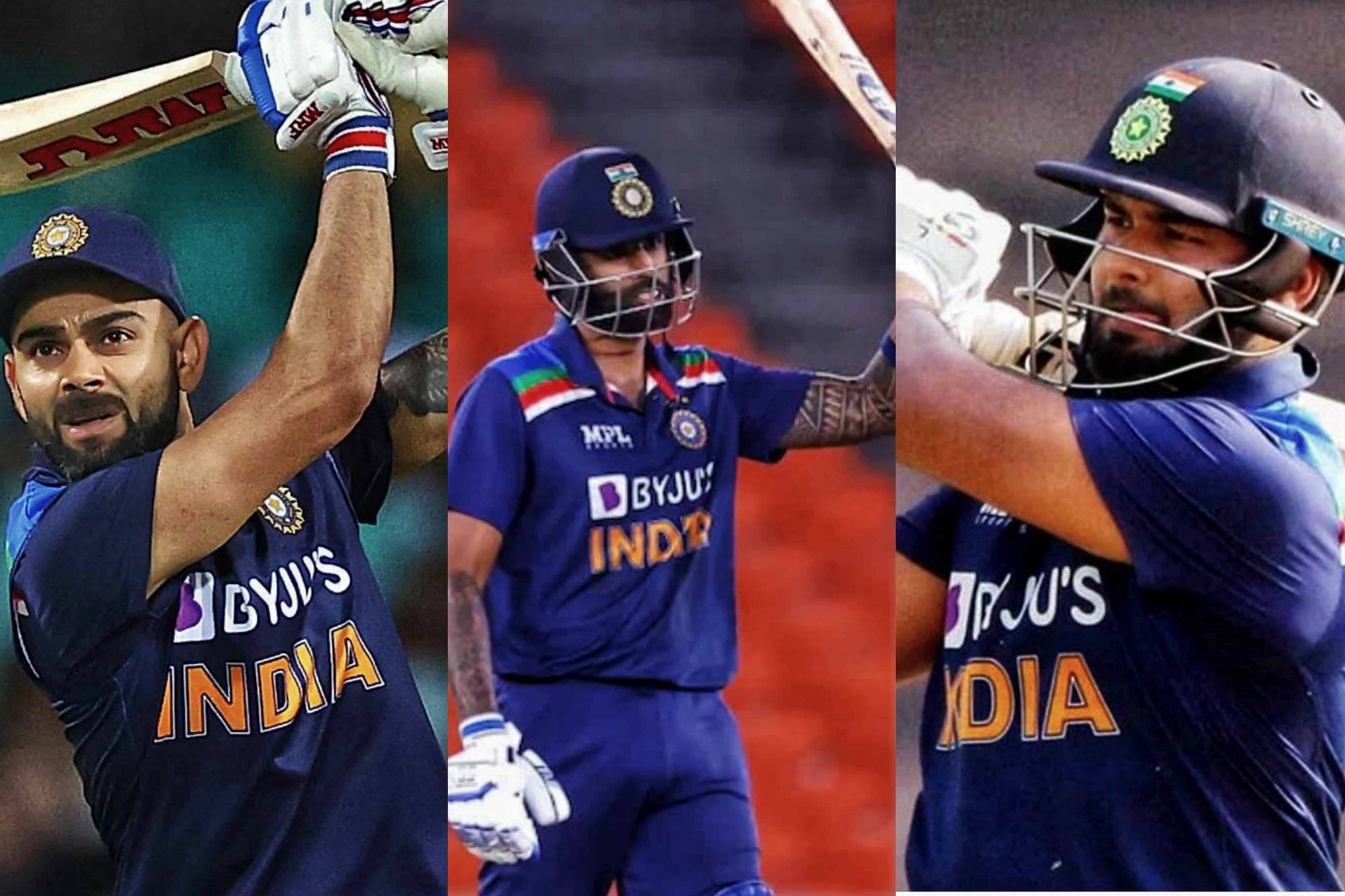 At number 3, comes India's captain Virat Kohli who is currently struggling with the bat and had an average IPL season where he banged 405 runs in 15 matches. He could manage only 11 runs in the warm-up match against England, letting the media and fans question his skill against spin.
A lot will be on his shoulder and he needs to come up with something extraordinary if he wants to give a tough competition to the opposition from across the border.
For numbers 4 and 5, Suryakumar Yadav and Rishabh Pant's names have been sealed. The selectors and management have put faith in Suryakumar Yadav and they hope that he lives up to all the expectations. His form in IPL 2021 second leg was a matter of concern, however, at the business end of the tournament, he showed a glimpse of his 'old good' form. He played an outstanding knock of 82 runs off 40 balls in Mumbai's last game against SunRisers Hyderabad.
In the warm-up games against England, he could manage only 9 runs, however, he looked in fine touch in India's second warm-up game against Australia as he went on to score 38 runs off just 27 balls. That might have given him enough confidence ahead of an important encounter against Pakistan.
Rishabh Pant is likely to don the wicket-keeping gloves for team India. He recently led Delhi Capitals in IPL 2021 and played remarkable knocks under pressure for his team. All eyes will be on him, once again to see his effortless one-handed sixes, and how he finishes the game if needed on October 24.
| Player | Matches | Runs | Avg | S/R |
| --- | --- | --- | --- | --- |
| Virat Kohli | 89 | 3159 | 52.65 | 139.04 |
| Suryakumar Yadav | 4 | 139 | 46.33 | 169.51 |
| Rishabh Pant | 32 | 512 | 21.33 | 123.37 |
---
All Rounders: Hardik Pandya, Ravindra Jadeja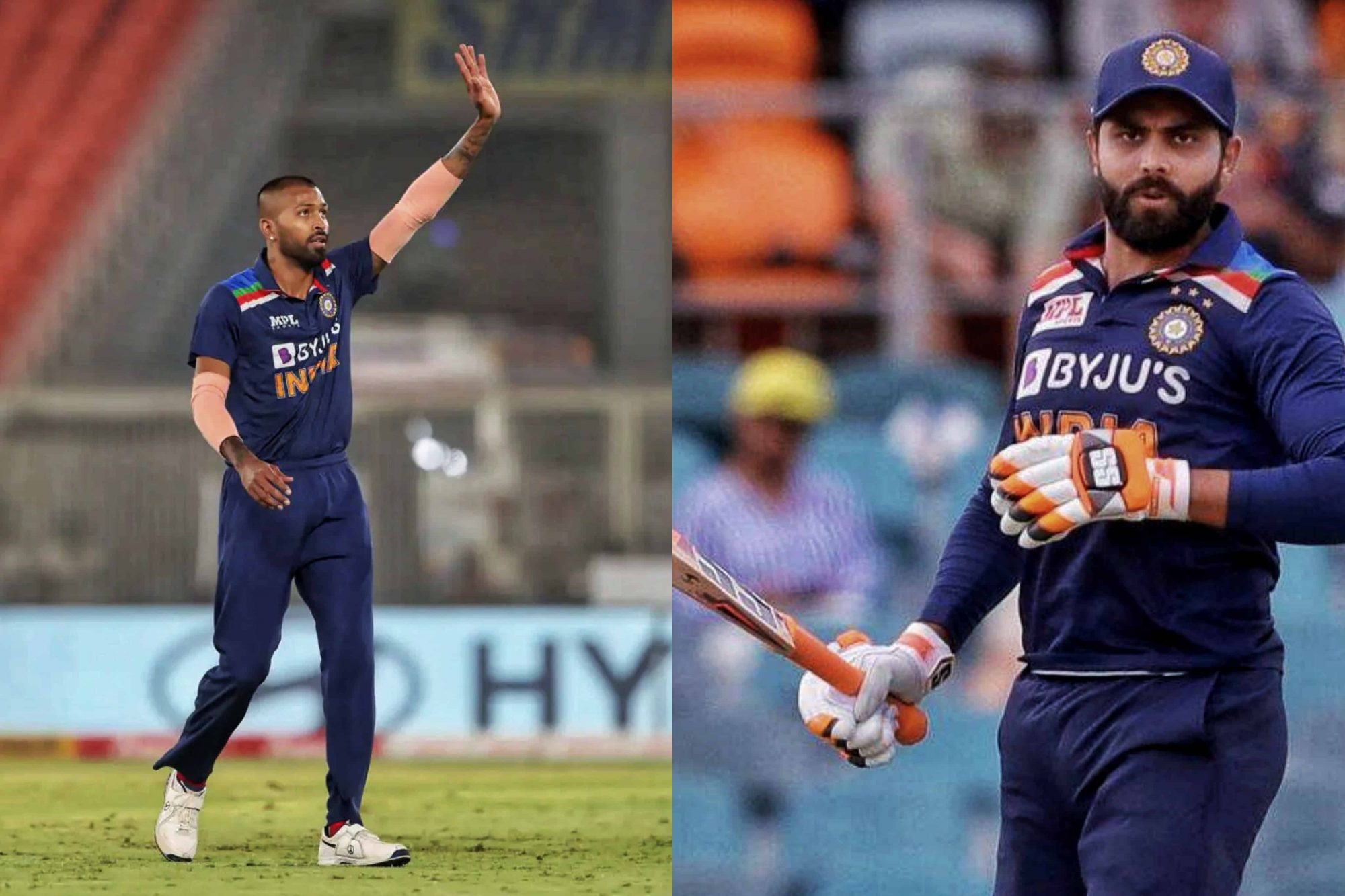 The fitness concerns of Hardik Pandya has really troubled team India. He hasn't bowled for Mumbai Indians in the recently concluded IPL season and the warm-up matches against England and Australia and is highly unlikely that he will do it in the mega event on October 24.
However, given his finishing abilities, he can still find a place in the final XI against Pakistan, at least that is what management is speculating.
Ravindra Jadeja will be India's second all-rounder against men in green. The Chennai Super Kings all-rounder helped his team win the 4th IPL title on the back of his all-round performances. The Indian team would be expecting him to repeat similar performances in the T20 World Cup 2021.
| Player | Matches | Runs | Avg | S/R | Wickets |
| --- | --- | --- | --- | --- | --- |
| Ravindra Jadeja | 50 | 217 | 15.5 | 112.44 | 39 |
| Hardik Pandya | 49 | 484 | 19.36 | 145.35 | 42 |
---
Bowlers: Bhuvneshwar Kumar, Mohammed Shami, Jasprit Bumrah, Varun Chakravarthy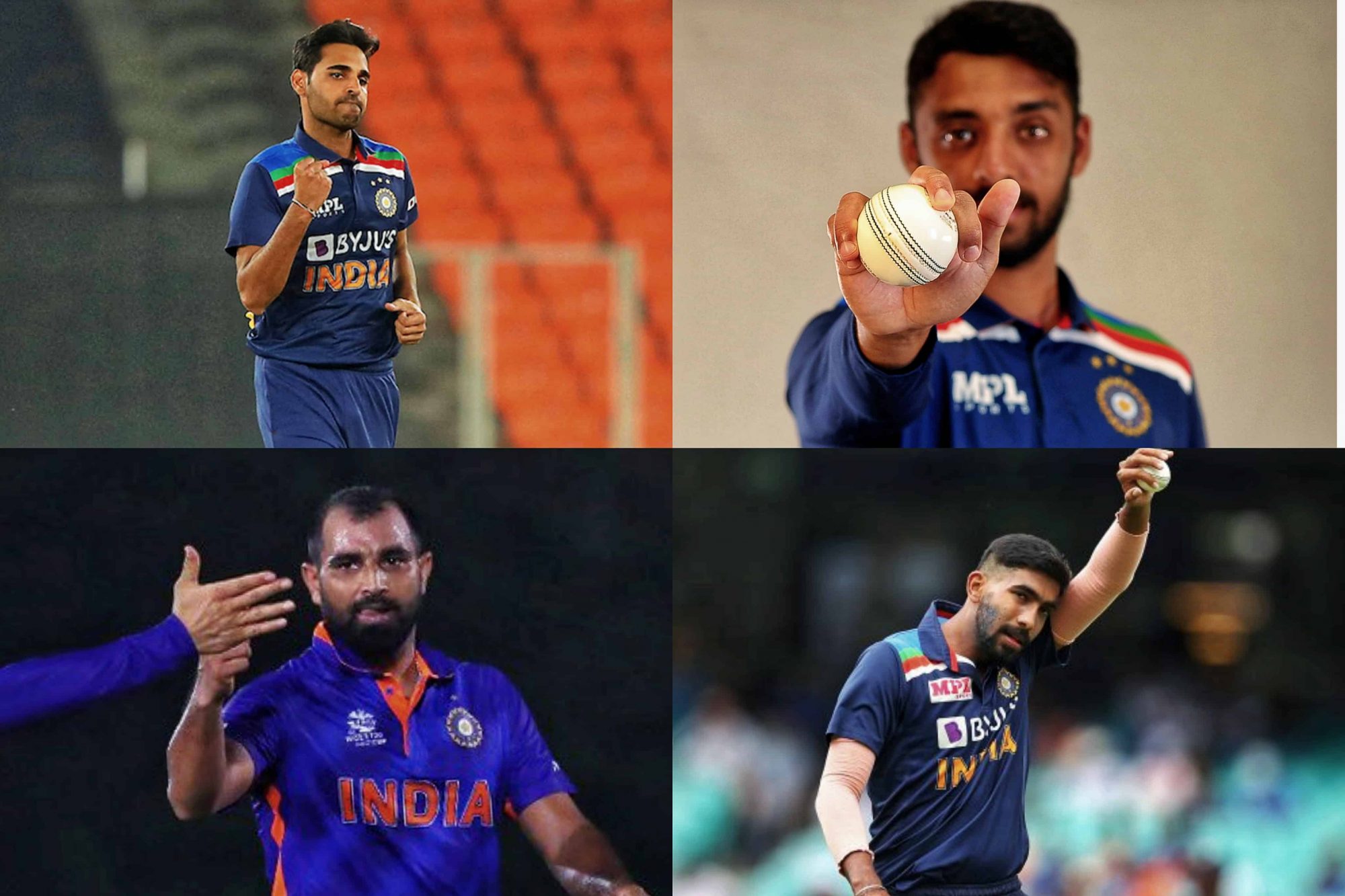 After witnessing the kind of wicket in the warmup games, the teams would have got an idea of the spinner's role in the upcoming matches. However, considering the dew factor, as we have seen in the last few matches, teams won't take a risk of going in with 3 spinners so R Ashwin's inclusion in the final XI against Pakistan is highly unlikely as Varun Chakravarthy will be India's specialist spinner.
Bhuvneshwar Kumar, Jasprit Bumrah and Mohammed Shami will be India's pace trio. Bhuvneshwar Kumar's recent performances with the ball weren't that impressive, however keeping in mind his experience of performing in the mega-events, he should make it into the eleven.
The other two pacers, Jasprit Bumrah and Mohammed Shami are in stunning form and would be looking to extend it against Pakistan on October 24.
| Player | Matches | Wickets | Economy | AVG | 5WI |
| --- | --- | --- | --- | --- | --- |
| Bhuvneshwar Kumar | 51 | 50 | 6.9 | 24.1 | 1 |
| Mohammad Shami | 12 | 12 | 9.8 | 35.67 | – |
| Jasprit Bumrah | 49 | 59 | 6.67 | 20.25 | – |
| Varun Chakravarthy | 3 | 2 | 5.3 | 30.5 | – |