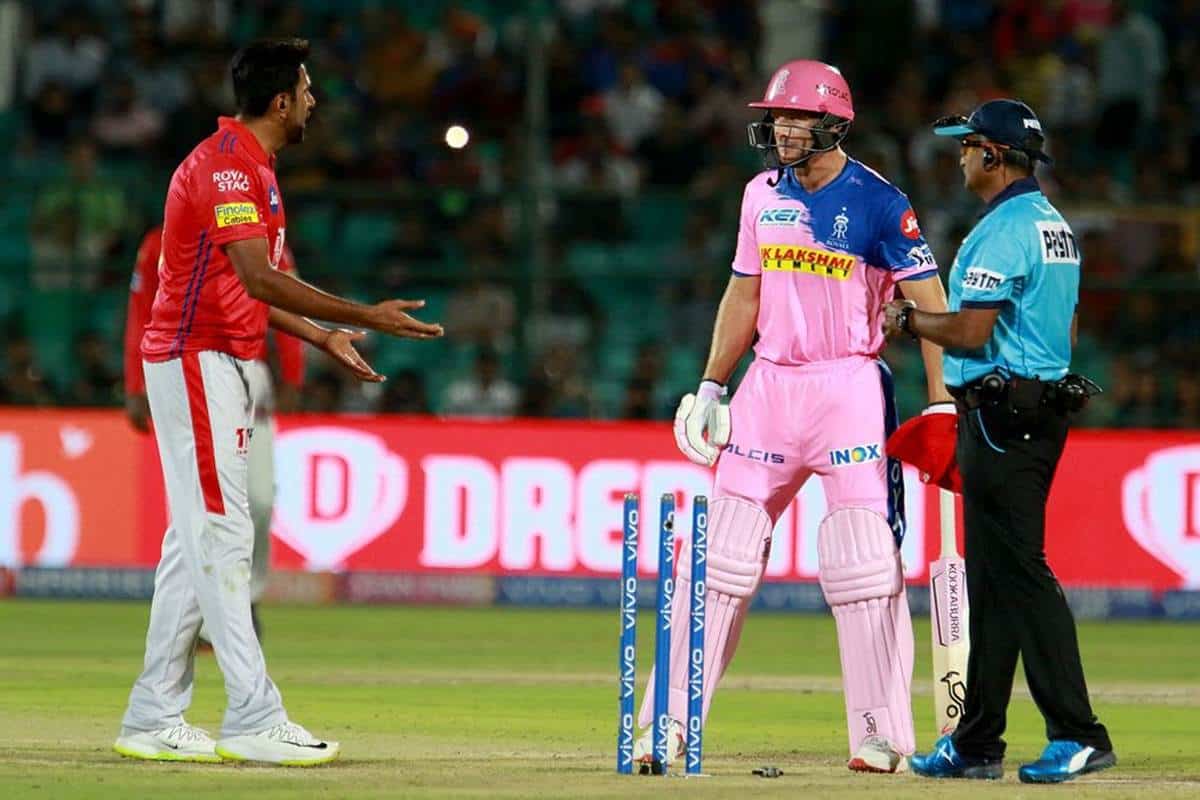 R Ashwin and Jos Buttler | Source: Twitter
Ravichandran Ashwin, one of the best spinners in the world is known for his outspoken thoughts about the game, in addition to his brilliant bowling abilities.
While the senior spinner has been endorsing the run-out dismissal for a non-striker backing up too far amid the criticism, the 34-year-old has some other rules in mind which should be enforced to help bowlers.
Team India off-spinner Ravichandran Ashwin has suggested a rule change called 'free ball', which bowlers should get every time the batter leaves the non-striker's end early. Explaining further about the rule, Ashwin added that a wicket of that ball should deduct 10 runs from the bowler's figures, which would also bring down the opponent's total.
"Let's add a free ball for the bowlers every time a batter leaves the non strikers end early, a wicket of that ball will reduce 10 runs of the bowlers analysis and total," Ashwin wrote on Twitter.
"Remember: you are supposed to leave the crease only after the ball leaves the hand," the Delhi Capitals bowler highlighted in another tweet.
Notably, Ashwin's suggestion came after former Indian batsman Sanjay Manjrekar wrote that the International Cricket Council (ICC) should scrap the free hit rule to make the game fair for bowlers. Reacting to Manjrekar's statement, Ashwin opined that free hit should remain in the picture, but a free ball can be added to balance the game.
What Sanjay Manjrekar Said?
In his column for Hindustan Times, Manjrekar stated that the penalty that a bowler has to endure for overstepping by even a centimeter is extremely unfair as he/she not only has to bowl an extra ball but the batter also gets complete impunity on that ball from getting out.
According to Sanjay Manjrekar, the 'free hit' rule was introduced by a 'sadist' who hated bowlers.
''Free hit is a thing I want gone, again terribly unfair on the bowlers. Today with the TV umpire monitoring no balls, a bowler has to be a centimetre over and immediately a string of punishments are meted out," Sanjay Manjrekar wrote in his column for Hindustan Times.
"The bowler has to bowl an extra ball, the batter cannot be out to that no ball already bowled and there is also a penalty of one run. To add to that, there is a free hit offered to the batter next ball in which he cannot be out. The penalty is just not commensurate to the 'wrongful' act. It's as if the rule was introduced by a sadist who hated bowlers," he added.