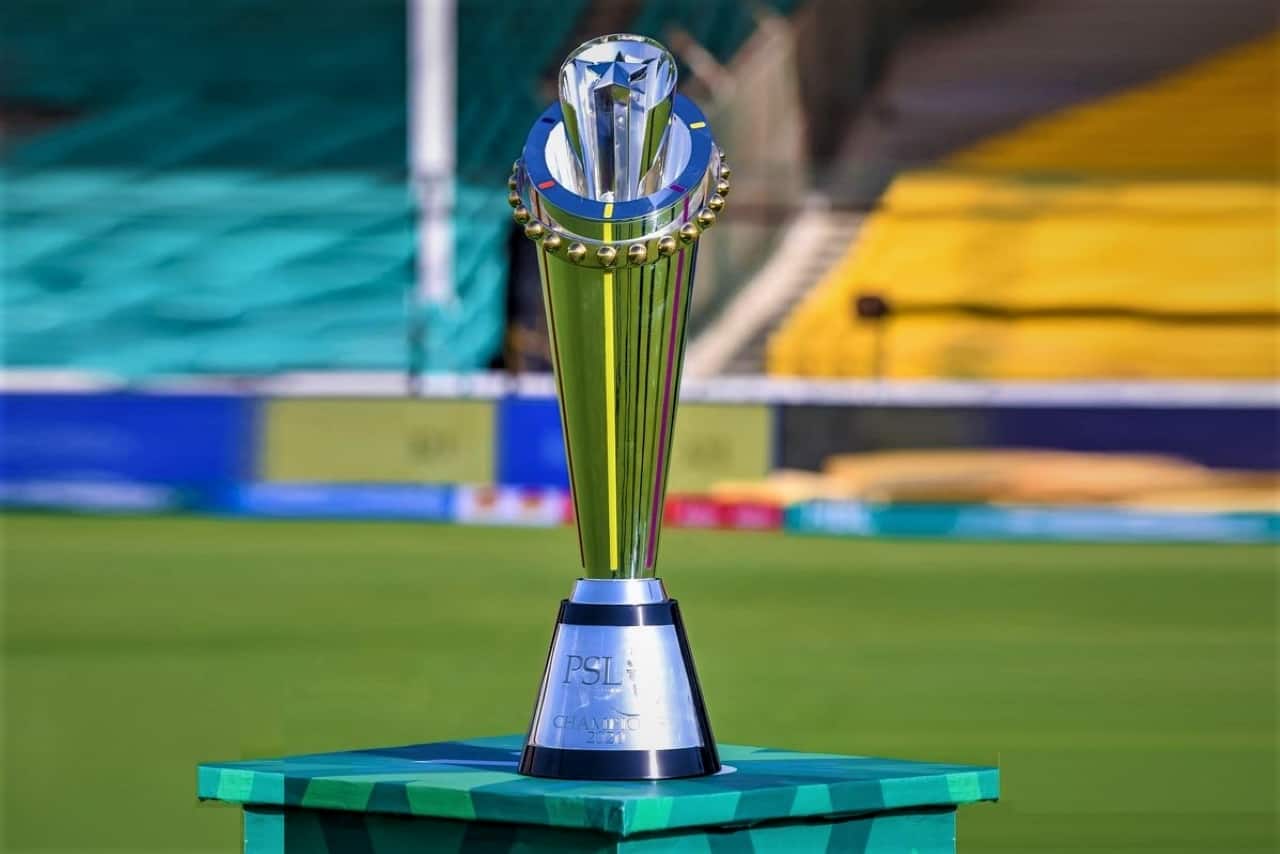 PSL Trophy | Source: Twitter
The schedule for the 8th edition of the Pakistan Super League (PSL) 2023 was announced on Friday, January 20. The highly-anticipated event will take place from February 13th to March 19th and will be held in four cities: Karachi, Lahore, Rawalpindi and Multan.
The marquee event will take place in two stages. The first stage will be held at the Multan Cricket Stadium and National Bank Cricket Arena from February 13th to 26th. The second stage will take place at the Gaddafi Stadium and Pindi Cricket Stadium from February 26th to March 19th.
This includes the qualifier, two eliminators and the final at the home of Pakistan cricket from March 15-19. Lahore Qalandars will kick start their title defence against the Multan Sultans in the opening match of the tournament at the Multan Cricket Stadium on February 13th. The Qalandars previously defeated the defending champions, the Multan Sultans, by 42 runs at the Gaddafi Stadium in 2022.
PSL 2023 Complete Schedule, Match Timings & Venue
Date & Time
Match Details
Mon, Feb 13
02:30 PM GMT | 07:30 PM LOCAL
Multan Sultans vs Lahore Qalandars, 1st Match
PSL 2023
Multan Cricket Stadium, Multan
Tue, Feb 14
01:30 PM GMT | 06:30 PM LOCAL
Karachi Kings vs Peshawar Zalmi, 2nd Match
PSL 2023
National Stadium, Karachi
Wed, Feb 15
12:30 PM GMT | 05:30 PM LOCAL
Multan Sultans vs Quetta Gladiators, 3rd Match
PSL 2023
Multan Cricket Stadium, Multan
Thu, Feb 16
01:30 PM GMT | 06:30 PM LOCAL
Karachi Kings vs Islamabad United, 4th Match
PSL 2023
National Stadium, Karachi
Fri, Feb 17
12:30 PM GMT | 05:30 PM LOCAL
Multan Sultans vs Peshawar Zalmi, 5th Match
PSL 2023
Multan Cricket Stadium, Multan
Sat, Feb 18
01:30 PM GMT | 06:30 PM LOCAL
Karachi Kings vs Quetta Gladiators, 6th Match
PSL 2023
National Stadium, Karachi
Sun, Feb 19
08:30 AM GMT | 01:30 PM LOCAL
Multan Sultans vs Islamabad United, 7th Match
PSL 2023
Multan Cricket Stadium, Multan
Sun, Feb 19
01:30 PM GMT | 06:30 PM LOCAL
Karachi Kings vs Lahore Qalandars, 8th Match
PSL 2023
National Stadium, Karachi
Mon, Feb 20
01:30 PM GMT | 06:30 PM LOCAL
Quetta Gladiators vs Peshawar Zalmi, 9th Match
PSL 2023
National Stadium, Karachi
Tue, Feb 21
01:30 PM GMT | 06:30 PM LOCAL
Quetta Gladiators vs Lahore Qalandars, 10th Match
PSL 2023
National Stadium, Karachi
Wed, Feb 22
12:30 PM GMT | 05:30 PM LOCAL
Multan Sultans vs Karachi Kings, 11th Match
PSL 2023
Multan Cricket Stadium, Multan
Thu, Feb 23
01:30 PM GMT | 06:30 PM LOCAL
Peshawar Zalmi vs Islamabad United, 12th Match
PSL 2023
National Stadium, Karachi
Fri, Feb 24
01:30 PM GMT | 06:30 PM LOCAL
Quetta Gladiators vs Islamabad United, 13th Match
PSL 2023
National Stadium, Karachi
Sun, Feb 26
08:00 AM GMT | 01:00 PM LOCAL
Karachi Kings vs Multan Sultans, 14th Match
PSL 2023
National Stadium, Karachi
Sun, Feb 26
01:30 PM GMT | 06:30 PM LOCAL
Lahore Qalandars vs Peshawar Zalmi, 15th Match
PSL 2023
Gaddafi Stadium, Lahore
Mon, Feb 27
01:30 PM GMT | 06:30 PM LOCAL
Lahore Qalandars vs Islamabad United, 16th Match
PSL 2023
Gaddafi Stadium, Lahore
Wed, Mar 01
01:30 PM GMT | 06:30 PM LOCAL
Peshawar Zalmi vs Karachi Kings, 17th Match
PSL 2023
Pindi Club Ground, Rawalpindi
Thu, Mar 02
01:30 PM GMT | 06:30 PM LOCAL
Lahore Qalandars vs Quetta Gladiators, 18th Match
PSL 2023
Gaddafi Stadium, Lahore
Fri, Mar 03
01:30 PM GMT | 06:30 PM LOCAL
Islamabad United vs Karachi Kings, 19th Match
PSL 2023
Pindi Club Ground, Rawalpindi
Sat, Mar 04
01:30 PM GMT | 06:30 PM LOCAL
Lahore Qalandars vs Multan Sultans, 20th Match
PSL 2023
Gaddafi Stadium, Lahore
Sun, Mar 05
01:30 PM GMT | 06:30 PM LOCAL
Islamabad United vs Quetta Gladiators, 21st Match
PSL 2023
Pindi Club Ground, Rawalpindi
Mon, Mar 06
01:30 PM GMT | 06:30 PM LOCAL
Quetta Gladiators vs Karachi Kings, 22nd Match
PSL 2023
Pindi Club Ground, Rawalpindi
Tue, Mar 07
08:30 AM GMT | 01:30 PM LOCAL
Peshawar Zalmi vs Lahore Qalandars, 23rd Match
PSL 2023
Pindi Club Ground, Rawalpindi
Tue, Mar 07
01:30 PM GMT | 06:30 PM LOCAL
Islamabad United vs Multan Sultans, 24th Match
PSL 2023
Pindi Club Ground, Rawalpindi
Wed, Mar 08
01:30 PM GMT | 06:30 PM LOCAL
Peshawar Zalmi vs Quetta Gladiators, 25th Match
PSL 2023
Pindi Club Ground, Rawalpindi
Thu, Mar 09
01:30 PM GMT | 06:30 PM LOCAL
Islamabad United vs Lahore Qalandars, 26th Match
PSL 2023
Pindi Club Ground, Rawalpindi
Fri, Mar 10
01:30 PM GMT | 06:30 PM LOCAL
Peshawar Zalmi vs Multan Sultans, 27th Match
PSL 2023
Pindi Club Ground, Rawalpindi
Sat, Mar 11
01:30 PM GMT | 06:30 PM LOCAL
Quetta Gladiators vs Multan Sultans, 28th Match
PSL 2023
Pindi Club Ground, Rawalpindi
Sun, Mar 12
08:30 AM GMT | 01:30 PM LOCAL
Islamabad United vs Peshawar Zalmi, 29th Match
PSL 2023
Pindi Club Ground, Rawalpindi
Sun, Mar 12
01:30 PM GMT | 06:30 PM LOCAL
Lahore Qalandars vs Karachi Kings, 30th Match
PSL 2023
Gaddafi Stadium, Lahore
Wed, Mar 15
01:30 PM GMT | 06:30 PM LOCAL
TBC vs TBC, Qualifier (1 v 2)
PSL 2023
Gaddafi Stadium, Lahore
Thu, Mar 16
01:30 PM GMT | 06:30 PM LOCAL
TBC vs TBC, Eliminator 1 (3 v 4)
PSL 2023
Gaddafi Stadium, Lahore
Fri, Mar 17
01:30 PM GMT | 06:30 PM LOCAL
TBC vs TBC, Eliminator 2 (loser Qualifier v winner Eliminator 1)
PSL 2023
Gaddafi Stadium, Lahore
Sun, Mar 19
01:30 PM GMT | 06:30 PM LOCAL
TBC vs TBC, Final
PSL 2023
Gaddafi Stadium, Lahore