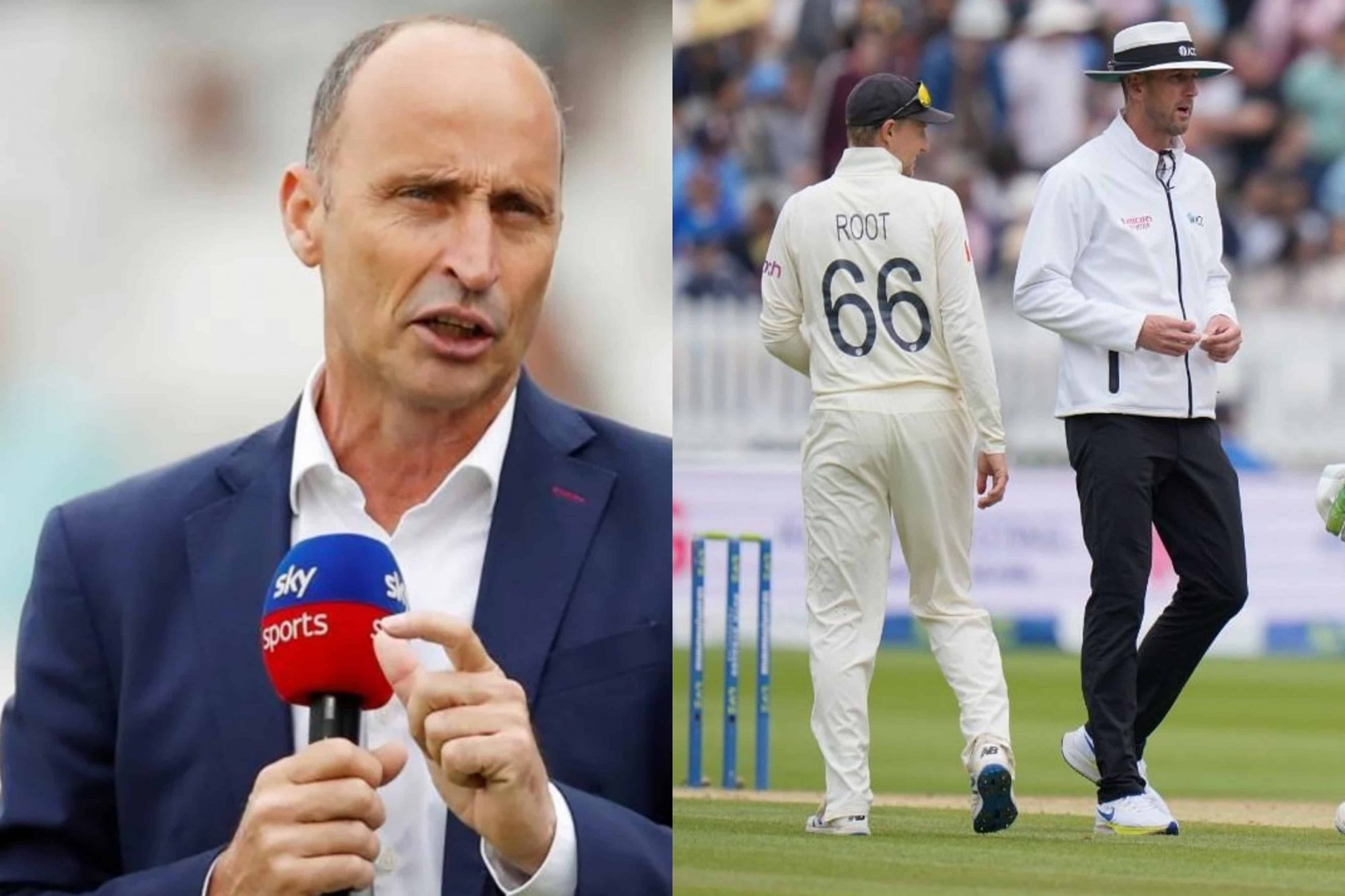 Nasser Hussain and Joe Root | Source: Twitter
Team India registered a blistering 151 runs victory against England at Lords in the second Test of the 5-Match Test series. The game took a sharp turn on the final day of the match and India emerged victorious and scripted history at the Mecca of cricket. 
The game, which was completely under host's control, slipped from their hands on the final day of the game when they decided to take on India pacer Jasprit Bumrah. Englishmen's decision to bully Bumrah with bouncers and short balls didn't fall in place as the duo of Bumrah and Shami went on to build a match-winning 89* runs partnership on the final day of the match before Virat Kohli declared the innings.
Joe Root, who smashed unbeaten 180 in England's first innings looked under pressure while chasing 272 in England's second innings and got dismissed for just 33 runs. Root has been the match saviour for England for quite a time now. He has been in terrific form with the bat for the last couple of years.
However, former England captain Nasser Hussain has a piece of advice for the current English Test captain. Hussain pointed out that Root needs to be much more thoughtful while picking up his battle.
Nasser Hussain feels that Root was completely wrong when he picked a fight against Bumrah on the fifth day of the Lord's Tes. He further said that the English skipper needs to think before selecting the battle on the field.
"At times, Joe picks the wrong moment to go into battle. He got it wrong on that final morning at Lord's when he picked a fight with Jasprit Bumrah. He would be better off picking a battle with his top three over their lack of runs, or the ECB over scheduling," Nasser Hussain wrote in the column of Daily Mail.
They Don't Know When To Be Ruthless & When To Be Angry Captain: Nasser Hussain
Hussain further pointed out that it is crucial for team England to analyse the situation wisely before taking decisions in the game. He also said that the current England team didn't know when to be ruthless and when is the time to become 'angry captain.'
"The only thing I would say, not just about Root but also this England regime, is that it seems they do not quite know when to be ruthless and when is the right time for Joe to be an angry captain. The time to offer the stick rather than the carrot. The England set-up is full of nice people, whether that be Root, Chris Silverwood, Paul Collingwood, or Graham Thorpe. But at some stage, you have to be tough and tell your team exactly what you think," Hussain wrote.
Notably, English skipper Joe Root is at the verge of becoming the most successful captain in England's history. One more victory will take him past Michael Vaughan's record tally of 26 Test victories.