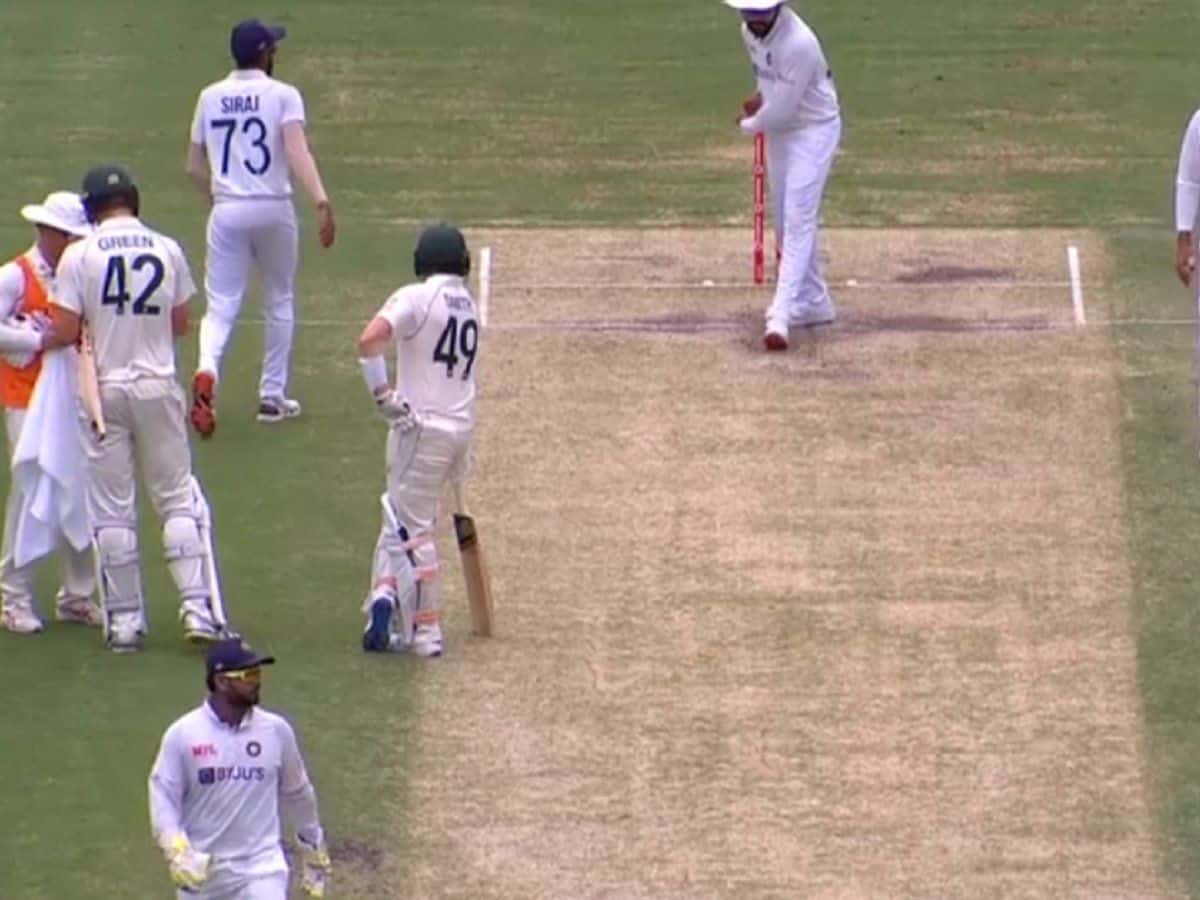 Rohit Sharma Shadow Batting on Day 4 of Final Test | Image: Twitter
Twitter erupted with a wide array of opinions as Rohit Sharma did a Steve Smith by shadow batting during Australia's second innings on Monday. On the fourth day of the Brisbane Test match between India and Australia, India's vice-captain Rohit Sharma was seen shadow batting at the striker's end during the drinks break in the morning session of Day 4 of the 4th Test at the Gabba in Brisbane.
Watch Video:
During fielding, Rohit was seen shadow practising at the batting crease. At the same time, veteran Australian player Steve Smith was standing at the other end of the crease, watching Rohit Sharma's shadow practice very carefully. Rohit Sharma practised the front-foot shot and then moved to the other end.
Meanwhile, Rohit Sharma's shadow practice has sparked a new controversy on Twitter. Earlier in the Sydney Test match, Steve Smith was accused of erasing Rishabh Pant's batting guard. In response, the Australian cricket fraternity had rallied behind their star batsman, labelling the action as another of Smith's quirks.
Fans' Reactions to Rohit Sharma's Shadow Batting
Rohit Sharma's Shadow Batting Leaves Fans in Splits
While some users found Rohit Sharma's actions unlawful, others just saw the fun side of it.
Steve Smith's Take on the Shadow Batting Incident
Steve Smith earlier clarified his position on the whole saga, saying it's one of his habits to mark the centre.
"It's something I do in games to visualise where we are bowling, how the batter is playing our bowlers, and then out of habit I always mark centre. It's such a shame that this and other events have taken away from what was a great batting performance by India yesterday," said Smith.
Tim Paine Defended Steve Smith On Shadow Batting Incident
Paine earlier said that if one has watched Smith play Test cricket, that is something he does every single game, five or six times a day whether he is actually batting or not.
"I have spoken to Steve about this and I know he is really disappointed with the way it has come across. And if you watch Steve Smith play Test cricket, that is something that he does every single game five or six times a day," Paine told reporters.
"He is always standing in the batting crease, shadow batting, as we know he has got those sort of many Steve Smith quirks, so one of them is he is always marking sand," he explained.